A priest at the Pushkar lake in Rajasthan, who presided over the puja offered by Rahul Gandhi on Monday, claimed that the Congress president's gotra (clan) was 'Duttatreya' and he is a Kashmiri Brahmin.
The Congress president, who had earlier said that he is a Lord Shiva devotee and a "janeu dhari" Hindu and had been under continuous attack from the BJP to unveil his caste identity, was asked about his gotra in Pushkar and he introduced himself as Kaul Brahmin of Dattatreya gotra, and performed the puja.
The priest said according to the temple records, Rahul Gandhi is a Kashmiri Brahmin, and added: "Motilal Nehru, Jawaharlal Nehru and his family are Kashmiri Pandits of Dattatreya gotra."
"His gotra is 'Dattatreya' and he is a Kashmiri Brahmin. Motilal Nehru, Jawaharlal Nehru, Indira Gandhi, Sanjay Gandhi, Maneka Gandhi and Sonia Gandhi have come and offered prayers at the ghat and it is recorded with us," Dinanath Kaul, the priest, told reporters.
Kaul claimed that he possessed old records, or pothi, in which the record of his family tree is registered and the priest's ancestors had made Motilal Nehru, Jawaharlal Nehru and other members of the family do puja at the Pushkar Sarovar.
"(Rahul) Gandhi came and offered prayers at the ghat. He also said his gotra is Dattatreya. Dattatreya are Kauls and Kauls are Kashmiri Brahmin," he said.
Rahul's public disclosure of his caste identity also seems to be a response to the Bharatiya Janata Party which has been targetting him over his consecutive temple visits in the election season.
Earlier, speaking at a rally in Indore, the BJP spokesperson, Sambit Patra said, "After the Antony committee's report, Rahul Gandhi is exhibiting fancy dress Hinduism continuously. To mislead the Hindus, he is sporting a janeu (scared thread) over the shirt. We demand that janeu dhari Rahul Gandhi clarify to which gotra (clan) does he belong to."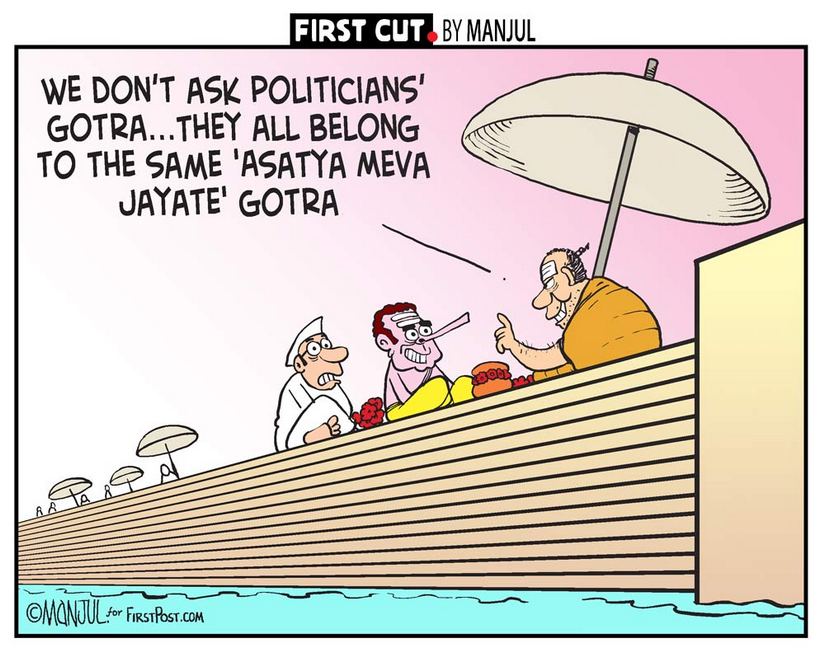 According to a News18,  since Rahul's grandfather, Feroze Gandhi, was a Parsi, many priests opine that in the Parsi community, the man does not have any gotra. Hence, Rahul has inherited his grandmother Indira's gotra. This is the first time that the family has come forth with its gotra, which may have been a comeback to BJP's nakli Hindu jibe.
The priest also presented documents showing the names of Rahul's ancestors who have worshipped at the Pushkar lake.
Speaking to IANS, head priest of Brahma temple Pandit Krishna Gopal said: "Rahul Gandhi visited temple offering his prayers. We told him you have everything, name, fame, prosperity. Now we wish for your early marriage."
In the register, Rahul wrote: "I, Rahul Gandhi, son of Shri Rajiv Gandhi, am happy to come to Pushkar for puja ceremony on 26/11/2018. After offering puja with the help of our family priest (Dinnanath Kaul and Rajnath Kaul), I feel contented and happy. I have prayed for peace and harmony in India and the world." At the end of the document, Rahul signed his name in English.
The Congress chief visited the Ajmer Sharif dargah and Pushkar and offered prayers before addressing election rallies.
With inputs from agencies
Updated Date: Jan 03, 2019 15:04:35 IST