A cure worse than the disease: The Congress party's Rahul problem
Congress leaders are already unnerved by Rahul's promise to 'fight for the people'' and provide a 'strong opposition'' and pray that it is only rhetoric and does not lead to his elevation as their leader in the Lok Sabha.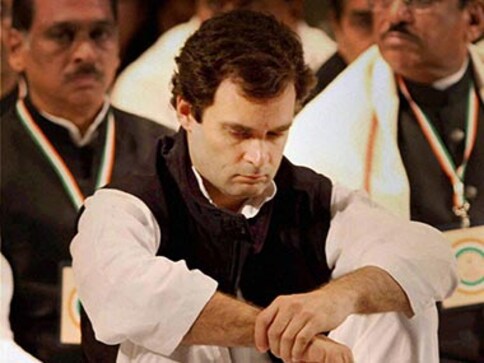 By Saroj Nagi
New Delhi: It's time for Rahul Gandhi to be rewarded again. Others may win laurels for their successes, but the Amethi MP gets feted handsomely each time he fails.
And this time he appears to have out-done himself.
As the party's star campaigner for the 2014 Lok Sabha polls, he returned home with just 44 of the 543 seats—162 less than its 2009 tally, 11 short of the number needed to get the status of leader of opposition in the Lok Sabha, one less than the 45 member-Modi cabinet and one more than the 43 years Rahul has to his age.
In presiding over the party's worst performance since Independence, the Amethi MP has set a dubious record that, his critics aver, could lead to the extinction of the 129 year old organization nurtured after Independence mostly by the Nehru-Gandhi family.
So, will Rahul be rewarded and anointed leader of party/leader of the opposition in the Lok Sabha? And if he is handed this task, will be measure up to it? Or will he—like his refusal to join the Manmohan Singh government---shy away from taking any responsibility that requires his continued participation, visibility, availability, dedication and commitment, personality traits that he is seen to be woefully short of?
Either way, it's a losing proposition both for him and his party.
This is because the problem is not that the party has lost the elections so badly, but that Rahul himself is a failure and a problem for the party which the Congress can neither jettison nor live with, given the fact that its fate is tied to the Nehru-Gandhi family both in victory or defeat.
Rewarding Failure
What worries most workers is that despite his failures, Rahul gets rewarded with greater responsibilities even if, along the way, he is ridiculed as Amul baby, Pappu or recently even "joker"---for which a Kerala and Rajasthan Congressman was suspended.
Rahul's real test of leadership began, when he was made general secretary in 2007 and tasked to energise the Youth Congress and the National Students Union of India and groom young leaders. He believes that he has done a good job by introducing elections to broadbase and democratize the frontal organizations. But ask any Congressman and he would dismiss the exercise as a dismal failure.
"The role of the frontal organizations was to spot and groom talent through nominations. But the introduction of elections has brought in money power. It has allowed those with resources from elite families to dominate the show, thereby squeezing out the poor and the meritorious,'' said a senior Congress leader who did not want to be named.
During the 10 years that Rahul has been in active politics, he has nothing major to show by way of achievements, other than winning 21 out of 80 seats in Uttar Pradesh in 2009 which, in any case, was because of goodwill generated by the performance of UPA-1 under the triumvirate of Manmohan Singh-Sonia Gandhi-Rahul which took their Lok Sabha tally from 145 seats in 2004 to 206 in 2009. Misled into thinking that Rahul perhaps has the magic wand, Sonia began to pass on her mantle to him--with disastrous consequences.
Over the next 5 years he led the party to defeat over and again in assembly elections around the country. Yet in arly 2014, he was made chief campaigner---to growing unease among party workers until Sonia decided to head the campaign committee herself. But this was a mere formality, since she allowed him to lead the battle for 2014. But the electorate was unforgiving: it gave the Congress only 44 seats and a 19.3% vote share.
No lessons learnt?
Has the Congress president learned something from all this---that Rahul's rise is inversely proportional to the Congress's downfall? Or will she fete him again by asking him to lead the MPs in the Lok Sabha? Will Rahul be upto a new task?
Given Rahul's personality traits and his past record, no one other than those close to him want him in that job. The Lok Sabha, they believe, is the only platform they presently have to claw their way into the reckoning through constructive debates, meaningful interventions and active participation and if they squander this opportunity, they may as well write their epitaph.
Rahul's parliamentary performance has been as dismal as his ground level campaigns where he could not even bring 55 MPs to officially become the leader of opposition. The party will now have to depend on the magnanimity of the new Speaker---to be elected when the House meets from June 4-12---for recognizing a Congress member as leader of opposition.
Rahul's attendance and interventions have been sparse. According to PRS, which tracks data on MPs' parliamentary participation, Rahul did not ask a single question or bring any private members bill in his second term as MP. He participated in just two debates—both relating to the Lokpal bill. Half the time he was absent from the House---his 43% attendance in sharp contrast to the national average of 76%.
Data shows that Rahul used only half of the Rs five crore fund allotted to every MP for the development of his constituency. Perhaps because he took a bigger role in the party, he skipped Parliament and did not turn up for the meetings of the standing committee of home of which he was a member.
Congress party's Don Quixote
The big question is whether Rahul, who failed to inspire his workers as general secretary and vice president, will be able to do so to the handful of 44 Congress MPs in the new House? No one is ready to give him the benefit of doubt.
After all, the Amethi MP—much like the fictional character Don Quixote--- prefers the lofty talk of transforming the Congress and the system and has missed a chance to learn practical politics and governance by not joining the Manmohan Singh's cabinet. "He does not know how governments function and has not bothered to learn by participating in Parliament. So until he transforms himself, he would not fit in well with the other MPs,'' said one leader.
Congresspersons complain that he was not accessible or available to them as a party leader. As leader of the parliamentary party in the Lok Sabha, he will have to be constantly on his toes, interacting with his own flock as well as with MPs from other parties and with the government representatives.
Indeed, the task is so onerous that there reports that most leaders are declining to lead the party even in the Rajya Sabha where the Congress has 67 members. The situation would be even more trying in the Lok Sabha which is a larger and in a way more powerful House since it has the power to bring down a government through a vote of confidence/no confidence or rejecting money bills.
Youth Congress members and senior leader Digvijaya Singh are among those who want him to take up the job and lead from the front. "It will allow him to learn,'' said one such supporter. But those worried about the party's future do not want to run that risk and are keen that Sonia resume overall charge of the party, including in Parliament.
They are already unnerved by Rahul's promise to "fight for the people'' and provide a "strong opposition'' and pray that it is only a part of his well rehearsed speech and does not lead to his elevation as their leader in the Lok Sabha.
The difference on opinion on whether or not Rahul should head the group of MPs is best illustrated by the fact that Sonia, as chairperson of the Congress parliamentary party, has not taken any decision in the matter so far. She is likely to keep decision pending until Rahul says "yes" or "no." The final word remains with him.
Politics
The Congress leader gave the 10-point reply hours after a Delhi Police team knocked on his doors for the third time in five days. He also sought eight to 10 days to give a detailed response to the questions posed by Delhi police over his January 30 remarks
India
PM Modi's retort followed Rahul's recent lecture at the prestigious Cambridge University where he claimed that the basic structure of the Indian democracy was under attack
Opinion
Many of the UK's prominent parliamentarians constantly provide ideological succour to both Khalistani and Islamist terror from constituencies across the whole of Britain