2G scam: Why 'zero-loss' is now the official UPA tune
Given the silent consent of the PM and P Chidambaram to A Raja's 2G capers, everyone is now likely to sing the 'no revenue loss' tune in the UPA.
One of the big escape hatches for the people accused in the 2G spectrum scam is the concept of "revenue loss". Was there, or was there not, any revenue loss in selling spectrum in 2008 at 2001 prices, as Andimuthu Raja did?
Since revenue loss figures range from zero (Kapil Sibal's self-serving claim) to Rs 30,984.55 (the CBI's) to Rs 1,76,000 crore (the Comptroller and Auditor General's), it looks like all it needs is a good imagination (or personal bias) to come up with a loss or no-loss figure.
The Supreme Court was, therefore, not amused to hear that the Telecom Regulatory Authority of India (Trai), which comes under Kapil Sibal's jurisdiction, had also come up with a "zero loss" figure in a note to the CBI, which asked it to compute a benchmark revenue loss by selling spectrum at old prices.
The court said: "We are surprised by that (Trai's) communication. It (Trai) is treated as an independent body. What they have done recently is a seriously debatable issue."
The apex court has obviously cottoned on to the fact that the 2G scamsters will claim there was no revenue loss since selling spectrum at 2001 prices was part of the policy to improve teledensity and keep call rates down.
This "zero-loss" line of reasoning is likely to take centre-stage, since it now becoming clear that both the Prime Minister and the then Finance Minister (P Chidambaram) knew what Raja was upto, and had initially wanted an auction-driven price for spectrum. But now that it is clear that they went along with Raja, the zero-loss argument become paramount in court.
If the court finally accepts the zero-loss argument-which it seems loath to currently-then the moral case against Raja and all those who were sent to jail falls apart, even if it is ultimately proved that they also jiggled the licence list to favour some bidders.
So one should not be surprised if everyone from the UPA-from the PM down to Sibal and the DMK and Raja-soon start singing the same "zero loss" song.
However, Firstpost would like to expand the idea to show that government policy actions-often driven by nothing more than short-term political interest, if not outright corruption-often result in real revenue losses, and these are not restricted to the telecom sector.
Based on the recent advance tax numbers, here are some possible policy-related revenue losses incurred by the current finance minister. The income-tax department's list of top taxpayers who are paying less tax this year includes companies like Bharti, Indian Oil, BPCL, State Bank of India, and Sun TV, among others.
The numbers, and the possible reasons for actual revenue losses to the exchequer, follow in that order.
Bharti Airtel: Advance tax payments in second quarter are down by 21 percent (Rs 68 crore) to Rs 252 crore. Bharti's margins are down due to A Raja's policy of awarding 122 new licences who brought down tariffs to unremunerative levels. Thanks to wayward telecom policies, Bharti is now shifting focus to Africa and has stopped aggressively acquiring customers in India and is even raising telecom tariffs - the exact opposite of what Raja claimed his policy was supposed to achieve. In August, Bharti added just 1.1 million customers, a 52-month low. Sunil Mittal wants quality customers, not quantity.
Indian Oil: India's biggest oil marketing company has brought its advance taxes down to zero from Rs 351 crore last year. Reason: the government is not compensating it for losses in diesel, cooking gas and kerosene, presumably to keep prices low for the aam aadmi.
Bharat Petroleum: Tax payments are down 83 percent from Rs 206 crore to Rs 35 crore. Reason: Same as Indian Oil - faulty policies that keep prices down by fleecing the oil marketing companies.
State Bank of India: Advance tax payments are down 14.24 percent from Rs 1,924 crore to Rs 1,650 crore. The SBI is busy making provisions for bad loans incurred while running its teaser loan scheme from 2008-2011. The bank started it at the nudging of the government, which wanted banks to lend for housing after the Lehman-induced slowdown. But the bank continued it for long to expand its loan market share. It is now begging the government for capital contributions - when the latter is scrounging around for money to reduce the budget deficit.
Maruti Suzuki and Hyundai: Their tax payments are down 56 percent and 13.5 percent to Rs 120 crore and Rs 81 crore because auto demand is falling due to rising interest and petrol rates.
Sun TV: Advance tax has fallen 100 percent from Rs 96 crore last year to zero. The Sun TV group is facing a problem because it is owned by Kalanithi Maran, brother of Raja's predecessor Dayanidhi Maran. It has also come under attack from the AIADMK government under J Jayalalithaa, which has more or less ended its cable distribution monopoly.
And then there is one big taxpayer who's actually paid more: ONGC. It's the policy anomaly that proves the rule that anything the government touches results in "revenue loss".
ONGC has paid more in taxes in the second quarter-up from Rs 2,388 crore to Rs 2,991 crore-because oil prices have fallen and it has to pay less subsidies to Indian Oil and the other oil marketing companies.
Subscribe to Moneycontrol Pro at ₹499 for the first year. Use code PRO499. Limited period offer. *T&C apply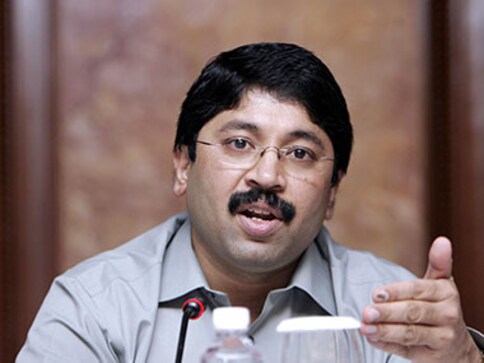 India
CBI on Friday filed a charge sheet against the then Telecom Minister Dayanidhi Maran and his brother Kalanithi among others for allegedly using 764 high-speed data lines at the former's residence which were used by a private TV channel causing loss of Rs 1.78 crore to the exchequer.
India
Media baron and promoter of Sun TV group Kalanithi Maran on Thursday said they were not tax dodgers and the media was being fed stories about the group and him by people with vested interests.
Corporate
Shares of Sun TV Networks plunged 12 percent in trade this morning after the Attorney-General of India, Mukul Rohatgi said there was enough evidence to prosecute Dayanidhi Maran, and his brother, Kalanithi Maran, in the Aircel-Maxis deal. <br />