UP Assembly Election 2017: Priyanka Gandhi to lead Congress campaign, Rahul's role unclear
After flip-flopping over Priyanka Gandhi's involvement in the upcoming election, Congress leader Raj Babbar confirmed on Friday confirmed that Priyanka will be promoting the party's agenda
As the political battle in Uttar Pradesh heats up, Congress workers finally have some good news to carry on campaigning in the northern state. Priyanka Gandhi has agreed to campaign for Congress in the upcoming 2017 UP Assembly Election.
After flip-flopping over Priyanka's involvement in the upcoming election, Congress leader Raj Babbar confirmed on Friday that Priyanka will be promoting the party's agenda, ANI tweeted on Friday.
"Priyanka ji ne humari baat maan li hai, kab kahan kaise prachaar karengi ye nahi decide hua hai, [Priyanka has agreed with our request. However, it is not decided as to when and where will she campaign]," said ANI, quoting Babbar.
Priyanka ji ne humari baat maan li hai,kab kahan kaise prachaar karengi ye nahi decide hua hai: Raj Babbar,Congress on UP polls

— ANI (@ANI_news) November 18, 2016
According to a report published in Financial Express, Priyanka Gandhi had a meeting on Friday morning with Congress vice-president Rahul Gandhi and senior Congress leaders, including Leader of Opposition in Rajya Sabha Ghulam Nabi Azad, and Congress UP chief minister candidate Sheila Dixit.
Priyanka, who has so far shied away from any involvement in politics over the last two years, is expected to breathe new life into the Congress' poll campaign in Uttar Pradesh, which, though led by Rahul Gandhi, has been often termed as 'toothless' by rival parties.
Priyanka leading the UP polls campaign have been making rounds since July, but Congress has been reversing the decision. In fact, Congress Vice-President Rahul Gandhi had started the party's poll campaign in Uttar Pradesh in 6 September with a 2,500-km "27 Saal UP behal Yatra" and a slogan of "Karz hoga maaf, bijli hogi half".
Unfortunately, according to an India Today report, Rahul Gandhi's campaign was mired with unnecessary coverage of incidents, including farmers stealing khaats from his so-called "Khaat Pe Charcha", as well as a shoe that was thrown at him during the rally. Rahul's remarks against Prime Minister Narendra Modi had also failed to turn the wind in Congress' favour.
An India Today-Axis poll, as reported in Firstpost, in October, showed Congress' chances of winning just eight-12 seats in UP's 403-member assembly. Even its chief ministerial candidate had failed to create any buzz, with just one percent of those surveyed approving the choice of Dikshit as the next chief minister.
Congress has also hired campaign strategist Prashant Kishore (the same person who helped BJP strategise in the 2004 Lok Sabha election), but as this Firstpost article argues, Kishore had failed to make any notable progress. Now, with Priyanka's involvement, it's likely that even Kishore may have some new ideas to work with in the run to the 2017 UP Assembly Election.
It would also be interesting to see the role that Rahul Gandhi will play in the upcoming election, with Priyanka now leading the campaign.
India
However, Opposition leaders including Congress' Priyanka Gandhi Vadra and Samajwadi Party chief Akhilesh Yadav have said that a sitting judge should investigate the matter.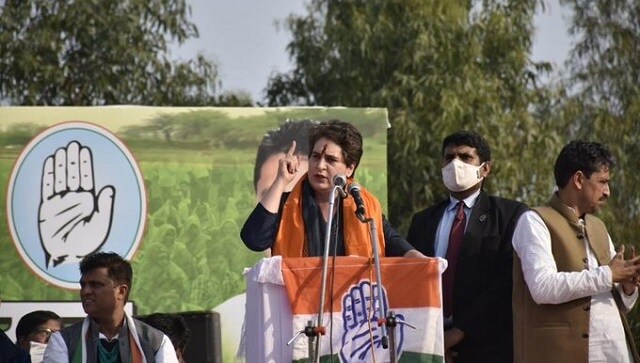 India
The Congress youth wing's national president called on all supporters to reach the Sitapur police line in a tweet
Politics
The twin challenge before Mamata Banerjee for emerging as a prima donna in the opposition firmament is to build her own national profile while enlarging the geographic footprint of her party