20 AAP MLAs face disqualification over offices of profit: Sonia Gandhi, Jaya Bachchan faced similar charges
The Aam Aadmi Party (AAP) is facing arguably its biggest electoral crisis over the office of profit controversy. However, this is not the first controversy of its kind.
The Aam Aadmi Party (AAP) is facing arguably its biggest electoral crisis ever as reports say the Election Commission has recommended to the president the disqualification of 20 of its MLAs for allegedly holding an office of profit. However, this is by no means the first controversy of its kind.
Perhaps the most prominent instance of a political imbroglio over an office of profit was regarding no less than former Congress president Sonia Gandhi. The former Congress president in March 2006 had resigned as a member of Parliament after the Opposition raised an outcry over her holding the post of chairperson of the National Advisory Council (NAC). In the aftermath of her resignation, two more members of Parliament—Karan Singh and Gurudas Kamat—also quit, according to a report by India Today.
The National Advisory Council was formed on 4 June, 2004 after the Congress-led UPA came to power, defeating the BJP-led NDA. Sonia Gandhi was the chairperson of the body until it was dissolved in May 2014. Later, the Parliament (Prevention of Disqualification) Act, 1959  was amended to add the post of the NAC chairperson to the list of exempted post.
The outcry against Sonia Gandhi was fuelled by the disqualification of Samajwadi Party Rajya Sabha MP Jaya Bachchan. Bachchan was disqualified as she held the office of the chairperson of the Uttar Pradesh Film Development Council, as reported by The Hindu Business Line. The action taken against Jaya Bachchan led Opposition parties launching an attack on Sonia Gandhi.
More recently, two Uttar Pradesh MLAs—Bajrang Bahadur Singh and Uma Shankar Singh—were disqualified from the state Assembly after they were found to be holding offices of profit, DNA reported. While the former was from the Bharatiya Janata Party, the latter was from the Bahujan Samaj Party (BSP). A Lokayukta probe against them had at the time held them guilty of having taken up government contracts worth several hundred crores of rupees.
While upholding their disqualification, the Supreme Court in April 2015 held that legislators will be disqualified not only if they have business contracts with the government at the time of filing of their nomination papers, but also if they have such contracts after being elected, The Indian Express reported.
Follow live updates here.
Politics
She also appealed to the youths protesting against the scheme to adopt peaceful and non-violent means to fight for their demands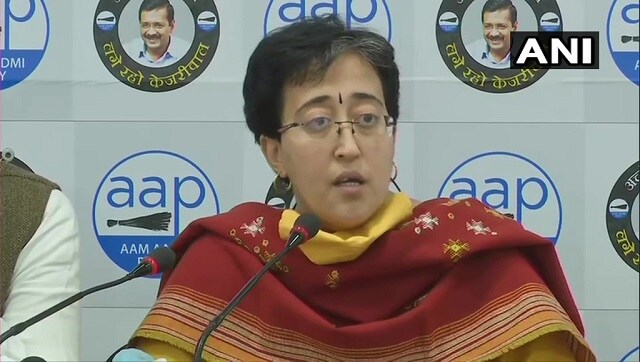 India
The complaint filed by Sanket Gupta said that AAP MLA Atishi held public meetings in the Rajinder Nagar constituency on 22 June at Sindhu Samaj temple, Old Rajinder Nagar, Delhi
Politics
The Delhi chief minister will hold the roadshow in support of AAP candidate Gurmel Singh