For Kolkata's football aficionados, FIFA World Cup 2018 is a time for boisterous celebration [Photos]
Form murals of Messi to sondesh that supports your preferred team and gully games, the FIFA World Cup is a time of celebration in football-crazy Kolkata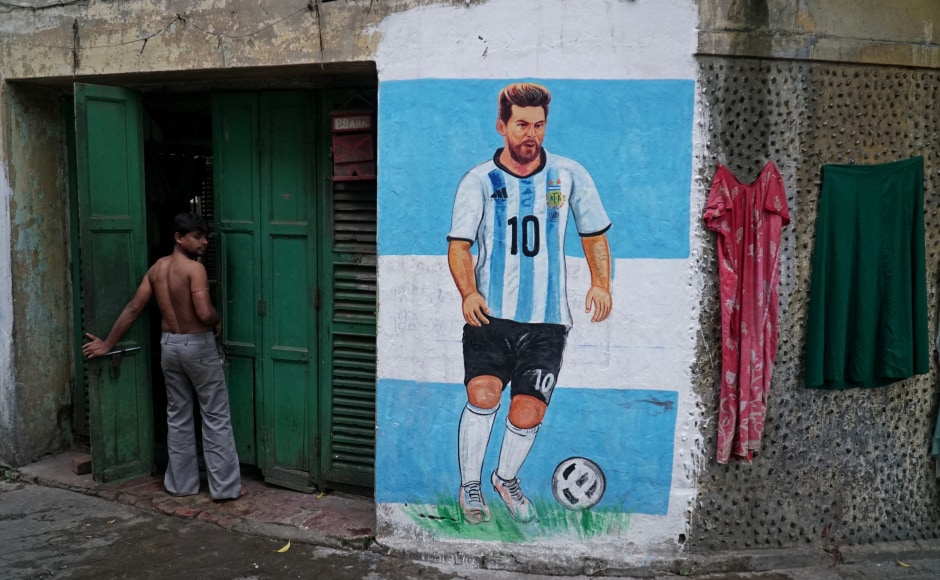 1/8
The FIFA World Cup 2018 may be taking place several thousand km away in Russia, but the reverberations are being felt in football-crazy Kolkata. After maach (fish) and mishti (sweets), if a Bengali goes overboard over anything, it's football. Here: Even gloomy walls of old buildings war a brighter look, painted over with pictures of the gods — Messi, Neymar and Ronaldo.
2/8
Just how did Kolkata come to be so football crazy? It may have something to do with the sport's history in the City of Joy. Here: A Portugal supporter spins a ball on his finger.
3/8
Back in the 1800s, football was considered a white man's sport. No one knew then that Bengal would give rise to football stars like Goshta Paul, PK Banerjee, Bhaichung Bhutia or Sunil Chhetri. Here: A sky full of flags.
4/8
It is said that a bright, lanky teenager named Nagen was fascinated by this sport and he'd watch matches every chance he got. Once, during a game, a ball came flying in his direction, and without a second though, Nagen kicked it back. Nagen — aka Nagendra Prasad Sarbadhikari — is now known as the father of Indian football. He set up a number of football clubs in Bengal. These youngsters pictured here seem to be emulating his spirit.
5/8
The East Bengal-Mohun Bagan legacy is well known throughout India. Growing up, Bengali children fight over the superiority of chingri (prawn) and ilish (Hilsa) — or their favourite club. Bengali households will wear an air of gloom when a derby match is lost against the rival club. Here: A young fan polishes his footie skills.
6/8
The same passion is poured into supporting the teams participating in the FIFA World Cup — be it Brazil, Argentina, Germany or Portugal.
7/8
During the FIFA World Cup, football makes its way even into the city's sweets! Khoya or mawa models of the leading footballers are found at shops.
8/8
Flag sondesh to support your favourite team perhaps?