London 2012: Finally Allyson Felix wins 200m gold
Allyson Felix finally won the Olympic gold medal she craved most, gliding home with her seemingly effortless stride to take the 200-meters title and break Veronica Campbell-Brown's stranglehold on the event.
London: Allyson Felix finally won the Olympic gold medal she craved most, gliding home with her seemingly effortless stride to take the 200-meters title and break Veronica Campbell-Brown's stranglehold on the event.
Aries Merritt added to a super sprint night for the United States, dominating the 110-meter hurdles final ahead of compatriot Jason Richardson. Behind them, Cuba's Dayron Robles, the 2008 champion, was smashing a hurdle in frustration after he pulled up lame with a right hamstring injury halfway through the race. In the heats, China's Liu Xiang, the 2004 champion, also pulled out injured.
And making for a golden half-hour for the United States, Brittney Reese added the long jump title soon afterward to complete a triple for the Americans.
All of a sudden, the United States shot to the top of the medal standings in track and field with five golds, two more than Russia and Britain.
Overall, the margin was even bigger after a seven-medal night. The United States has 20 medals, just 10 shy of its target for the games, with four more days to go. Russia is its closest rival with just nine.
"It is a great thing for team USA to come out here and get 7 medals in one night," Reese said. "We are on track for what we want to do."
Then again, so is Jamacain super star Usain Bolt.
Together with his training partner Yohan Blake, they are hoping to get another 1-2 sprint finish in Thursday's 200 to add to the 100.
It could have been even better for the U.S. team, but world champion Lashinda Demus lost the 400 hurdles final by .07 seconds to Russia's Natalya Antyukh.
In the biggest final of the night, loaded with gold medalists, Felix was quickest around the curve and, once she had her smooth, elegant stride going, none of the power racers could come close.
"I mean, finally. It's been a long time coming," Felix said, reflecting on two losses to Veronica Campbell-Brown. "To twice lose to the same person, it's been tough. But it's all paying off."
Shelly-Ann Fraser-Pryce of Jamaica added silver to her 100 gold medal and Carmelita Jeter took bronze.
Campbell-Brown faded out of contention down the stretch and finished fourth, failing — just like pole vaulter Yelena Isinbayeva did the night before — to become the first woman in track and field to win gold medals in the same individual event at three consecutive Olympics.
"I'm happy for her. I know that she wanted it," Campbell-Brown said of Felix.
Sanya Richards-Ross, who was seeking a 200-400 double, fell back into fifth place but was happy that Felix finally got the Olympic gold medal after two silvers.
"She's had a very good season and definitely deserves this moment," Richards-Ross said. "She's just like me, she's wanted this for a very long time."
It was a thrilling US victory in the Jamaica-US sprint rivalry. By the looks of it, though, Jamaica should hit back.
Bolt is one victory away from becoming the first man to repeat as double Olympic sprint champion and reaching his ambition of becoming a "living legend" after he qualified for the 200 meter final.
On a balmy, clear Wednesday night, Bolt joked as he got into the blocks, laughed when as he crouched into the blocks and then sped away for a controlled race which he finished by almost jogging across the line. His win exuded as much confidence as his victory in the 100 on Sunday.
This time, too, everything is set for a direct duel with his training partner Yohan Blake, the silver medalist in the 100.
The 100 should have been the tough part for Bolt where his starting jitters have been an issue. The 200 is his preferred distance and it showed. He made a military-style salute when he was announced to the crowd, reggae music blaring in the background. After his race, he applauded another capacity crowd of 80,000 at the Olympic Stadium.
Wallace Spearmon was the only American through to the final, and France's Christophe Lemaitre also advanced.
There is even talk of a Jamaican sweep, but Bolt had his doubts. "It's going to be hard. As you can see, Yohan is ready. Wallace Spearmon is there."
"There's a lot of people there, who have come to spoil the party, "Bolt said. "So we'll see."
Blake had the fastest time with 20.01 seconds, compared with 20.18 for Bolt.
"It's the 200 meters and we are both full speed tomorrow," Blake said. "Anything can happen."
After Thursday's 200 final, Bolt still has the weekend relays coming up and even before his race Wednesday, he already was practicing the baton handoff with Blake, determined to get another trio of gold medals as he did at the 2008 Beijing Games.
It would be uncharted territory. Carl Lewis won the 100-200 double in 1984 but finished with silver in the 200 behind fellow-American Joe DeLoach in Seoul four years later. He won relay gold at the 1984 Los Angeles Games but the U.S. team failed to win a medal in 1988.
The Americans seem already have a lock on one more gold Thursday with Ashton Eaton in the decathlon.
Eaton started off the two-day event with an Olympic-best performance in the 100 meters and kept up the momentum, jumping to a big lead after the first day.
The American was 220 points ahead of teammate Trey Hardee through five events Wednesday.
AP
Find latest and upcoming tech gadgets online on Tech2 Gadgets. Get technology news, gadgets reviews & ratings. Popular gadgets including laptop, tablet and mobile specifications, features, prices, comparison.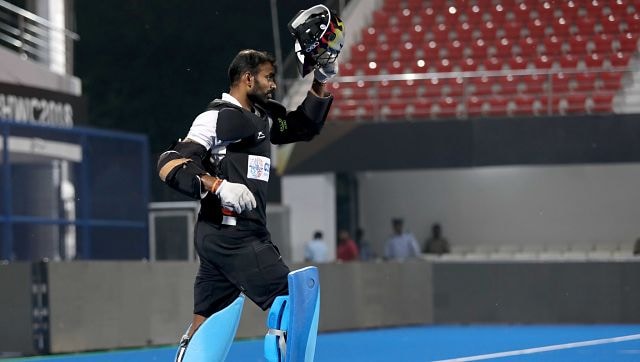 Sports
In the next leg of FIH Hockey Pro League matches, India is scheduled to play against Argentina in April, Britain, Spain and Germany in May.
Sports
Japanese Prime Minister Yoshihide Suga has vowed to get the pandemic under control and hold the already postponed Olympics this summer with ample coronavirus protection.
Sports
"Given the coronavirus situation, anything can happen," Kono, a high-profile former foreign and defence minister, told a press briefing.