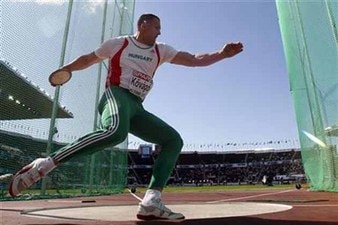 Hungarian discus thrower Zoltan Kovago, a medal contender in London, was banned for two years by the Court of Arbitration for Sport (CAS) on Thursday for a doping violation and will miss the Olympic Games, the court said.
"The CAS Panel was comfortably satisfied that the athlete refused or failed without compelling justification to submit to sample collection after notification or otherwise evaded sample collection on 11 August 2011," the court said in a statement.
Kovago, 33, became the second Hungarian discus thrower forced out of the London Olympics due to a doping offence after Robert Fazekas, who was stripped of his 2004 win because of doping, failed a drug test.
Kovago, who was promoted to second place at the 2004 Games after Fazekas was disqualified, denies the charges and said he provided three samples within a four-day period around the time in question.
"To my honour, I did not dope, which unfortunately I am unable to prove with a series of negative tests," Kovago wrote in a statement on his Facebook site.
Kovago had been exonerated by the Doping Committee of the Hungarian National Anti-Doping Organisation, prompting the International Athletics Association (IAAF) to appeal to CAS. The Hungarian Athletic Association acknowledged the decision, which cannot be appealed, but said there is no evidence of the violation.
"There is no material proof that Zoltan Kovago refused a doping test," Marton Gyulai, the federation's secretary general told state news agency the
"While the athlete provided copious material proof, there is only a single anti-doping official with contradictory statements on the opposing side," Gyulai added.
Source : IBNLive
Updated Date: Jul 27, 2012 01:00 AM