Zakir Naik's Islamic International School: Here's what's part of its Salafi curriculum
The Mumbai Police have come up with a 71-page report on the Salafist Islamist televangelist Zakir Naik and his 'unlawful activities'. However, what is worth deliberating is the 'serious concerns' of the police over the kind of education imparted to students at the Mumbai-based Islamic International School, founded and conceptualised by Zakir Naik.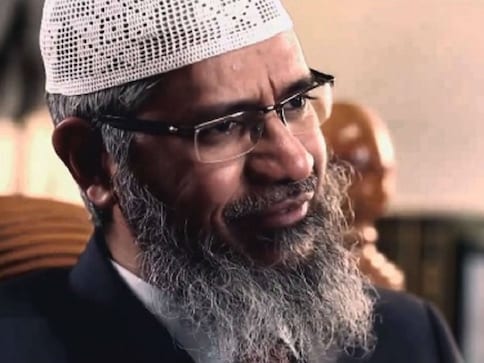 The Mumbai Police have come up with a 71-page report on the Salafist Islamist televangelist Zakir Naik and his 'unlawful activities'. It was not least expected.  However, what is worth deliberating is the 'serious concerns' of the police over the kind of education imparted to students at the Mumbai-based Islamic International School (IIS), founded and conceptualised by Zakir Naik.
Besides IIS, there are also various Islamic schools in the country which explicitly and proudly claim to be "inspired by Naik", even though they are not 'conceived, planned, and developed by Zakir Naik' like the one in Mazagaon in Mumbai. The IIS states in its website that it "aims at upbringing students personifying the profound spirit, vision and skills true and able Muslims must have, to be 'Generation Next' leaders as well as future torch bearers to all the people of the world".
Apart from Zakir Naik's Islamic school, if we take a look at an emerging trend in the Muslim education in India, we find that the modern Islamic schools are booming and mushrooming like a profitable business in various metropolitan cities in India today. Regardless of the political economy of these educational institutions, their promising appeal has captivated the country's English-speaking, middle-class — and influential— segment of the Muslim community.
A New Delhi-based journalist, Gagandeep Kaur, did a story on the kind of education provided by India's Islamic schools and how different it is from the conventional education imparted by a regular school. She writes:
"These schools can be described as a cross between a traditional madrassa [an Islamic religious school] and a regular school. The students study a combination of both the religious as well as regular subjects….. The rising appeal of Islamic schools points to a gap in the education system. While madrassas focused only on Islamic education, the community felt that regular education was also unable to inculcate moral values in children".
There is no doubt that most Muslim parents want their children to be anchored in both the religious as well as regular or modern secular education. And this is precisely why they tend to get them enrolled in an Islamic school or what is also called 'Islamic Montessori'. This is something that Muslim children are deprived of in the traditional madrassas which teach an age-old Islamic curriculum called "Dars-e-Nizami" compiled by Mullah Nizamuddin Sahalwi, who taught at the Firangi Mahal, the most prominent madrassa in Lucknow. But the leading Indian madrassas like Darul Uloom Deoband have shown reluctance over the years in incorporating modern subjects and the western methods of teaching.
Prominent historian, Professor Habib, has rightly pointed out in his interview with Gagandeep Kaur that "unless the curriculum [of madrassas] is revised and upgraded and structural and radical changes are brought about, madrassa education will not become relevant in terms of employment opportunities available today. That is a huge task and whenever there is talk about including madrassas in the modern education [system], there is a reaction from the people who run madrassas".
Since an overwhelming number of madrassas in every part of the country have been reluctant to modernisation, they lost their appeal to the educated and well-to-do Muslim families. Thus, they were on the lookout for a sophisticated environment of both religious and secular learning which the modern Islamic schools have offered.
But the recent report that reveals Zakir Naik's Islamic International School as an educational institution 'brainwashing students' has come as a horror to scores of Muslim parents whose children are taught in the Islamic International School or its branches or in the similar Slafism-inspired Islamic schools around the country.
According to Mumbai Mirror, a report submitted by the Mumbai Police to the Chief Minister's office and the home ministry said,
There was enough material in the syllabus to indicate that the school was not only brainwashing students into rejecting other faiths but also urged them to convert people to Islam.
Notably, the investigation into Zakir Naik's institution, IIS, initiated after a number of the Indian journalists and media persons raised this issue. As per this article in Firstpost, "If the Indian government has identified Naik's speeches both, through the TV and outside, as a threat to religious harmony and to country's secular fabric, caution is also warranted on the operations of a school, conceptualised and run by Naik in Mumbai."
Apparently, what the writer of the Firstpost article suggested is now corroborated by the Mumbai Police report that has raised "serious concerns" over the nature of education imparted to the students of IIS. A senior police officer went to the extent of stating that, "Some of the school's literature, which is also available on its website, is highly controversial and objectionable, and could produce indoctrinated individuals."
The police have found that the IIS's curriculum, which has the potential to 'indoctrinate individuals', is the same Salafi literature being taught in a large number of the Indian Islamic schools in the name of Islamic studies. Originated in the Gulf countries, the Salafism-inspired modern Islamic schools first expanded in the Western and European cities. Translated from Arabic into English, a large corpus of their Islamic curricula contain whatever was written by the modern Wahhabi ideologues like Shaikh Abdullah bin Baaz, Ibn Usaimin, Saleh al-Fawzan and Nasiruddin al-Albani. These scholars have dismissed all progressive interpretations and cultural practices of Islam as 'completely deviance' from the Islamic Sharia. They propounded that "modernisation" or "innovations" (called "Bida'h" in Islamic terminology) are the genesis of the moral and religious decline of the Muslim world.
An Arabic article titled "تعاليم المنهج السلفي: تطرف ديني دون هياكل تنظيمية" (the Salafi curriculum's teachings: religious extremism without organisational structures) has noted that, "they [Salafist ideologues] completely reject the modern interpretations of Islamic law, the spiritually-inclined Sufi orders as well as the Shiite denomination of Islam". It further says: "the vast majority of Salafis still remain true to the teachings of the Saudi theologian Muhammad ibn al Uthaymeen, who was a member of the Senior Scholars Committee of Saudi Arabia. He issued the famous fatwa that stated: "Whoever launches a terrorist suicide attack will spend all his eternal life in hell."
Deplorably enough, Naik has also quoted some of the Salafi scholars who 'permit suicide attack as a war tactic'.  Given Naik's avowed allegiance to the puritanical Salafism, it is not difficult to find what kind of Islamic curriculum is taught in the schools conceived or inspired by him. However, greater caution is warranted on the interaction of these schools' students with the modern Salafist ideologues. The IIS's website itself reveals that, "students get to interact with world-famous Islamic luminaries like: Shaikh Saud Ash Shuraim (eminent Imam of Masjid Al Haram, Makkah Al Mukarramah), Shaikh Salaah Al Budair (eminent Imam of Masjid Al Nabawi, Madinah Al Munawwarah), Dr. Hussain Hamed Hasan (renowned internationally as 'the father of Islamic Banking') and world acclaimed Da'ees [preachers] of Islam like Abdur Raheem Green (UK), Yassir Fazaga (USA), Hussain Yee (Malaysia), Salem Al Aamry (UAE), Assim Al Hakeem (Saudi Arabia), Yusuf Estes (USA) and many others".
It should be noted that some of these Salafist scholars, like Zakir Naik himself, have justified suicide bombing as a war tactic, death penalty of apostasy, sex slavery, child marriage and destruction of cultural and religious structures.
These are highly lethal opinions of the Salafi clergy that the parents of the students in these Islamic schools are unaware of. One can imagine the easy indoctrination of the innocent children if they are put in the 'close and personal interactions' with these preachers of Salafism. It is clearly stated
It is clearly stated in the school's website: "These close and personal interactions; open question and answer sessions and discussions profoundly impress on the students, their apt grasping and understanding of Islam and related issues in contemporary context. The students also get to experience firsthand and learn from the proper attitude and presentation skills of these greatly respected Islamic personalities, scholars and Da'ees… during their interactions with them at close quarters.
The IIS website also states under the category of 'Islamic education' that students are taught by "the best available and dedicated teachers, who are graduates, post graduates and PhDs from the leading Islamic universities and institutions of the world, including Islamic University of Madinah, Saudi Arabia".
It is a common knowledge that Madina University is the world's largest Saudi-Salafi Islamic institution which was established particularly for foreign Muslims. One of the above-mentioned key Salafist ideologues, Shaikh Nasiruddin al-Albani, who is little known in India, was appointed as the chief Islamic teacher at Madina University. Among the Islamic subjects which are taught to the students of IIS are Tarjamatul Qur'an (translation of the Qur'an), Hadith  (Prophetic sayings), Tawheed (Islamic monotheism).
Regrettably, these are the Islamic sources that have been brazenly misinterpreted by Zakir Naik in exclusivist, misogynist, male-chauvinistic and religiously inflammatory statements, as this Firstpost article points out in detail.
The author is a scholar of Comparative Religion, Classical Arabic and Islamic sciences, cultural analyst and researcher in Media and Communication Studies. Write to him at grdehlavi@gmail.com