Mumbai: Trupti Desai prays at Haji Ali Dargah, but not inner sanctum
Rights activist Trupti Desai on Thursday entered Mumbai's Haji Ali Dargah to offer prayers amid tight security.
Mumbai: After spearheading campaigns to break bar on entry of women in the sanctum sanctorum of two famous temples, Bhumata Ranragini Brigade chief Trupti Desai on entered the Haji Ali Dargah in the heart of Mumbai but did not venture into the inner chamber of the shrine where women are not allowed.
"At the Dargah, I prayed that women be allowed to enter the inner sanctum, as was the case till 2011," Desai said after coming out of the shrine.
"Police cooperated with us this time. This is a fight for gender equality. We will try to visit the inner sanctum next time," she said.
Desai had led a high-profile campaign last month to break the bar on women at the core area of the Dargah, but stopped short of entering the shrine at the last minute amid resistance by activists of outfits opposed to the move.
Desai, whose previous campaigns were centred around Hindu temples, had then maintained that her agitation for right to equality for women at places of worship is not linked to any religion.
The Maharashtra government had in February this year favoured the entry of women into the Haji Ali Dargah.
The state government had then said before the Bombay High Court that unless the Dargah Board is able to prove that ban is part of their religious practice with reference to Quran, women should be allowed to enter the sanctum sanctorum of Haji Ali.
The Dargah Board had said that the sanctum sanctorum of the dargah houses the grave of a male saint and in Islam it is sin for women to touch a male saint, and hence, women are barred from touching the tomb.
Recently, Desai successfully led movements to do away with ban on women into the core worship area at Shani Shingnapur and Trimbakeshwar temples in Ahmednagar and Nashik districts of Maharashtra.
In a related development, a civil petition has been filed in a Mumbai court seeking a ban on the entry of Desai into the core area of the Dargah. The court posted the matter for arguments on 15 June.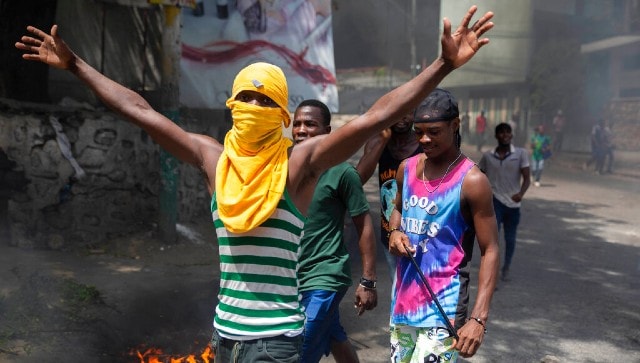 World
For the time being, interim Prime Minister Claude Joseph in in-charge of Haiti, but even his position is not clear as President Jovenel Moise had named a new prime minister — Ariel Henry, a neurosurgeon — the day before he was assassinated
India
Online protesters had called the wedding a case of 'love jihad', while the woman's family members received telephonic threats
India
Every year, World Population Day is observed on 11 July to draw people's attention towards overpoulation on a national as well as global level