Mumbai rains hit rail and road traffic; NDRF called in to rescue over 450 stranded passengers, navy on standby
A distance, usually covered in about an hour in Mumbai, took several hours, even up to five hours in some cases, as the rail tracks, as well as roads, were submerged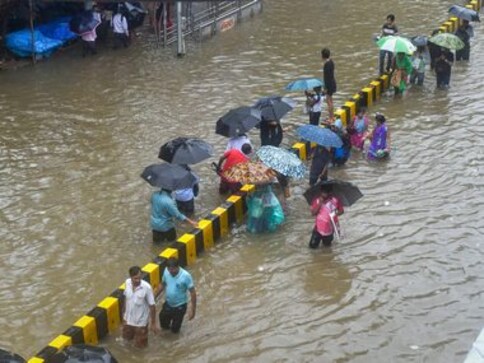 Mumbai: Local trains, considered the lifeline of Mumbai, on Tuesday, moved at the snail's pace due to water-logging of the tracks, resulting in harrowing times for lakhs of office-goers and other commuters. A distance, usually covered in about an hour, took several hours, even up to five hours in some cases, as the rail tracks, as well as roads, were submerged. This was the scene of the metropolis as it continued to be lashed by heavy rains for the fourth straight day.
This has now become an annual affair during the monsoons and while the citizens may grin, they seem to have become almost immune to these hardships.
"We have now become used to this," said Ranvijay Singh Yadav while travelling from Navi Mumbai to Chhatrapati Shivaji Maharaj Terminus (CSMT) by a local train.
On normal days, the daily commuter's 39-kilometre journey would take him about an hour. Devendra Masurkar, a daily commuter whose travel from Thane to CSMT by a local train normally takes him 40 minutes, reached his destination after three and a half hours. He said many office-goers, who got a train after waiting for hours, returned home from midway as the locomotive was moving at a very slow pace and they felt they would be reaching their offices only in the afternoon.
"Some of them ate their lunch inside the train and returned home," said Masurkar who did not give up, even though he reached office late. "We face such a situation every year but nobody seems to care," he added. On the water-logged roads, people could be seen wading through knee-deep water while the vehicles were submerged.
In Wadala area, some children, unmindful of the misery around, could be seen happily playing on flooded streets. Suburban services were suspended on one section of the local network and several long-distance and inter-city express trains were delayed or cancelled, officials said. Train services were briefly suspended on the Vashi-Mumbai CSMT section of the Harbour Line due to water-logging on tracks between Mankhurd and Govandi stations. Services on the route, that connects Mumbai with Navi Mumbai, resumed at around 1 pm, but trains negotiated flooded tracks and crawled between Mankhurd and Govandi and again between Wadala and Sewri stations.
The rains also affected Mumbai's famous tiffin carriers Dabbawalas, who are known for their on-time delivery service. They suspended their services on Tuesday.
The India Meteorological Department's Colaba observatory (for the Mumbai city) recorded 165.8 mm rainfall in the 24-hour period of 8.30 am on Monday till 8.30 am on Tuesday.
The Santacruz observatory, which records rainfall for the suburban Mumbai, reported 184.3 mm rainfall in the same period.
The IMD has predicted heavy to very heavy rain till Thursday. On Monday, Mumbai recorded the season's highest rainfall at 170 mm, an official said.
also read
India
A 23-year-old woman, working as a techie in Infosys, died on Sunday after her car got stuck in the flooded KR Circle underpass in Bengaluru. The tragedy puts the spotlight on the city's flooding woes – a poor drainage system, encroachment on open lands and lack of urban planning
Explainers
The Indian Meteorological Department predicts normal monsoon rainfall in 2023. However, with a 90 per cent chance of an El Nino weather pattern developing during the June-September monsoon season, less rain is possible
Opinion
The upcoming week till 28 May is expected to be washed out by heavy rains in multiple states of India except Gujarat, Maharashtra and Goa where rains will be significantly lesser and dry and hot weather will prevail