Marathwada's drought: Some measures that could save the parched region from recurring drought
Here are some of the measures which could have saved the farmers in the perennially parched Marathwada from distress, had they been implemented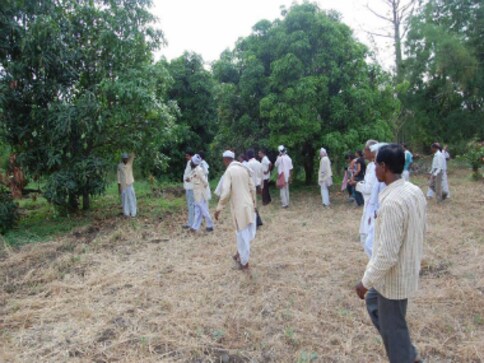 This Firstpost series that began with highlighting how private water sellers are doing sound business in the midst of severe economic downturn in the water-parched region; the toothless laws, lack of enforcement and ineffective irrigation network which has led to the exploitation and depletion of water levels in the dams; crop failures triggering farmer suicides; the region's sugarcane addiction, and climate change manipulations affecting the agricultural produce, provides a vantage point on the agrarian crises of Marathwada.
The next step, however, should be damage control. Environmentalists, water conservationists and agricultural scientists have long been suggesting ways like — watershed management, changing cropping pattern, focussing on agro-forestry, tree-farming and allied sectors like poultry and dairy — to mitigate drought. It is now that the region is facing severe water crisis in years, the state has actively started implementing measures like Jalyukt Shivar to conserve water.
What must change?
Cropping pattern: The challenge lies in motivating farmers to change their cropping pattern. Drought-resilient crops like jowar (sorghum), bajra (pearl millets), oil seeds like groundnut and safflower have replaced water-guzzlers like cotton, sugarcane and soybean that yield high returns and are easy on labour. Although initially this improved the returns, it also subsequently increased the demand of water. According to experts, with only 12 percent area under irrigation, opting for sugarcane and soybean has turned out to be a bad idea. Not only does it affect the farmer, but it also affects the fodder availability for cattle as well. Drastic fall in jowar and bajra has hampered the availability of dry and green fodder.
The chart below explains the drastic changes in cropping pattern
Kishor Tiwari, chairman of state-run Vasantrao Naik Sheti Swavlamban Mission, tells Firstpost: "Farmers should not have been allowed to grow sugarcane this year given the intensity of the drought, yet about nine to  10 sugar factories were seen operating smoothly. Faulty political leadership at the local level has caused havoc. Farmers are misguided about cropping patterns; they have to first change their mindset, only then we can find our way out of this problem."
According to Udhavrao Alse, agronomist of Vasantrao Naik Marathwada Krishi Vidyapeeth (VNMKV), the tendency of farmers favouring mono-cropping should be replaced with intercropping. "Instead of growing a single cash crop like sugarcane or soybean, farmers should grow jowar along with tur in a 4:2 ratio or bajra and tur in 3:3 ratio. This minimises the risk of production. Legumes like pea, cow or chick pea, masoor, beans etc are considered most ideal for this practice," he said.
Exploitation of groundwater: Groundwater extracted in huge quantities from private tube wells is mainly used for farming purposes (read for cash crops) instead of drinking water, say experts. "Such kind of exploitation has become rapid now. The expansion of area under horticulture and sugarcane is largely driven by the extraction of groundwater," said B Venkateswarlu, VNMKV's vice-chancellor. "Ignoring to recharge the groundwater has now caused major depletion in its level."
Agricultural scientists observe that digging of borewells for extracting groundwater not only ruins the fertility of the soil but also depletes groundwater level. The groundwater drawn from a single borewell in a farm creates shortage for other farms in the vicinity. Vaibhav Sahane, a farmer from Nanded, has an 85-foot borewell which has been supplying water to his seven-acre land sufficiently since May last year. However, Sahane's neighbour who owns a three-acre land gets no water even with two borewells. The problem is there are laws but no enforcement at the grassroot level, experts point out.
Sugarcane crushing: The practice, which usually begins in October, requires tremendous amounts of water. According to this report by SANDRP, a factory that can crush about 2,500 tons of cane per day on an average needs 25,00,000 liters of water per day. The report further states that Gangakhed Sugar Factory in Parbhani needs a whopping 45 lakh litres of water each day from Masoli Dam. With a huge 42 percent rainfall deficit in 2014, crushing took place unhindered in more than 46 sugar factories in all eight districts of Marathwada in 2015.
This explains how sugar factories exploit availability of water to their advantage.
In August 2015, the state government had floated an idea of banning sugarcane crushing to protect drinking water supplies which, however, remained only an idea due to the strong opposition by the parties concerned.
"A probing question to be asked here is that why sugarcane and soybean farming is so widely promoted? Why there are subsidies provided by the state for sugarcane growers despite the fact that these are water-guzzling crops that destroy the fertility of the soil?" asked Vasant Futane, a 65-year-old organic farmer from Amravati district.
Water literacy: Water management as an effective short-term strategy has been widely suggested. Conserving water with techniques like – watershed management, contour bunding, water revival, building farm ponds – and effective irrigation methods like drip and sprinkler and use of large-scale mulching technologies can work wonders when it comes to retaining rainwater.
With May heat approaching and a month to go for monsoon showers, "The top most priority of farmers should be to economically manage drinking water for them and fodder for their cattle. Using available dry fodder with mineral supplements for cattle can prove beneficial for the cattle for next couple of months till monsoon arrives," said B Venkateswarlu.
Water literacy and budgeting at the grassroots should be widely and actively promoted, he added.
"When state schemes are implemented, it is important that the farmer must be simultaneously educated on how to use such effective farming practices. Only if schemes like integrated watershed management were implemented effectively, Marathwada would have been capable of facing the severity of the crisis," Futane said.
Although there have been independent network of volunteers working towards beating the water scarcity and managing water, these efforts should be implemented on wider scale, he said.
Mihir Mathur, an Associate fellow working with The Energy and Resources Institute (TERI), who worked on watershed management in various places in Maharashtra for five years, stresses on water budgeting and changing the water pattern to their cropping pattern. "There has to be a proper water budget for a community which falls under watershed area. Based on the quantitative assessment like – how much water falls on the land, water percolation rate, how much rainwater is retained – the communities need to be informed about what kind of crops can be grown and livestock to rear. This has to be done through a local channel."
How many farmers are actually aware of what changes in crops could benefit them and how many are motivated to accept changes? "Even today majority of the farmers take offence when an expert explains them to change their cropping pattern or tips them on water management. Their age-old farming techniques is what they hold dear and take pride in," said Udhavrao Alse.
"Who has the time to understand the technical stuff these scientists preach. Most of the experimental farming fields in the vast expanse of 3,000 acres of agricultural university's campus are lying completely barren. They should first show us results in the university campuses and then we will decide if we can use and invest in their methodology," says 58-year-old Sudhakar Patil, a small farmer from Parbhani district, who grows cotton and soybean on his five-acre land.
Organic farming: The organic farmers Firspost spoke to suggest that non-chemical or natural farming, which focuses on improving the fertility of the soil by using crop residues, compost and manure, can be considered as one of the plausible long-term measures. With no use of chemical fertilisers, the crops don't contaminate and reduces the pollution of the environment, food and water, they said.
"Farmers should refrain from using genetically-modified crops which are harmful to the ecosystem," says Futane, whose 12-acre land at Rawala village of Amravati district is populated with trees like mango, shindi, babul, ber, bamboo, neem, coconut etc which not only help in retaining soil fertility and rainwater but also bring down the rising temperature. He also grows jowar or sorghum along with green gram, and wheat along with fenugreek.
Futane has implemented techniques like contour bunding – a practice of ploughing or planting across a slope following its elevation contour lines that helps in increasing the level of water table, maintaining soil's fertility and retaining rainwater in the fields – and tree-farming for over 10 years. He converted his wasteland into fertile farmland by making it a zero tilling farm then planting as many trees as possible.
If the state promotes policies involving agro-forestry, it would definitely help increase the minuscule 2.5 to three percent of forest cover Marathwada has, he said.
Vidya Baburao Rudraksha, a 49-year-old farmer from Beed – one of the most water-deprived districts – also said that organic farming has helped her 15-acre farm stand green in the face of drought. Although water scarcity has depleted the level of water in her well, she has been economically using water to feed her cattle and for personal use. She has been using methods like drip irrigation and sprinklers for nursing her Kharif and Rabi crops. "We don't use cotton as we see to it that crops that are grown on my farm are useful to us as well as my cattle. Crops like wheat, tur, jowar chickpea and millets have sustained the drought," she said.
Rudraksha, who is also Microbiology major, has been using home-made compost and green fodder generated from her farm to feed her cattle. She uses gobar gas generated from the cow dung and milk for her family. "For these two months, my only aim is to curtail the liberal use of water. Mango, turmeric, garlic trees are drought-resilient and we are economically using the produce, that's how we manage in this crisis."
Groundwater recharge: Research scientists working on a project under dryland agriculture technology at Vasantrao Naik Marathwada Krishi Vidyapeeth invented a borewell recharger which enables groundwater recharge. This recharger pulls in diverted stray rainwater from the rooftops and surface with the help of filter beds using percolation tanks, nala bunds, individual open wells and borewells.
"Groundwater recharge is extremely necessary today. In the last two years, the average rainfall in Marathwada was less than 50 percent that has led to drying up of open wells as well as borewells. Initially people exploited the available water by bringing as much area under irrigation for cash crops as possible with an intention of high profits and assured income. However, neglecting the recharge of groundwater has caused depletion in water levels," says Professor Madan Pendke, senior scientist with VNMKV, dryland agriculture department.
Allied sectors: Promoting allied sectors like livestock and poultry reduces farmer's dependency on his farm produce, observe experts. Even as drought deals a heavy blow on the cattle in Maharashtra, states like Rajasthan which usually gets 100-200 mm of rainfall, supplement the fodder for their cattle over the fallen leaves of resilient trees like khejri. Growing of such trees can be really helpful in many ways, they suggest.
Protected cultivation: Another strategy gaining popularity in Maharashtra is protected cultivation, which is done with the help of green houses and shade nets. This helps in protecting the crops during hail storms, frosts, heat and cold waves. This is not only a climate resilient strategy but also makes maximum use of water and nutrients.
Research and development: Agricultural scientists have been grappling with an acute shortage of manpower. "State should also look into strengthening research and development team in agricultural universities which will not only help in bringing together scientists for new ideas and policy formation but also create an action plan for drought management," Professor Pralhad Jaybhaye of VNMKV said.
Stressing the need to empower the farmers today, Dr Nerkar, former Vice-Chancellor of Mahatma Phule Krishi Vidyapeeth in Rahuri, says: "Drought is not the only problem a farmer has to grapple with. With no financial backing in the face of consecutive droughts crushes the morale which leads to suicidal tendencies. There is an urgent need of empowering our farmers. Recently, the government with the aid of World Bank advocated to establish a company for individual and group of farmers for group farming. Such initiatives will definitely boost the morale of farmers and help in lowering suicide rates."
"If companies or a community plant trees as a part of their social responsibilities, they are awarded carbon credits. But there is no such motivation or say any credits granted to farmers if they plants more trees. Today trees are no longer farmer's best friends. They are ruthlessly cutting trees and exploiting nature purely for commercial purposes. Drought cannot change overnight, but there has to be proper implementation of measures and enforcement of laws," says Futane.
Read the previous parts of the series here:
Part 1: Region is parched, impoverished and desperate, but it's a crisis of its own making
Part 2: In the midst of severe economic downturn, private water sellers reap profits in Latur
Part 3: Drought has brought the economy down and is forcing farmers to leave the region
Part 4: Water scarcity has created a region where trust has eroded and left the social fabric frayed
Part 5: Maha has the most dams in the country, but the least effective irrigation network
Part 6: A surveyor of suicides tells the story behind the statistics and the lonely struggle of Indian farmers
Part 7: Will outreach help reduce farmer suicides?
Part 8: 'Toothless' laws lead to water exploitation
Part 9: Shirpur, Jal Biradari projects show impact of small local initiatives
Part 10: Why debt-ridden farmers are deemed least creditworthy
Part 11: Crop insurance for farmers not adequate to cover cultivation costs
Part 12: How climate change has destroyed agriculture and ruined farmers
Part 13: History of state's sugarcane addiction long precedes the water crisis
Explainers
Lab-grown diamonds are manufactured inside laboratories using cutting-edge technology. They have a similar physical appearance, chemical composition, and optical qualities as natural diamonds
Explainers
The brighter prediction comes as a survey showed Europe's economy growing for the first time since June and in the backdrop of lower inflation, improved supply chains, and the recent reopening of China's COVID-scarred economy. However, experts have warned that the UK is in for a rough go in 2023
World
New technologies are in the works, including hydrogen-powered aircraft, fully electric planes and synthetic jet fuel made from carbon extracted from the atmosphere