Maratha Kranti Morcha in Mumbai: Diversions, blockades installed; schools to remain shut as city braces for rally
With more than five lakh participants and 10,000 vehicles are likely to enter Mumbai to take part in Maratha Kranti Morcha, city's commuters are advised to avoid the roads till absolutely necessary
If you are planning to travel to South Mumbai on Wednesday morning, it would be best to avoid the road. However, if you must, the traffic police advises you to plan your commute as per the travel restrictions imposed between Byculla and Chhatrapati Shivaji Maharaj Terminus (CST) and Mumbai Central and Churchgate.
After 57 silent marches in last one year across Maharashtra, the Maratha Kranti Morcha will take place in the financial capital on 9 August. The silent March, which will start from Jijamata Udyan in Byculla at 11 am and terminate at Azad Maidan by 5 pm.
However, with more than five lakh members of Maratha community and an additional 10,000 vehicles are likely to enter Mumbai from cities like Pune, Nashik, Kolhapur, Raigad, and Satara, the silent March is expected to cripple the city's traffic mostly during the peak hours. Therefore, to facilitate a smooth flow of vehicles, the Mumbai Traffic Police has decided to close certain roads and install diversions between Byculla and Mumbai Central to CST and Churchgate.
Diversions and blockades
The traffic department has decided to close some roads and put up parking restrictions for smooth movement of vehicles during Maratha Kranti Morcha. "Due to the Maratha Morcha, it is sure that traffic movement will be disrupted, especially in south Mumbai region. So, to avoid traffic jams and enable smooth flow of vehicles, the police has already diverted some routes and is closing others," a senior traffic official told Firstpost.
Routes for vehicles taking part in Morcha
The Mumbai Traffic Police has created a special map with designated routes for vehicles taking part in the Maratha Kranti Morcha. According to the Mumbai Traffic Police press release, vehicles coming for the rally will be diverted from Suman Nagar junction through Bhakti Park (East) and will be further allowed to pass through Mumbai port trust marg where provisions to park the vehicles in an open area has been made. After parking their vehicles, agitators will assemble at Jijamata Udyan to participate in the rally.
For participants coming from Vashi marg, their vehicles will be allowed from Khadipool toll junction to Shivaji statue (Panjarpol) Chembur, and from Suman nagar junction, vehicles will be allowed to take a left turn to reach the parking area at the Mumbai Port trust.
As for protestors coming from Thane, they will be required to arrive at Suman Nagar and from there take a left to reach airport area near the Mumbai port trust.
Vehicles (of participants) joining from the Western suburbs can reach the parking area in Mumbai Port Trust from Santacruz-Chembur Link Road through Amar Mahal Junction and divert left from Suman Nagar.
Some vehicles from Western suburbs will be allowed to Kalanagar, T Junction Dharavi route to reach Sion Railway Station and take a left turn to drive from Highway Apartment to Suman Nagar. From Suman Nagar, vehicles will take a u-turn and then take a left to reach airport area near Mumbai port trust.
Roads to be closed
Apart from designated routes for Morcha vehicles, the Mumbai Traffic Police has also closed certain roads, DCP traffic, Ashok Dudhey said on Wednesday. "The road from Dr Babasaheb Ambedkar Road at Dadar Fire Brigade junction will be closed for all vehicles on the south bound road (except emergency vehicles)," he said.
Apart from that, north and south bound roads from JJ flyover to Azad Maidan will be closed for all vehicles. Hajarimal Somani Marg to CST will also be closed for all north and south bound traffic. The roads from Metro Junction to BMC head office and from Bhatia Baug to CST junction will also be closed.
Both the Byculla bridge and JJ flyover bridge will be closed for vehicle traffic as well.
Diversions for Mumbaikars
The traffic department suggested alternative routes for daily commuters — from King Circle towards P Demello Road, from Dadar TT towards Chaar Raasta, Naigaon crossroad to RAK Marg, from Madame Cama Road towards Hutatma Chowk to Kala Ghoda, from NM Joshi Marg to Lower Parel for Worli Naka, and Marine Drive road to Worli from Haji Ali.
Preparations in full swing
Seeing the size of the Maratha community that is expected to take part in the Maratha Kranti Morcha on Wednesday, the Mumbai Police, Traffic Police, BMC, Fire Brigade and intelligence units from state and Centre and other agencies held a final meeting on Tuesday to prevent any untoward incident. In fact, BMC commissioner Ajoy Mehta and Mumbai Police Commissioner Datta Padsalgikar of CID, Special Branch, have drawn a final map of responsibilities for each unit during the Morcha.
"The BMC will be making arrangements for toilet and drinking water. And for the first time, we have also built a second gate in the Azad Maidan as per directions of the Mumbai Police to ensure smooth flow of participants," BMC Commissioner Ajoy Mehta told Firstpost. The new gate in Azad Maidan has been built near Hajarimal Somani Marg, Bombay Gymkhana.
As for the police, it's planning to make maximum use of technology for surveillance during the rally.
"We are planning to use drones, CCTV cameras, as well as keep a close eye on the social media," Mumbai Police PRO DCP Rashmi Karandikar told Firstpost. "We are going to have technical surveillance as well as civil dress watchers to ensure there is no law and order problem during the Maratha Kranti Morcha in Mumbai," she added.
Schools to remain shut
Though the Mumbai Police had earlier said that it will let schools decide whether or not to shut down schools on Wednesday, deputy education director, BB Chavhan issued a notification on Tuesday advising all schools in Central and South Mumbai from Sion to Colaba to remain closed on Wednesday due to the Maratha Kranti Morcha. In another development, ANI reported that the dabbawallahs will not be working either on Wednesday.
Security agencies are also planning to keep a close vigil on trains arriving to Mumbai. "We have asked the Railway police to keep a vigil on trains from Ahmednagar, Nashik, Kolhapur, Raigad, Satara as the maximum crowds expected from these area," a senior police official said.
World
Around 55 apartments were affected by the collapse, according to Miami-Dade Fire Rescue Assistant Chief Ray Jadallah
Sports
Delhi Traffic Police revised maximum speed limits: Check the category wise maximum speed limits for motor and all types of vehicles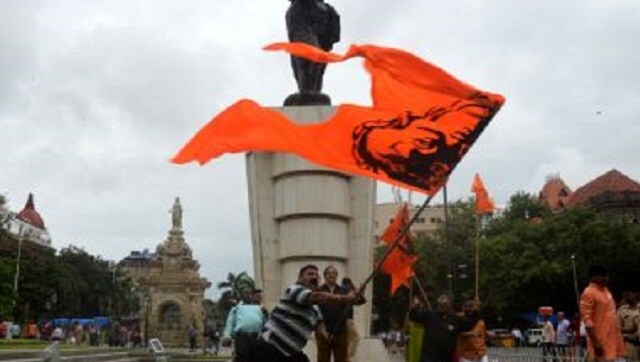 India
Among those present at the agitation were Vanchit Bahujan Aghadi chief Prakash Ambedkar and Congress leader Satej Patil