Maharashtra doctors' strike: Violence against medics makes them defensive in practice, paranoid in outlook
The relationship between doctors, patients is under severe strain. Unless both learn to honour their relationship, the healing process will not be complete.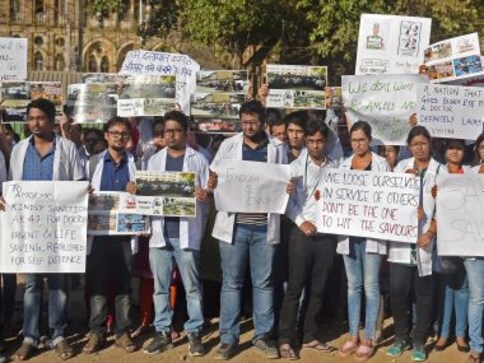 Even as 4,500 resident doctors in Maharashtra continue to protest against the recent string of assaults on their colleagues, the Indian Medical Association (IMA) on Friday ended its agitation after state chief minister, Devendra Fadnavis, assured better security in government hospitals.
Resident doctors across the state are protesting in the wake of a string of attacks on their colleagues by patients' relatives at government hospitals. The issue came to light when Rohan Mhamunkar, an orthopaedic resident doctor in Dhule, was allegedly assaulted by the relatives of a patient. He sustained serious head and soft tissue injuries, that nearly cost him his left eye.
Following the incident in Dhule, reports of similar attacks surfaced all across Maharashtra. The resident doctors' strike, backed by IMA and Association of Medical Teachers, ultimately led to a series of written announcements by the state government, aimed to improve security in government hospitals.
The government proposed that security audits of all public hospitals will be conducted by an expert within the next fifteen days. To start with, 1,100 new armed guards will be posted at public hospitals across the state. Measures like CCTV monitoring, restriction on number of visitors, special security measures at sensitive places like the Intensive Care Unit, Operation Theatre, Emergency Care or Casualty department etc will be put in place immediately. It is pertinent to note here that the Bombay High Court will periodically monitor the implementation of these measures – every 15 days, till the process is complete.
But violence is not new to the medical profession. In medieval times, the treating physician was buried alive alongside the royal deceased. A similar practice prevailed in certain European Kingdoms until a few hundreds years ago. That the doctor is held responsible for every adverse outcome or death and is assaulted in India even today, in the 21st century, is preposterous.
It seems that people in India don't understand that not every complication or death is a result of the doctor's negligence. They need to understand that the doctor can only promise standard and committed care; he can not always ensure a cure.
For redressal of grievances, the aggrieved patient has many avenues – Medical Councils, Civil Courts, Criminal Courts and Consumer Courts. But how can one ever justify an assault on the treating doctor's life or damage to hospital property? If we are going to resolve our differences in this manner, then what is the need for courts of law?
In January 2001, a doctor, Vasant Jaykar, was murdered in Knar, Mumbai, because a patient ailing with terminal liver cirrhosis had died under his care. He was known to be an extremely ethical, mild mannered and helping physician, who lived only for his patients. His murder, incidentally, was not an isolated incident. Many more doctors have lost their limbs or even their lives in similar incidents due to mindless violence of patients or their relatives.
It appears that treating serious or terminal cases has become particularly risky these days. The immediate threat to life, it seems, is not to patient but rather to the treating doctor. Then there is also the possibility of vandals destroying hospital property. The destruction of property at Thane's Singhania Hospital in 2001 serves as an example. This prime medical facility had to shut down post the extensive ravaging.
The doctor, unfortunately, is the perceived face of the healthcare system. No matter what the infrastructural deficiency is, he has to bear the brunt of the problem. Be it a shortage of qualified nurses, lack of blood in the blood bank, scarce ambulance services, shortage of medicines and equipment;it is seen as the doctor's problem, who ends up taking the blame and the occasional thrashing. Even in the Dhule case, since no neurosurgeon was available to take care of the patient's head injury, Mhamunkar ended up sustaining life-threatening injuries.
The frenzy whipped up against the medical profession has reached a point where every doctor is considered guilty unless proved innocent. Campaigns to educate the consumer (read patient) have swung the pendulum to the other extreme – now every action of the treating doctor is seen with extreme doubt and suspicion.
Unfortunately, there are no guarantees in medicine – it is an inexact science. Here, unlike mathematics, two and two do not always add up to four.
The problem arises when some doctors or institutions, in their zeal to promote their services, start offering bogus guarantees. State-of-the-art gizmos, too, have raised the expectations of the patient to the point where he presumes a hundred percent favourable result.
Add to that the poor bedside manner, lack of proper communication skills and the doctor's packed schedule, who has multiple attachments and many patients to look after. Thankfully, some medical schools have now introduced courses in medical ethics and communication skills.
Such incidents are setting a sense of despondency in medical profession. The doctor feels harassed and demoralised, he is beginning to treat almost every patient as a potential aggressor or litigant. He is becoming defensive in practice and paranoid in his outlook, which can not be good for anyone. A fearful mind or a trembling hand can never give efficient service to the patient.
The Maharashtra Medicare Service Persons and Medicare Service Institutions (Prevention of Violence and Damage or Loss to Property) Act was enacted in 2010. The Act made offences against doctors non-bailable, with imprisonment up to three years and fine up to Rs 50,000. The offender is also required to pay twice the amount of damage or loss caused to property as compensation.
The problem is not in the act but rather in its implementation.The police is not sensitised to the Act and thus does not invoke it in cases of violence against doctors. Even filing an FIR in such cases at the local police station becomes a Herculean task. Post the promulgation of this Act, there have been 72 recorded cases of violence against doctors – most of them being tried under IPC sections and not this Act – but not one has reached sentencing till date.
The doctor-patient relationship is under severe strain at this point. And unless both, the doctor as well as the patient, understand and learn to honour the finer point of their relationship, the healing process will not be complete.
The author is consulting surgeon and trustee, IMA, Mumbai West.
World
New technologies are in the works, including hydrogen-powered aircraft, fully electric planes and synthetic jet fuel made from carbon extracted from the atmosphere
Explainers
The European Union has recently approved at least four insects for human consumption including mealworms and house crickets. Mealworms, which taste 'a lot like peanuts', offer the same amount of protein, vitamins, and minerals as fish or meat
Explainers
Dilip Mahalanabis gained national fame in 1971 while serving at a refugee camp in West Bengal's Bangaon where his oral rehydration solution saved umpteen lives. He never patented ORS, arguably the greatest medical discovery of the 20th Century