Heavy rains disrupt air services in Mumbai; six flights cancelled, 10 diverted
Jet Airways cancelled at least four flights to and from Mumbai.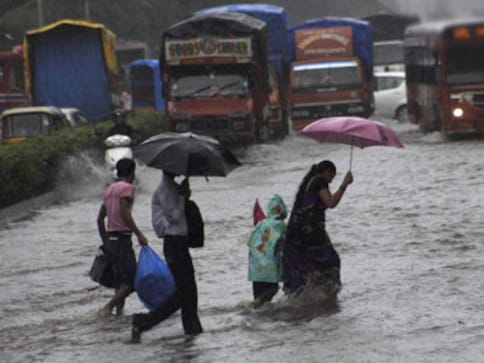 Mumbai: Heavy downpour and strong winds left airport in the financial capital almost crippled with long delays, forcing airlines to divert many flights to other cities or making aircraft to do go-arounds through the day on Tuesday.
The megapolis has been getting heavy rains since last evening and the Met department on Tuesday warned of heavier downpour over the next 24 hours.
Till evening, the Chhatrapati Shivaji International Airport saw six flight cancellations, 10 go-arounds and as many diversions, they said.
While the main runway of the Chhatrapati Shivaji International Airport (CSIA) is operational, the nearby aerodrome at Juhu has been shut as it is very close to the Arabian Sea, officials said.
Airport officials said on an average flights were delayed by over 45 minutes. Air Traffic Control (ATC) officials have said strong winds and accompanying heavy rains have left the runway with very low visibility.
National carrier Air India said in a statement it has waived all penalties on no-show, date change, among others due to the rains.
"In view of the inclement weather in the city, applicable penalties for re-issuance, date change, no-show and cancellations among others have been waived on all tickets issued on or before 29 August to travel from and to Mumbai," Air India said in a statement.
Later, in another statement later, the airline said one flight was cancelled and two flights were diverted to Ahmedabad.
"Nearly six flights are delayed because crew movement is slow as pick up vans are not able to reach the destination," it added.
IndiGo cancelled two flights on Tuesday, the largest domestic carrier said. It diverted three flights -- 6E-453 Coimbatore-Mumbai, 6E-5924 Guwahati-Mumbai and 6E-1708 Doha-Mumbai -- to Ahmedabad.
The cancelled flights are 6E-665 Delhi-Mumbai and 6E-168 Mumbai–Delhi, it said. Jet Airways cancelled at least four flights to and from Mumbai. In a tweet, the carrier said it would waive penalties for date, flight change, refund and no-show on confirmed tickets for travel to and from Mumbai on Tuesday.
In a tweet, Vistara said customers having bookings to and from Mumbai today and tomorrow can reschedule or cancel them without any penalty.
"No show fee will also be waived, in case you are unable to cancel/ reschedule in advance. Only fare difference, if any, will be applicable in case travel is rescheduled," the tweet said.
However, SpiceJet claimed it has not diverted or cancelled any flight from the city. Heavy rains today pummelled Mumbai and adjoining areas, disrupting rail, road and air services, and throwing normal life out of gear.
Besides the metropolis, adjoining Navi Mumbai and Thane were also lashed by incessant downpour since last night,
delaying suburban train services and leaving vehicles crawling through waterlogged roads in low-lying areas
Photos
Mumbai received 93 millimetres of rain in the past 24 hours, leading to water logging and traffic jams in many parts of the city.
India
The body of Dr Deepak Amarapurkar — a renowned gastroenterologist of Bombay Hospital who had gone missing after Tuesday's heavy downpour — has been found near the seashore at Worli
India
Heavy rains lashed Mumbai and its suburbs on Tuesday afternoon, but there was no report of waterlogging or disruption of transport services.