Guess why Modi's Clean India initiative is under threat in Mumbai
It seems the PM's initiative may take a hit in Mumbai as there are not enough dustbins in the city.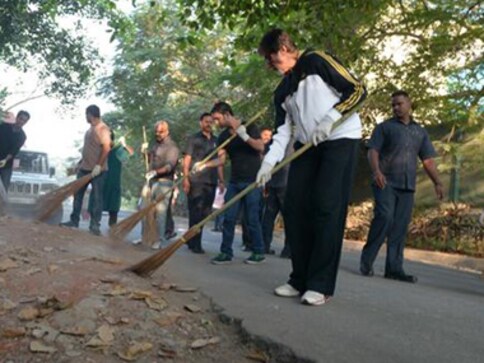 From Amitabh Bachchan to Anil Ambani--Mumbai's stars and businessmen have joined the Swachh Bharat campaign --an initiative by Prime Minister Narendra Modi to rid the country of litter and rubbish. But, it seems the PM's initiative may take a hit in Mumbai as there are not enough dustbins in the city.
According to a Times of India report, the BMC has decided to purchase 20,000 green bins, which will be supplied over the year. However, the proposal is yet to be cleared by the Standing Committee.
There's a dearth of dustbins in the city and the issue is not a new one. In September, the proposal to buy dustbins for the city was not considered in the civic standing committee due to the prevailing code of conduct for the Assembly polls.
Manoj Kotak (BJP), group leader in the BMC told Times of India that the lack of dustbins is affecting the Swachh Abhiyaan drive.
The problem isn't new. In 2007, the BMC planned to install theft-proof dustbins along city roads to replace the ones that were stolen in the previous year.
"The green plastic dustbins, installed on the city's footpaths in October 2006, were easy to break and steal. Most of the dustbins — the cost of each averaging Rs 1,800 — found their way to scrap dealers," reported Mumbai Mirror.
Two years earlier, the BMC had ordered 20,000 two-wheeler community bins. That initiative also failed as most of them have been damaged and are out of use.
Meanwhile, in Delhi, a group called TroubleSeekerTeam are giving a hard time to people who throw garbage from their cars. In an effort to teach them a lesson, the group followed some of these vehicles, picked up the garbage and put it back in the car.
Watch the video here:
India
As Prime Minister Naredra Modi travels through Europe, there has never been a more opportune time for EU-India partnership
World
The prime minister's visit comes amid the Ukraine crisis, which has united much of Europe against Russia
Opinion
April has turned out to be a disappointing month for Bollywood as Attack, Jersey, Runway 34 and Heropanti 2 tanked at the box office.