Dawood Ibrahim to attend nephew's grand wedding in Mumbai... via Skype
Youngest son of underworld don Dawood Ibrahim's sister - Alishah Parkar - is getting married in Mumbai on Wednesday.
The youngest son of underworld don Dawood Ibrahim's sister — Alishah Parkar — is getting married in Mumbai on Wednesday. According to reports, Dawood will attend the wedding via Skype. Alishah is the son of Dawood's deceased sister Haseena Parkar and the family is planning for a wedding "fit for a prince."
ABP News reported that Mumbai police are keeping a close watch on the reception which has been organised in Tulip Star hotel in Juhu at 9 pm on Wednesday. The nikah is supposed to take place in Nagpada. Dawood's brother Iqbal Kaskar will also attend the wedding. According to Mid-Day, Haseena's daughter got married last year but it was kept low-key as it was too close to Haseena's death. "But this time, the family wants it to be a gala event."
Dawood has asked his cronies in Mumbai to keep a close watch on the wedding and make sure that the reception and the wedding are a smooth affair. Alishah is the only surviving son of Haseena Parkar and Ibrahim Parkar, whose second son Danish died in 2006. Ibrahim was killed by the Arun Gawli gang in the late 1990s.
A wedding in Dawood's family and his appearance (although it's not physical) remind us of another wedding which happened way back in 2005. Even though there's absolutely no co-relation between the two weddings, but security and intelligence officials get extra watchful whenever Dawood makes an appearance, even though it is just via Skype.
Way back in 2005, as revealed by former home secretary and BJP MP RK Singh, current national security adviser Ajit Doval had hatched a secret operation, called Operation Dawood, to eliminate Dawood when he appears for his daughter Mahrukh's wedding in Dubai. Mahrukh was marrying Pakistani cricketer Javed Miandad's son Junaid. The wedding was supposed to be in Mecca on 9 July. As soon as Indian intelligence agencies got wind of the news, a plan was hatched by IB officials to eliminate the don in Dubai. But because of an ugly turf war with the Mumbai Police, the operation was called off at the very last minute. The botched operation was widely reported in the major national dailies.
Even though Dawood's nephew's wedding isn't as promising when it comes to that kind of action, Mumbai police and Crime Branch officials are ready for anything if something goes wrong. The Mumbai Police's Crime Branch has asked officers of the Anti-Extortion Cell and Unit One to keep tabs on the guests and watch out for wanted Dawood aides. "We will keep a watch as there is a possibility of rival gangsters trying to disturb the peace," an officer told Zee News.
India
His comments at the first meeting of the MultiAgency Maritime Security Group came amid growing concerns over China's increasing forays into the Indian Ocean, considered the backyard of the Indian Navy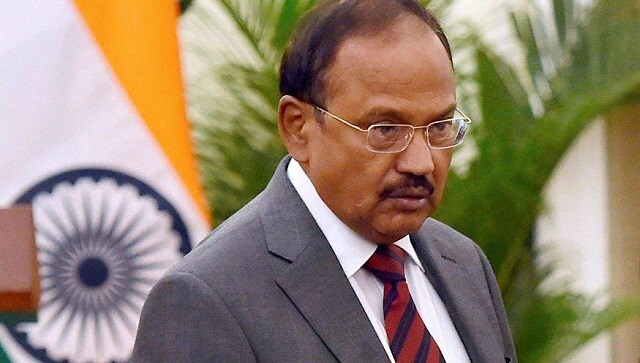 India
Ajit Doval talked about external security measures taken by India after its border standoff with China.
India
'I think protest, raising voice is justified in a democracy but violence and vandalism will not be tolerated, the National Security Advisor added