'Aaj toh bach gaye': Gau rakshaks threaten Mumbai man for carrying bag made of 'cow leather'
He turned around and saw my leather bag. Then he leaned to touched my bag and concluded it was made of cow leather,' Barun said
Whoever thought that the jingoism going on in the name of cow vigilantism is a tale from the yonder, something too rustic to unsettle the urbane, is up for a surprise. And not a pleasant one at that!
If this story narrated by a man hailing from Assam is to be believed, the self-assumed cow vigilantes (whom Prime Minister Narendra Modi recently termed "anti-social) have spread their tentacles in Mumbai as well and are not ashamed to impose their gau-friendly "rules" openly.
The incident happened in Amboli area of Andheri West, when a creative director with a production house in Mumbai, Barun Kashyap was going about his day like any other. On the morning of 19 August, Barun took an auto on his way to work. The auto-driver, in Barun's words, "was curious" about his long hair and pierced nose." By way of casual conversation, or so I thought while reading Barun's post, the driver asked him about his native place. But the auto-driver soon lost interest and instead focused on the leather back that Barun was carrying with him.
"He turned around and saw my leather bag. Then he leaned to touched my bag and concluded it was made of cow leather," Barun said in his Facebook post.
While he tried to refute the claim and said the bag was made of camel hide, the driver remained unconvinced. Soon, much to Barun's horror, the auto-driver stopped at a small temple despite his repeated protests. Three men, sporting tilaks on their forehead approached the auto and were quickly apprised of the situation by the driver. They poked in their heads to check the material of the bag for themselves. "When I was busy protesting, one of the guys came to the other side of the auto and started checking my bag," reads Barun's narrration of his ordeal which received hundreds of reactions from outraged people.
The men then asked Barun his name, which he told them. But apparently that was not satisfactory enough.
"What's your full name was the next question.... Barun Kashyap Bhuyan.. The guy looked at the other two and said something in Marathi, out of which I could only understand the word 'Brahmin'," says Barun in his post. 
The men apparently concluded that Barun was a Brahmin and therefore spared him.
The incident in itself is not half as scary as the smugness with which the auto-driver walked away. "Aaj to bach gaye (You were spared today)," was the driver's response when Barun asked for his phone number. The auto-driver did not hesitate in giving his phone number either.
Incidentally, Kashyap deleted the post but here's a screenshot of the post.
According to a report published in News 18, Barun has lodged a complaint in the Amboli police station but the police said there was no cognisable offence committed for them to file a report. "There was no offence to lodge an FIR. We have just registered a non cognizable offence report. Investigation is on," police sources told News 18.
Atrocities against Dalit by the self-styled gau rakshaks (cow vigilantes) has been a major concern for the Narendra Modi-led government at the Centre. An united Opposition has constantly been raking up the issue and the government has come under fire for its non-reactive approach towards these vigilante group.
The incident also comes days after the Home Ministry cracked the whip on cow vigilantism, asking states not to tolerate anyone taking law into their hands in the name of protecting cows and to take prompt action against such offenders.
The Ministry advisory comes after Prime Minister Narendra Modi attacked these so-called gau rakshaks and asked people to beware of these 'fake' protectors trying to divide the society and the country. After maintaining a questionable silence on the issue, Modi again made a statement in Telangana against the self-proclaimed vigilante groups. "These people are hell-bent on destroying the society and are disturbed by the unity of India. These people, in the name of gau rakhsha, are trying to create conflict in the society," he said.
He made these comments after his government and BJP came under attack over incidents of violence against Dalits and Muslims by gau rakshaks in various states, including Uttar Pradesh, Gujarat and Madhya Pradesh.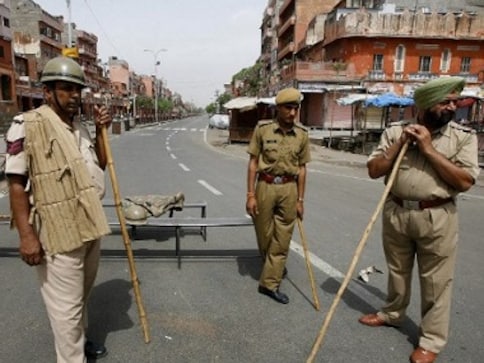 India
A Muslim man brutally beaten up by cow vigilantes in Rajasthan's Alwar district has died from his injuries, the police said.
India
The group from Karnataka has written to Modi seeking a central anti-cow slaughter act which promises stringent punishment to the 'perpetrators'.
Politics
The Vishwa Hindu Parishad (VHP) has said gau rakshaks (cow protectors) are "worthy of respect" and that they come out on streets to save cows as police have failed to do so.