A Bandra library for the people, by the people
A plan long on hold finally found its space in an unused municipal library in Bandra. What originally stocked newspapers is now a vibrant library that currently stocks shelves-full of children's literature.
The longing for a library their kids could bond over, a chit-chat over casual evening walks and putting thoughts to action, have resulted in three friends bringing to Bandra its first public library.
The library, which opens its doors to the public on 30 September, will kick off with the children's section stocked with over 3000 books, and eventually expand its facilities to adults.
Forty-seven-year-old Vibha Kamath, a French teacher and a mother of two, was first struck by the idea of opening a library in her neighbourhood after a visit to her sister in the US in 2004. Her nephew, she noticed, was a voracious reader at just six. On asking, she was told that the easy availability of children's literature in the local public library was the reason behind the boy's reading appetite.
After returning, Kamath scouted for places to start a library, but Mumbai's ever-increasing real estate prices kept her from realising her dream. In the meantime, Kamath's day job as a French teacher got busier and her reverie got relegated to the recesses of her priority list.
In 2006, one balmy evening, while Kamath was out on her regular evening walk with a couple of friends, she noticed a huge nondescript space that read Maharashtra Mitra Mandal Library. The almost non-functional municipal library seemed like the perfect conduit to revive Kamath's desire. She took down the phone number on the nameplate and made a call. But the venture didn't work out, yet again.
In November 2010, egged on by her mother, Kamath decided that her dream deserved at least another try. She found an enthusiastic friend and supporter in Vaishali Shinde (41) and the both of them decided to call the committee managing the library, one more time.
Within eight months, they had made their pitch, met with mandal officials and signed up to maintain the library for a period of two years. By 12 July this year, their friend Sonal Bimal (41) also hopped on board to help manage the library. The trio immediately started work on getting the library up and running and sent out emails to friends and family seeking donations — both, funds and/or books.
Since then, the library has received Rs 3 lakh, 3000 books, furniture and furnishings, a computer and software, mattresses, a water filter and even a home theatre system.
Located next to Bandra Gymkhana on the quiet D'Monte Park Road, the library is housed on the ground floor of Princess Building. The erstwhile empty space, which only kept a few daily newspapers, has been transformed into a bright lively area with colourful tables, low seating made from wire spools and cushions, gaily coloured modular shelves and vibrant paper lamps.
The library has ample seating space for children and a separate area for senior citizens that looks onto the street. Two pillars in the library are adorned with Warli paintings by underprivileged students from the area's local schools.
Kamath, Shinde and Bimal are all career women, but their dedication sees them putting in anywhere between two and five hours each, supervising the library every day. And all this, for not a single penny. They do it voluntarily.
"We do not get paid for our work here," says Kamath. "We are just so excited that our dream of a library is finally coming true and that's our reward," she adds.
The women are modest about their efforts, saying it is a collective of family, friends and the community. "Having flexible work hours, supportive families and working from home allows us to dedicate the time we do here," says Bimal, an apparel sourcing consultant.
"We know each other through our kids who go to school together and they are so excited about the library that they can't tear themselves away from here," says Shinde, a disaster management consultant. "They love it!"
Shinde's daughter has been a regular volunteer at the library — helping in classifying, cataloging and shelving of the books.
The library will have books in Hindi, Marathi and English for children till the age of 16 years. In the pipeline are also plans for a book club, a film club and a series of creative workshops. All this at a nominal membership cost of Rs 100 per month, in addition to Rs 250 as deposit per book.
The library will accept monetary donations on a continuous basis for maintenance reasons. Anyone wishing to contribute can contact the library at 022-26411497 or email them at mcubedlibrary@gmail.com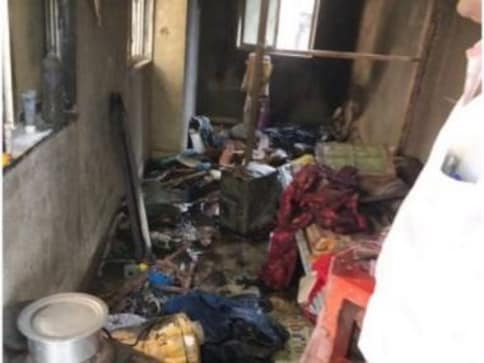 Mumbai
A one-and-half-year-old girl died of suffocation after a fire broke out at an unauthorised structure built on top of the water pump room of a building in Mumbai
World
Iraq's Ministry of Defence says Islamic State fighters have launched a string of counterattacks in a western Mosul neighbourhood that was previously declared free of Islamic State.
News & Analysis
Game developer company, Spiel Studios Pvt. Ltd. will soon be releasing the country's first, Indian-centric iPhone game called 'The Sealink', which features our very own Bandra-Worli Sealink.