Mumbai has been called the city of dreams, the city of gold, but get a little closer and dig a little deeper, you will find that Mumbai is not unlike a Russian matryoshka doll – take off one layer and you discover seemingly endless layers beneath, separate, fascinating, and sometimes overlapping, worlds within a world. So many different kinds of people from so many different places, races and communities have been drawn here over the centuries, and now all of them call this place home. However, it is the Koli fishing community, who must surely hold the strongest right to the title of Mumbai's original residents. And Sassoon Dock at sunrise is the place to be to observe their overwhelmingly busy world in action, exploding with all of its energy, power, colour, texture, smell, tradition and magic.
For over 500 years the Koli fishing communities have been living and working along the coastal waters of the seven islands that made up the present day city of Mumbai. Some of Mumbai's well-known locality names today originate from the Koli community, such as Worli and Dongri. In fact, even the very name 'Mumbai' is said to have been used for this place by the Kolis from as far back as the 16th century and was derived from their goddess, and patron deity of the city, Mumbadevi. Around 5,00,000 Kolis are estimated to be living in and around the Mumbai area, most still making their living off the sea despite a very different world rising up all around them on the land, and arguably even more drastic changes taking place below the waters of the sea they depend on. Even today, most of their daily trade is done, as it has been since the late 1800s, at Sassoon Dock, at sunrise.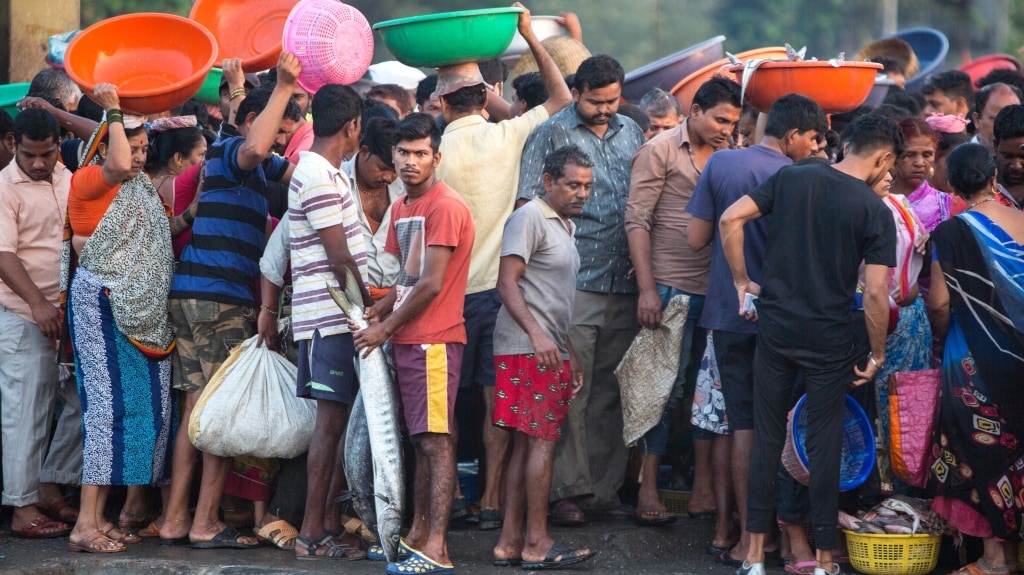 Ganesh Nakhwa offered to be my guide into this dizzying Koli world of fast moving fish commerce, surrounded by the glistening bodies of a multitude of sea creatures, the muscular bodies of the fishermen, who bring in the catch, and the colourfully clad bodies of the powerful women, who sell the catch. Space is at a premium here, and with 1,800 boats operating out of Sassoon Dock, and an average of 100 boats selling 300-400 tonnes of fish there every day, carried off for the buyers in hundreds of overflowing multi-coloured baskets, precariously balanced on fast moving heads. To say this place is 'heaving with activity' is an understatement... But Ganesh has grown up around this micro-world within a world, and he moves confidently through the beautiful madness, knowing its every nook and cranny, as well as being on first name terms with most of the main characters involved in the dramas that play out here on a daily basis.
Ganesh is a seventh generation Koli fisherman, from the fishing village of Karanja, still making his living from the fortunes of the sea. But this is where the stereotype ends. Having obtained his degree in Business Studies and Finance at Edinburgh University, Ganesh spent a few years working in investment banking in the United Kingdom, before returning to India aged 23 to pursue his real life-long passion – fishing. He was adamant that his learnings, together with his passion, and a modern approach, could be applied to the Koli finishing community to bring about much-needed changes, to improve the lives of fishermen, and to help adapt the industry to the dramatically changing conditions it is facing today.