Hina Arif is sitting on a boat, sailing on the Dal Lake during dusk. Humming 'Roshay' by Habba Khatoon – a song that many of us associate with Kashmir and its beauty – she speaks of a time in the past when people would walk by each other, smiling and witnessing life go on. "'If there is a paradise on earth, it is here, it is here, it is here.' I don't think this line suits Kashmir anymore. There is so much beauty here, but it's the most dangerous place, because it's the most militarised zone… It is a paradise that has been set ablaze," she declares.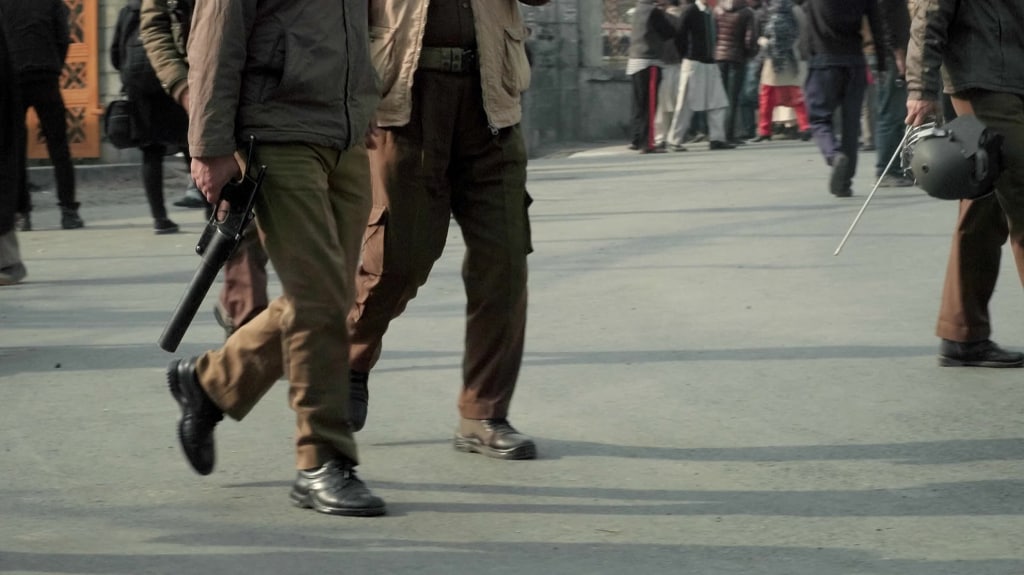 The abrogation of Article 370 and 35A on 5 August and the curfew that preceded and succeeded it has inflicted new wounds on a people that were recovering from old ones. Mukti Krishan and Niyantha Shekar's documentary Raqs-e-Inquilab ('Art in a time of Conflict'), made before the abrogation of laws concerning Jammu & Kashmir, studies how those old wounds – some festering for as long as three decades – have manifested in the art made by painters and poets.
***
The director-duo came across an article about Hina, who was drawing and sharing images of the conflict on Instagram, and got in touch with her. "Initially, we thought we would make a short profile documentary on Hina, but as we met more artists in Kashmir, we felt that we could actually make a larger piece incorporating multiple voices on what it means to make art in the most militarised region in the world," says Niyantha.