"Ajab ye karte hain, tasveer mein kamaal kamaal; ustado ke hain ustad Lala Deen Dayal (In the art of picture making he does things of absolute wonder, a master of masters is Lala Deen Dayal)," thus said Mahboob Ali Khan, the sixth Nizam of Hyderabad, impressed with Deen Dayal's art.
BN Goswamy, the famous Indian art critic and historian, in his critique of Narendra Luther's book, Raja Deen Dayal: Prince of Photographers, however, points out that this famous couplet might have been tweaked over the years. Drawing from Farhang-I Asifiya, he remarks that the original couplet might have actually read: "Ajab yeh karte hain tasvir mein kamaal kamaal/musavviron ke hain ustad Lala Deen Dayal".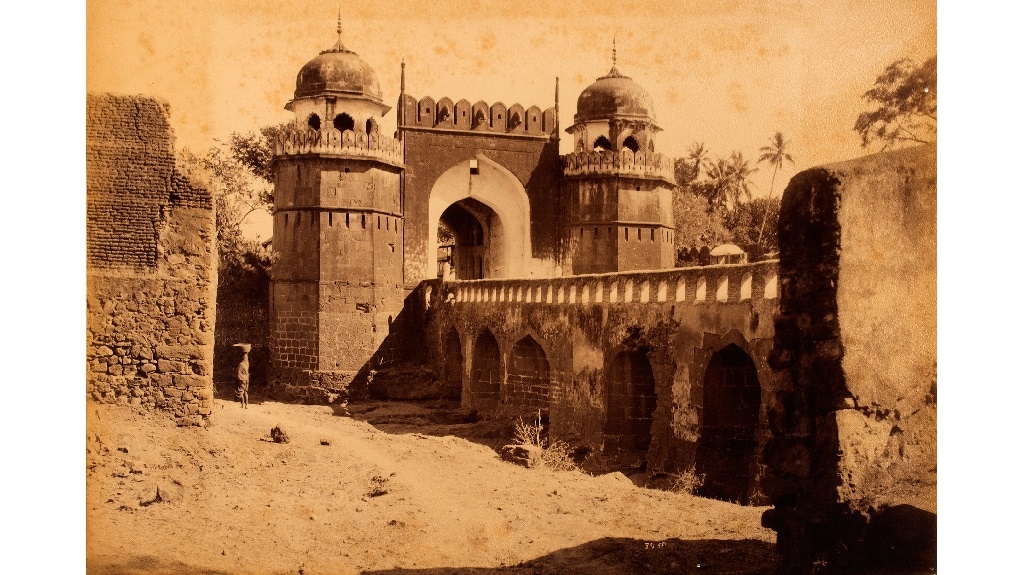 Above: Mecca gate, Aurangabad | 10 x 11 inches
Goswamy says in his column, "I point this out not only because 'ustadon' in the couplet as cited does not fit into the metre, producing a sakta as Urdu knowers would say, but because replacing the word musavviron (painters) with ustadon  (masters) robs the couplet of the fine reference to the comparative arts of painting and photography. What the Nizam said was that this gifted photographer is far ahead of the painters, and can teach them a thing or two! Which he could perhaps, given the state to which painting had been reduced by that time."