The first case against illegal opium cultivators in Arunachal Pradesh signals a new crackdown on the social evil that has destroyed vast areas of forest, and many lives, in this global biodiversity hotspot
By Nivedita Khandekar
The Mishmi Hills in Arunachal Pradesh — part of the eastern Himalayas in northeast India — have become notorious for illegal opium cultivation over the past two decades. Authorities have failed to take sufficient action, with the periodic destruction of crops doing little to stem the thriving trade. This has led to the destruction of large amounts of forestland in a global biodiversity hotspot and major social problems in the remote region of India.
Now, for the first time, local police have filed a case against illicit cultivation of opium in Lohit district. This could signal a new crackdown against the social and environmental menace. However, experts remain sceptical this is enough considering the growing scale of illegal opium production, called kaani locally.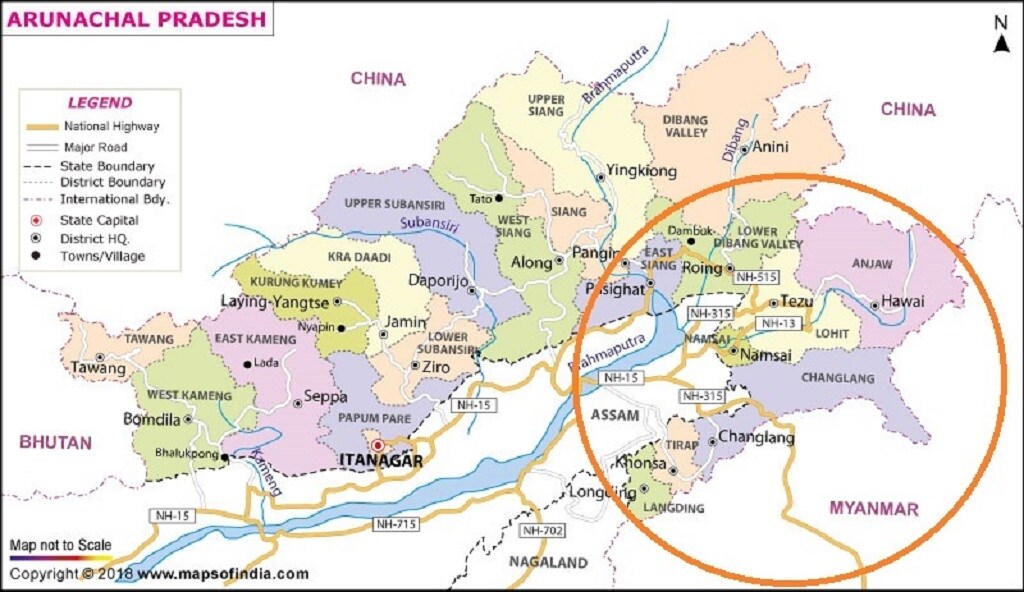 (Above: Anjaw, Lohit, Tirap, Changlang and Longding all share a porous border with Myanmar, part of the Golden Crescent of Myanmar, Laos and Thailand, ill-famous for drug trafficking. Credit: www.mapsofindia.com)
Illegal poppy cultivation has grown particularly in the northernmost part of the state, in Anjaw and Lohit districts. These border Myanmar, the second largest producer of opium in the world after Afghanistan.
Environmental impacts
The districts of Anjaw, Lohit and Namsai once had India's densest forests. Large tracts of opium poppies (Papaver somniferum L) have replaced jhum cultivation (a traditional form of slash and burn agriculture) in the hills or biodiverse rich forests in the plains.
"Uniquely located in the Eastern Himalayan biodiversity hotspot, Arunachal Pradesh harbours the world's northernmost tropical rainforests and is home to nearly half of the flowering plants and bird species from India," said Aparajita Datta, senior scientist with the Nature Conservation Foundation. "The loss of many of these forest areas would shrink the space for many bird species; Arunachal has over 600 bird species. Plus, there are many threatened mammal species in these regions," she said.
Scale of destruction
In the past it was only older men from the Mishmi people, an ethnic group in Arunachal Pradesh and Tibet, who grew it for personal consumption. Now youngsters and even women grow it and many people from outside Arunachal Pradesh hire large plots of land to commercially grow opium illegally, especially in the plains.
There has been no official survey to estimate the scale of illegal cultivation across Arunachal Pradesh. But a 2010 survey, carried out by the think tank Institute of Narcotics Studies and Analysis (INSA), estimated there were over 15,000 hectares (150 square kilometres) of opium fields in Anjaw and Lohit districts alone.