A line producer, owner of Saboo Resorts in Leh, Ladakh, a party man who once washed dishes and made halwa at Delhi hotels — meet Odpal Dejor George (Georgy to friends).
This is Georgy's story, in his own words:
It was 2001, when I was struggling in the tourism industry, that I first met JP Dutta in connection with his LOC Kargil movie. He wanted me to facilitate the crew here in Ladakh, and I did.
I went to Mumbai, met film industry people there, I met lots of people in production... I also met Rakeysh Omprakash Mehra. He was supposed to shoot some portions of a movie called Samjhauta Express, but due to certain reasons it did not happen... I kind of made a name for myself after I facilitated for LOC Kargil in 2001.
You could call me a line producer from Ladakh... Every year I would go to Mumbai to meet people, then it was word-of-mouth that helped. Industry people are so well connected, that whenever there happened to be any Ladakh movie shoot, they would look for me. It's a very hectic job to facilitate the film crews in this part of the world where we need to import everything from outside. We even need to get vegetables from Delhi by air and it costs us more than you can imagine!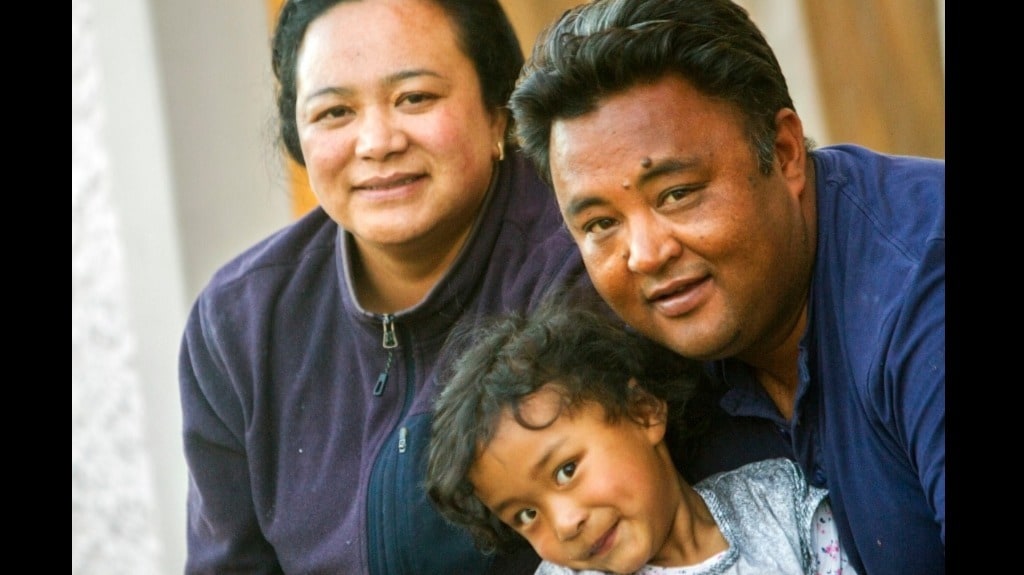 Now there are other line producers in Ladakh, but all the major movie shoots or commercials are taken care of by me. When I was in the business, I purchased film shooting equipment like skimmers, jimmy jibs, weights, trolley systems, lighting stands etc. It would cost the film people more to cargo this heavy equipment in and out of Ladakh than what they pay me as rent, so it was a good move and it worked for me. A major chunk of the equipment, I bought from movie people and eventually had a good collection of it.
I had a chance to work with Shyam Benegal; then on movies like 3 Idiots, Mirziya, Bhaag Milkha Bhaag and lot of other shoots. Also, big commercials like Coca Cola, Toyota Fortuner, other SUVs, motorcycle commercials, the famous Mahindra "Live Young, Live Free" ad, among others, were facilitated by us in Ladakh.
We started catering for the film people. We would cook food for the crews and serve them. Catering for 200-300 people was not a joke... we would hire cooks from Delhi and Mumbai because we need to serve different food to different people, we needed to have range of food available.
In 2016, we did the Bollywood movie Tubelight. Catering for 280 people, everything was cooked well and on time — as they preferred.
For Hollywood, we did a documentary called Baraka; it was made by Ron Fricke, and after that he shot Samsara. They shot in 25 countries in five years. It was very challenging to work for them, but at the end of the shoot, he left as a good friend.
Most of the times, I need to go through movie scripts and accordingly suggest locations for the shoot.
You learn more when you keep on meeting new people. We were very stagnant previously. Earlier, we'd think of going to Jammu for education or business, but now Ladakh has opened up to the whole world. Tourism and the economy is booming, and students from Ladakh are found everywhere in the country.
In a way, it's a good thing that we get cut off during the winter months from the rest of the world. It keeps our feet on the ground; I mean it makes us remember our culture and tradition. Weddings and festivals happen during this period, we get to meet our people, it keeps us connected to each other. Otherwise you know, like life in metros is different, it simply feels like you have bound yourself with the fast-spinning wheel of time and you have to go with the pace, which kind of cuts you off from roots, culture, tradition, people.
I remember Kashmiri people used to tell us how to deal with tourism — now it is vice versa.
Tomato that costs Rs 30 a kg in Delhi reaches me at Rs 140 per kg in winters because I need to air cargo it. But that doesn't mean I'll tell my tourist that only potato is available in Ladakh! I need to provide Continental, Chinese, Italian, Spanish food to my guests, you need to open up as per demand. There are too many hardships you face living in Ladakh but tourism has boomed so much that things have eased up now.
As a child, I never thought I'll have a resort to run one day, or that I'll become a line producer. We were a very middle class family. I used to look after myself, my dad put me in Dehradun, gave me a bicycle and told me you are on your own, when I was only 18. I met people there, worked in hotels, washed dishes, did a waiter's job, and I used to make halwa or anything that was required by a hotel.
When I was in my early 20s, one of my mentors asked me to work for the catering department of cruise liners in Delhi (the catering arrangements for many cruise liners is done in the capital, even those that were docking in Kochi). I used to handle all the catering in Delhi for such cruises and I would be flying between Kochi and Delhi. Since it was a very luxurious business, I was in charge of booking five-star hotel rooms in Delhi, Mumbai for the guests coming through those cruises. I learned a lot there and made some good friends throughout. It was a very glamorous job! Bookings were done even a year in advance and I would be hiring Mercedes, Bentley cars for the guests as per orders. This changed my way of thinking... I used to be very shy, but this broadened my vision. I became a 'party man' as it is nowadays very necessary — you don't meet people now in their offices, you meet them at parties, and networking is very important in my business. Not that you are desperate to make friends but it is good to know people. I'm very happy to have a vast circle of friends.
I finally opened this resort (Saboo Resorts) that has 15 cottages for now. I try to provide variety of food, I have my own laundry system, I want to give almost five-star facilities to my guests in this small place called Ladakh. I believe if you surprise you guests with good things — like a small party in the middle of nowhere in the deserts of Nobra — it makes it exciting. Then your client also opens up! My resort is almost full now every season and I'm thinking of expanding this chain to other parts of Ladakh, and Kashmir.
I'm a very happy person because I love what I'm doing, what I have learnt from my mentors. It gives me pleasure to make my guests happy, make them feel "wow" and make them my friends!
— As told to Javeed Shah
George's Saboo Resorts in Leh has fifteen cottages as of now.