There aren't many ways to reach Anakaputhur. Then again, there aren't too many people who want to go to Anakaputhur.
The erstwhile handloom weavers' village is a 40-minute rickshaw ride from the suburbs of Chennai. Temple bells pierce the air, dogs sleep curled up under the sun, and the roads are like the community's remaining artisanal weavers — worn out and neglected.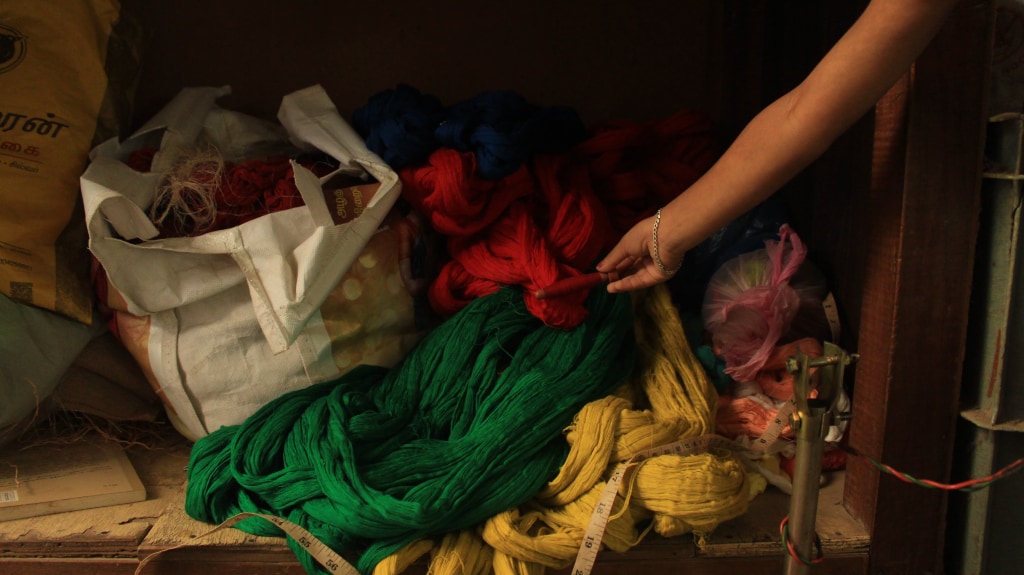 Bijendra checks if the spooled thread matches with the yarn before handing it to his granduncle. All images by the author
Less than 20 years ago, every house in the village had its own handloom mill. There were about 5,000 such mills in all. Today, the number has shrunk to some 200.
These squeak woodenly for 14 hours every day, from which the operators earn Rs 125 for their work — barely half the fare for a rickshaw ride into the city, just 24 kilometers away.
"Show me one handloom weaver who says they are doing well," demands Sekhar, 52, who works out of a small, dimly-lit room punctuated by warm, amber sunlight that flows in through a lone window. The lower half of the window is covered in equal parts by cobwebs and old yarn.
Sekhar's mill houses four dusty handlooms, each paused in mid-construction of a delicate, half-woven banana cotton thread saree (spun from the fibre of a banana bark). Sekhar's spinning wheel sits in front of them all, and a dustless spot behind it marks the old man's work station.