While pursuing a story near the Line of Control (LOC) in the Mothul Uri sector, for which I needed to visit some villages there, I was engaged for over a week in obtaining the requisite permissions from the Indian Army. I had been advised to mail my request across, but for over a week, the status of my application was shown as "Under process".
I decided not to wait any longer, and with the help of a local journalist Zafar, made my way to the village of Nambla, one of the biggest in the Uri sector near the LOC. Zafar also helped me reach the village of Mothul, a stone's throw from Pakistan. The numberdar (headman) of the village, Miyan Mithu, was waiting for us along with a few other villagers when we got there.
We met Zulekha, a mother of three who lost her right leg in 2010 when she walked over a landmine near her home. Her leg amputated, Zulekha now uses a wooden limb — the pain persists even after all these years, but she says she's gotten used to it. More painful than her lost limb is the penury her family lives in, says Zulekha. Zulekha's family grows some corn along the terraced hillsides but have no other source of income. At times, her husband gets called on as a day labourer in nearby Uri town. Despite our hesitation in impinging on their hospitality, Zulekha and her elder daughter Rubina insisted on serving us hot cups of tea (made with pure buffalo milk ) and maize rotis.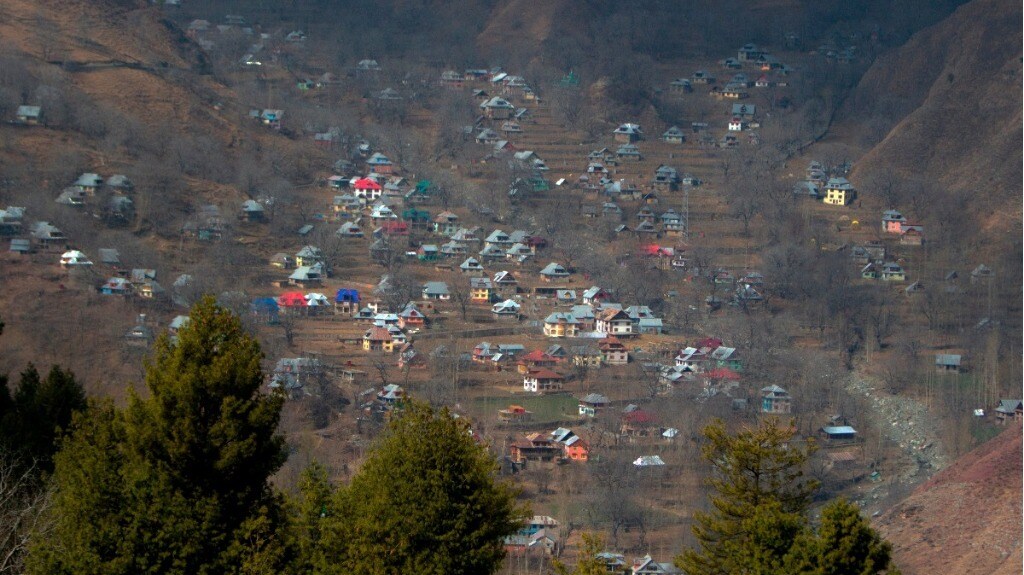 Before she lost her leg, Zulekha says she would run so fast over these hills that it almost felt as though she were flying. But now she can barely get around. She told us she wished she had died when the mine exploded. She says both countries are "stupid for (wanting to) kill each other over nothing". "I don't understand why they do this..." she said.
"Over the past few days, it has started again. We hear gun shots every day now. It is so frightening for everyone, we don't have any bunkers/shelters to hide in. The feeling that we're living in a war zone is always present. Our mind is completely focused on the gun shots we hear every day. The last few years were calmer but now it feels like we're living on the edge once again," Zulekha added.
Neither Zulekha's daughter Rubina (20) nor their neighbour Farhan (19) remember hearing gun shots before this. This has been the first ceasefire violation since 2003; Rubina and Farhan were too young to remember any of what passed in 2003, but over these last few days they say they've been feeling very scared. The hill in front of them is occupied by Pakistan and the houses and other structures on that side of the hill can be seen clearly.
When I attempted to give Zulekha some money — a couple of hundred rupees — she refused to accept it. It was only when I insisted and said it was to buy sweets for the children that she finally agreed to take it. She had tears in her eyes as she wished me well. Around the village there were a few frail children playing; life was simply harder for everyone here.
Zafar, Numberdar Mithu Miyan and a villager called Farooq accompanied me to a nearby village. Walking along the hill we could hear the gun shots and everybody would try to guess if it was from a light or heavy gun. Sniper shots and heavy shells dominated our conversation until we reached the heavily fenced gate of an Army camp. There we were stopped and questioned, and also offered warm water. However, we were prohibited from going further unless we got permission from Army headquarters. I was also told not to take any photos there. Meanwhile, porters dumped wire for fencing close to where we were.
As we turned back, I noticed Miyan Mithu walked with a limp. When I asked him what had happened, he said he'd walked over a land mine too, back in the late '70s, and while his foot was saved, he never again have a normal gait.
On our return, we spoke with Zulekha, her children, and a few other villagers. Everyone was very worried, and I too wanted to leave the place immediately and reach some safer zone. The village, while beautiful, seemed horrifying with the incessant noise of he guns in the background.
Driving back, I crossed the Uri sector and got closer to Baramulla when the network on my cell phone resumed. I called my family and told them I was in a safer place. I could hear their sighs of relief, even though I had now been halted at a Baramulla Army checkpoint manned by heavily armed soldiers, for a routine check.
Here is a visual diary of my visit to Mothul. All photos have been taken on 21 February 2018:
Zulekha near her home. In the background is the hill, half of which is occupied by India and the other half by Pakistan.