Gitanjali Dang and Khanabadosh curate this series — Invisible Light — under which various themes will be introduced. Jagte Raho is the opening theme. Read an overview of the curatorial concept, here.
Also view 'Jagte Raho' —
Chapter I: Gagan Singh Slows Down The News 
Chapter III: Amshu Chukki looks at a protest that never happened 
Chapter IV: Mo'Halla and the film Jagte Raho on everything that doesn't disappear 
Chapter V: Abhishek Hazra on How to Hide Your Hegel 
Chapter VI: 7 Isles Unclaimed or the Mumbai That Could Have Been
Chapter VII: Hazarding guesses with Sahej Rahal
Chapter VIII: Noticing and note-taking with Shubhangi Singh
***
Chapter II: Kush Badhwar and Pallavi Paul speak to the virus
Philosopher Paul Virilio, who died in September this year at the age of 86, wrote extensively on speed and technology.
Writing on his preferred subjects Virilio said, "When you invent the ship, you also invent the shipwreck; when you invent the plane you also invent the plane crash; and when you invent electricity, you invent electrocution... Every technology carries its own negativity, which is invented at the same time as technical progress."
This quote — among Virilio's most widely quoted — does a good job of introducing the bipolar tug that speed and/or technology exert on the two artworks that comprise this second chapter.
The idea of 'going viral' is embedded in Kush Badhwar's mojiji (2018), who needs no introduction. He only needs circulation. In this circulation, mojiji's meanings may be realised or not, stabilised or not.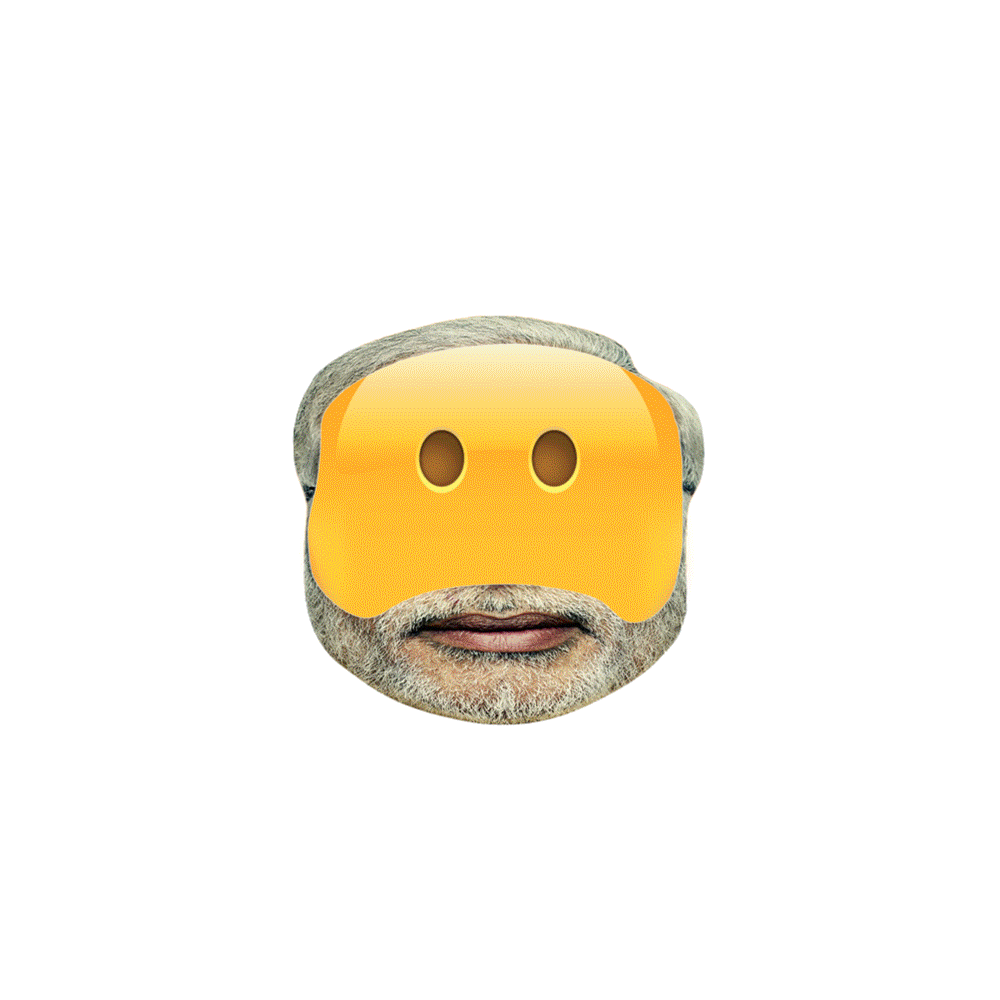 (Above: Kush Badhwar, mojiji, 2018)
"Mojiji is making small inroads into existence. So far, he has attempted life as a film poster," says Badhwar, speaking about the gif's excursions into the world. The anecdote goes that, on IMDb, Badhwar was credited with a film he didn't make. He returned the favour by submitting mojiji as the film's poster on the same platform.
"His future could be three-dimensional, or he could enter a slot machine as a symbol. Maybe even get a voice," speculates Badhwar.
If the reader can help with any of these attempts, or perhaps another form of existence, then they should get in touch with the artist via his website.
Of mojiji's current moves, Badhwar explains, "On this platform he is trying to figure out his daily routine which, early on, is invaded by vibrant good morning messages — an on-going affliction/interest — and each night by nightmares."
***
In File Image (2018), Pallavi Paul combines many threads while focusing on the narratives of Sufi mystic, teacher and poet Mansur Al-Hallaj (c. 858–922) and the epidemic of cow-related lynchings and violence in the country.
Hallaj was executed in public for his proclamation: Ana 'l-Haqq i.e. I am the Truth. Al-Haqq (The Truth) being one of the ninety-nine names of Allah, Hallaj was accused of blasphemy. However, in keeping with Sufi thought that seeks proximity with the divine, and moreover in keeping with Hallaj — whose manner and teaching often lay outside of even Sufi norm — the proclamation is more commonly understood as annihilation of the ego and a radical expression of union with the divine.
Hallaj was executed because his ideas threatened the status quo and because his fame and ecstatic pronouncements threatened to 'go viral'.
Since 2014, aided by high-speed communication systems such as WhatsApp, gau rakshaks (cow protectors) have carried out violence and lynchings. The list of casualties is long and deep. Abdul Ghaffar Qureshi, Mohammed Akhlaq, Pehlu Khan, Juniad Khan, Anaf, Arif, Nazim, Zahid Bhat, Noman, Mohammed Mazlum Ansari are some of those who have been felled along the way.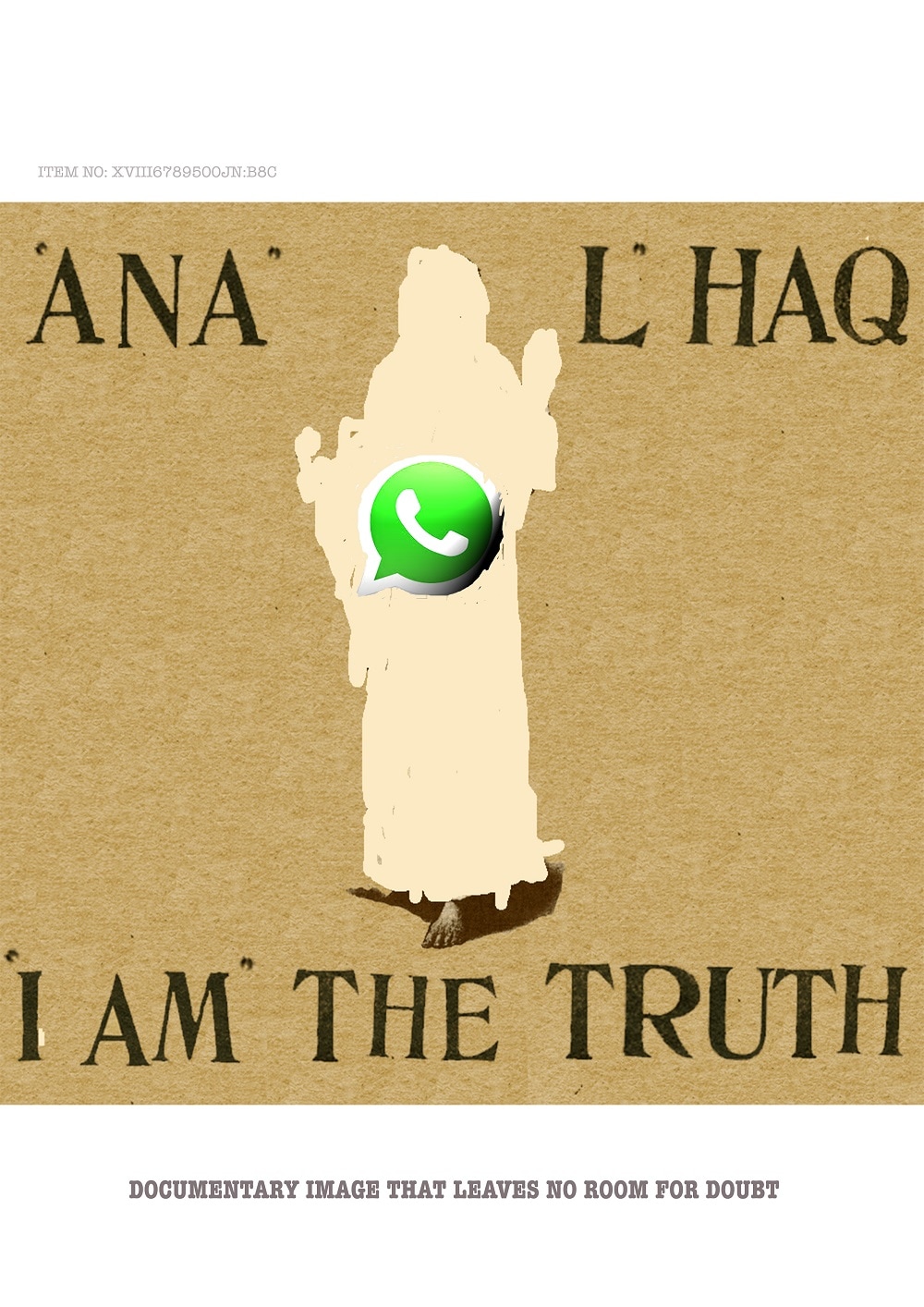 (Above: Pallavi Paul, File Image, 2018)
"Two regimes of truth, two seasons of violence. Like always, the public is implicated; like always, all witnesses are found missing. Like always, there is no doubt. These two moments slide across one another to ask what it means to know, what price faith can demand and can doubt be a way to forestall violence," explains Paul.
***
Two hundred million people in India use WhatsApp, more than anywhere else in the world. In August this year, the messenger app, which is owned by Facebook, turned down the Indian government's demand to weaken end-to-end encryption in order to trace fake news.
In March 2018, the Facebook-Cambridge Analytica data scandal happened. It revealed that Cambridge Analytica, a political consulting firm, had harvested the personal data of approximately 87 millions Facebook users without their consent and used it for political purposes.
In September 2018, the Supreme Court upheld the validity of the Aadhaar. However, it stipulated that the Aadhaar card is not mandatory for opening bank accounts, getting a mobile number, or being admitted to a school. Aadhaar is a Sanskrit word used widely in Hindi. It means 'base' or 'foundation'.
Earlier this week — on 23 October — a little over a month after Virilo's death, it was announced that a ship discovered in the Black Sea is the 'world's oldest known intact shipwreck'. Radiocarbon-dated to about 400 BC; the ship was afloat in the days of Plato and Sophocles.
***
Artists in focus:
Kush Badhwar is a filmmaker interested in shifts in the mass media, collaborative practice and improvised and informal political engagement.
Pallavi Paul's work is engaged in the technologies of poetry and time travel. Her work has been shown at the Tate Modern, London, Whitechapel Gallery, London, Contour Biennale, Mechelen and MAMI film festival, Mumbai amongst other venues.
***
Gitanjali Dang is a curator, writer and shape-shifter. In 2012, she founded Khanabadosh, an itinerant arts lab. More here.