Over 3,000 Kashmiri youth participated in a two-day recruitment drive conducted by the Jammu and Kashmir police over the weekend of 13-14 May 2017.
Around 67,218 candidates from various districts of the state applied for the posts of 698 sub-inspectors in the executive, armed and telecommunication wings of the state police, ANI reported.
The recruitment drive took place just days after Lieutenant Ummer Fayaz was assassinated by militants in the Shopian district — reportedly to dissuade other youth from joining the Indian Army.
News agencies had reported that youngsters showed up in large numbers for the police recruitment drive despite threats from local militants to stay away.
"Unemployment is a big issue here. That's why, in spite of threats, people are turning up: everyone here wants to secure a job somewhere," Parvez Ahemad, one of the young men who participated in the recruitment drive, was quoted by ANI as saying.
Photos by Javeed Shah.
***
Kashmiri youth walk inside the Bakshi Stadium in Srinagar for the police recruitment test on 14 May 2017, in response to recruitment advertisements for the Jammu and Kashmir police. There are a total of 698 posts (sub-inspector level) — 482 of them executive, 176 armed, and 40 in telecom. The physical endurance tests (PET) and physical standard tests (PST) of 35,722 candidates belonging to the Kashmir province, in the first phase, kicked off on 13 May. Nearly 2,000 candidates (male and female) underwent the requisite tests.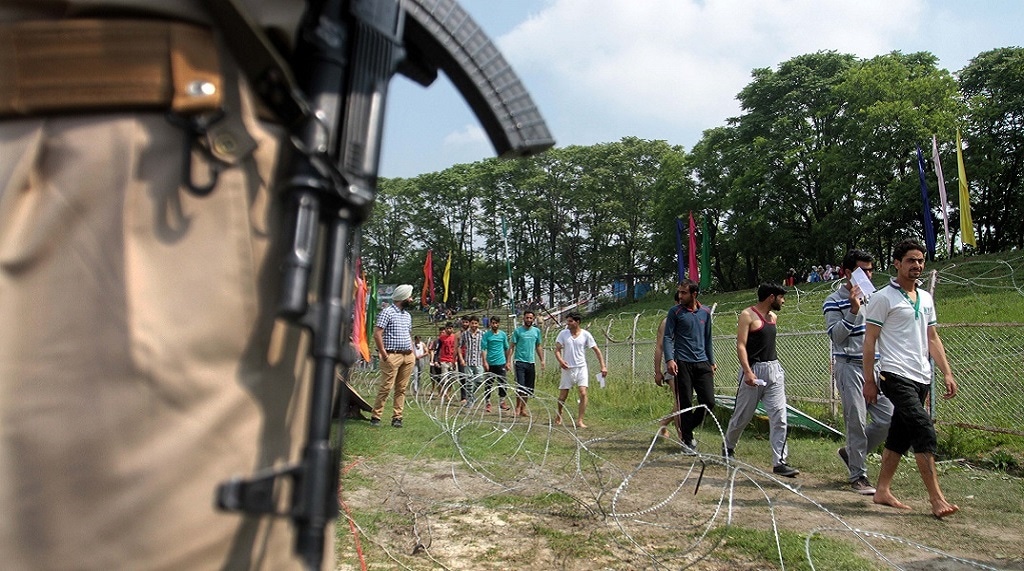 Men ready for a 1,600-metre run, to be finished in 6.30 minutes, inside the Bakshi Stadium in Srinagar.