"I've often asked women if they ever feel like they're just bodies," says Indu Harikumar in a part-ruminative, part-matter-of-fact fashion.
While there exists a global discourse on women being transformed into territories to gain political and social control, there isn't adequate space for women to determine their relationships with their own bodies. It's natural then, for women to sometimes view themselves as mere flesh and blood.
But what do they think of their bodies in their most intimate moments, away from prying eyes?
What do they think of their curves and edges in those rare times when they let themselves slip and savour the joys of vanity, unapologetically?
Harikumar, a Mumbai-based artist and storyteller, has been drawing women's breasts for about three months now, as part of her crowd-sourced project Identitty. What started as a mere conversation with an Instagram acquaintance, a big-busted woman who until the age of 26 felt she was somewhere responsible for being catcalled, has opened a dialogue on the love-hate relationship brown women share with their breasts.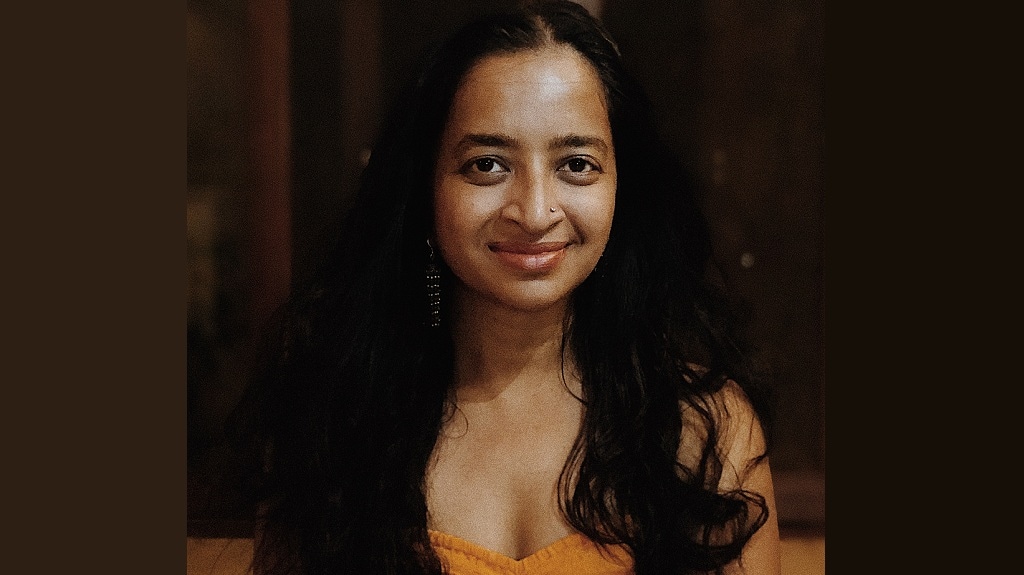 Indu Harikumar. Photograph by Chaitali Mitra
In fact, when Harikumar was opening up to the lady about her own experience of being a scrawny, flat-chested woman and feeling like "half a person", she bounced the idea off her. And a month later, #Identitty debuted on her Instagram page.
The first story came from a South Asian woman with a "frustratingly large" bust. After feeling unfeminine for years due to her size, the woman eventually learnt to embrace her breasts and the sexual compliments that came with it. She now fantasises about being an exhibitionist, with a strong secret desire to "have random people see them".
Interestingly, a lot of women that Harikumar has drawn have made reference to the pleasures of being vain.
For some contributors, having the beauty of their breasts validated by a partner is all that it has taken to undo years of shame. "Women are not conditioned to enjoy attention," she says, "It's what John Berger said: 'You painted a naked woman because you enjoyed looking at her, put a mirror in her hand and you called the painting 'vanity', thus morally condemning the woman whose nakedness you had depicted for your own pleasure.'"
Having looked at many naked bodies before had primed Harikumar well to overcome the initial confusion of seeing an unfamiliar bare body. Last year, she worked on a project where she drew parts of women's bodies they really liked and asked them for photographic reference. Breasts have now been desexualized for her.
"Now that I've looked at so many pictures, I notice tiny details and see a lot of beauty in people's bodies," she says. As an artist though, it hasn't been easy for her to shake off that image of the ideal female form. "When it comes to representation of bodies in art, we don't see variety at all. I remember I used to keep telling myself to not draw such perfect bodies, but I just couldn't bring myself to draw other than what is considered perfect."
Wanting to represent brown women in an overwhelmingly white world, she finds it strange when women who wish to be drawn do not send her coloured pictures of themselves. "I'm wheatish" is their usual defence. The discontent among brown women with not being white is something Harikumar has explored earlier as well. While working on a different project some time ago, she asked women what undressing in front of their lover(s) felt like. While there were all kinds of answers to that question, what struck Harikumar was women being embarrassed of their "dark private parts".
For Identitty, Harikumar insists her contributors send her coloured photographs.
The Instagram page now contains bits from a motley crowd of girls, young mothers, women who have pushed the boundaries of gender, and women in their late 50s. While the internet may have allowed accessibility, it has not made the artist immune to reactions of all sorts. She recounts being called a "feminazi" after the project broke into international press circuits. "Why are you doing this?" is a question she gets a lot. But that does not hold a candle to the daily encouragement she receives from allies.
Among patrons of the stories of women's bosoms are also men who once shamed them.
Some have confided in Harikumar, perhaps emboldened by the temporary sense of security the inbox provides. "I've had men say to me that they shamed someone about being small-chested and now they feel guilty because they've read the stories. These stories are inaccessible to men, and the thing about Identitty is that it does not tell anyone how to feel. It's not like saying 'smash the patriarchy' where you're giving an instruction. Here, you take what you want to take."
Harikumar's biggest learning from the project reflects what acknowledging your privilege can do to you. Because once you do that, you are aware that there exists a world where people do not have the same privileges. It's then impossible to see your own self devoid of that realisation. "People tend to think there's only one kind of bust. I already knew that, but now there is no way for me to escape it," she states.
*****