Editor's note: Bhaang is an edible form of cannabis and a Holi tradition. It has common usage in other Hindu festivals like Shivratri and Janmashtmi as well. This fiction piece in no way advocates the usage of Bhaang, but doesn't denounce it either. Happy Holi!
*****
9.13 AM.
Drip. Drip. Drip.
The rhythm of that darned leaky tap woke me up, the inky black of my dreamless sleep breaking into ripples; but then, I instantly regretted opening my eyes. It felt like my skull was imploding and my brain was exploding at the same time. Has my body grown immune to PartySmart?
Drip. Throb. Drip. Throb. Drip. Throb.
Must get that damn tap fixed asap. At the rhythm of each drip and throb, images from the previous night streaked before my eyes. Amber-gold jägerbombs. Flaming blue Sambuca shots. Clear green absinthe. Flashing pink lights with out-of-sync karaoke. A sinewy (and rather cute) fellow clad in grey, who walked up to me just as someone finally managed to wrench the microphone from my hands.
That last image woke me up a little more. The chap had seemed interesting. Neither is he here, nor am I at his place. I wonder what happened to him? As drunk as I was the previous night, and with my current depressive mood in general, it seemed odd that I hadn't hooked up with him.
Absinthe. Throb-throb.
It hit me. He seemed interesting at first; and then he spoke. End of story. His thick brown boots were his most interesting facet, and I don't even remember how they looked anymore. Thank god for the cold-brewed black coffee in my fridge. And thank god for the Monday holiday. Sunday night binge-drinking is for kids, not for 27-year-olds.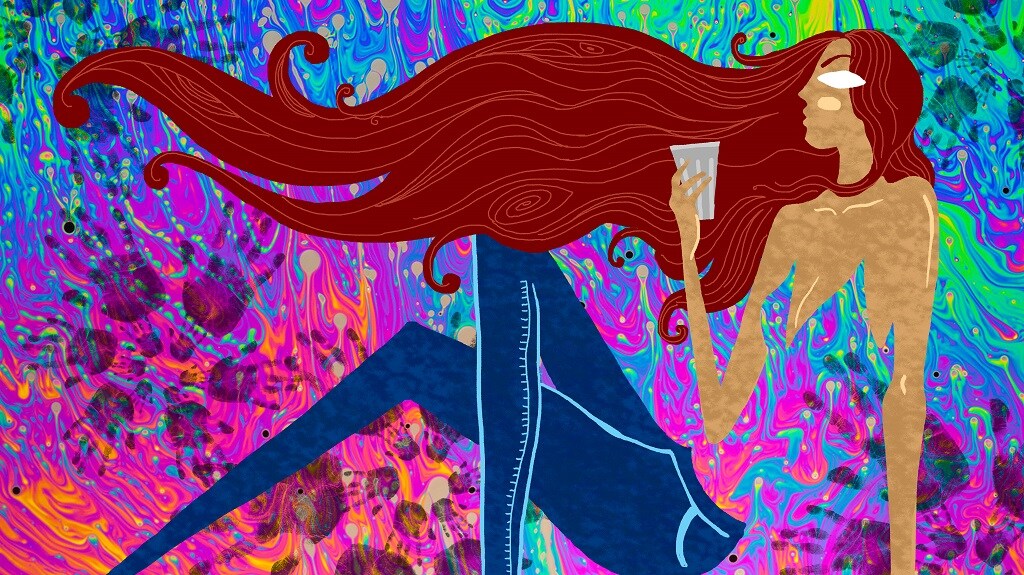 9.47 AM
I soon had eggs sizzling on a pan while I sipped my way-too-brown cold coffee (just how I like it), golden-brown buttered toast ready on a plate. Soon enough, with food in my tummy, the throbbing began to ease and the sounds of the world began to filter into my seventh-floor apartment.
Then, my heart sank, as the caterwauling from the outside reminded me of why I'd drowned myself in alcohol the previous night. It was because of what was to follow the next morning. Excited screams. Splashing water. The Monday holiday suddenly sounded bleak. It was Holi. Almost as if on cue, my cellphone rang.
10.19 AM
I did not see the point of bathing, particularly because of just how much water I was going to see wasted that day. What worried me was surviving yet another Holi. I've always disliked the 'festival of colours' (or so they call it), never quite being able to make my peace with so many strangers around me taking the opportunity to be, well, friendly.
Ugh, people. Why do my friends have to call me for such stuff? And why can't I say 'no'?
But this year, Holi seemed even more troublesome. With majoritarianism sweeping across the globe, the fervour around India's traditionally-celebrated festivals had grown particularly loud. Even as voices advising moderation in celebrations grew louder, the celebrations themselves seemed to double down on the dissenters.
"If you're against our festivals, you're against our country!" No, *you* fuck off. Please. #KeepingItClassy
Apparently, you mustn't worry about who has how much water available to drink, when you can dunk a person in a barrel of coloured water instead. I've read (on the internet, so who knows) that my home city, Bangalore, will be evacuated in under a decade because it is fast running out of water. The Bangalore of my childhood was always green. Today, I can only picture it as brown. Welcome to dystopia.
That day, in my own subtle middle-finger to the world, I wore the loose-est, black-est, oldest set of clothes I could find, and I put them on. No Bollywood-style Holi for me, thanks. Why would anyone in the real world wear white on Holi?
Just before I left the house, I looked into the mirror once, more out of habit than the want or need to see how I looked. As far as I was concerned, I was walking into a warzone. And I looked dressed to, well, be killed.
10.59 AM
As I stepped out of the house, I saw old Mrs Taraporewala, elegant in a thin white gossamer gown, watering her little new potted plant by her door. On most days, we barely exchanged words, she and I. But I often visited her home, sat in silence in her balcony-turned-garden and admired her plants, while sipping on herbal tea and contemplating where my next story would come from.
The various shades of green in her garden, some that I hadn't even seen elsewhere, often spoke to me, calming me. My favourite was the little Mimosa Pudica in the corner, commonly called the 'touch-me-not'. I identify, girl.
That day, I merely muttered a 'hello' to the good lady, and I was on my way. As I saw myself looking on at me from the shiny, silvery walls of the elevator, my thoughts returned to old Mrs Taraporewala. It amazes me how the cacophony of the outside world matters so little to her. No matter what, she just always does her own thing. And she wears white like no one else.
11.07 AM
I was already running late for the darned Holi party my friends wanted me to join – rain dance and everything, bloody hell - but I knew that it would be a task to escape the eyes of the folks celebrating Holi in the society. I saw a crowd of at least 50 people in the community area, fervently dousing each other with liquid colour.
What I hate most about Holi is how all those colours mix and form the dirtiest, ugliest, most difficult to describe non-colour ever. Now I know why they call it a 'riot' of colours. Dirty. Ugly.
My new therapist had recently prescribed colour therapy to me, which had almost instantly started working like a charm. Colouring books were my new best friends; I spent hours with them every day, colouring within the lines, picking and choosing what shade would go where. But the sight of the Holi celebrations made me realize that it would be a while before I could touch another colouring book.
Avoiding any sort of eye contact, I tried to slink my way to the parking lot. Then, calamity struck.