"Photography helps you to compare what is, to what was," George Steinmetz says to me at The Indian Photography Festival, Hyderabad. Also known as 'the flying photographer', he is famous for his trademark low altitude aerial photography. "When I'm flying in some of the remotest parts of the world, I'm seeing things that were never really seen before. The contrast with the other regions becomes very apparent," he adds.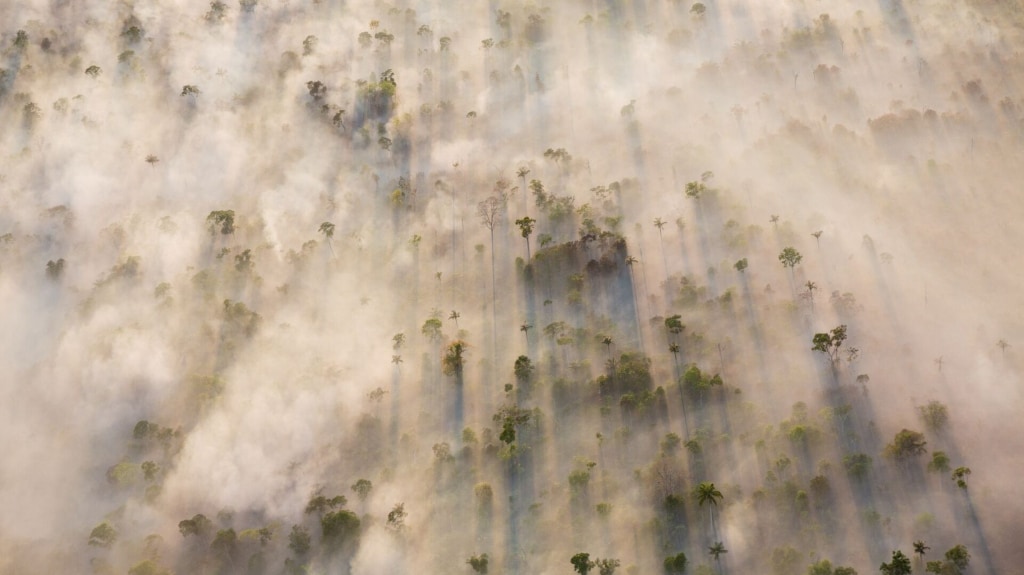 Mato Grosso, Brazil. A low hanging cloud of smoke envelopes the trees from a fire set to convert the virgin Amazon forest into farm land for growing soybeans and corn.
Steinmetz pioneered aerial photography and much of his early work was done with a foot-launched motorised paraglider, which he piloted while taking pictures. It started in 1998 when he was supposed to do a story on the Sahara and met a pilot who introduced him to a paraglider, only to vanish later on. The self-taught photographer explains, "I had no choice but to manage it myself as I had already proposed a story to National Geographic. It seemed crazy to do piloting and take pictures at the same time, especially in remote areas where if something goes wrong, there is no help at hand. But then, I saw what I shot and really liked the output."
With a motorised hand glider which can fit into a truck and which essentially consisted of a seat, a sail, a tank of gas, a propeller and himself, Steinmetz felt it was the ideal means to traverse a desert. "Deserts are ideal for paragliding as you can take off and land anywhere. In a densely populated city like Hyderabad, it is really dangerous, but in deserts it is perfect. I always want to take one more picture and that's not the best thing if you are both the pilot and photographer," he says with a chuckle. Having worked for 15 years in the deserts, he says that it was fascinating to "see the world with its skin peeled away".