With just a day to go for the Karnataka Assembly Elections 2018, the mood on the streets of Bengaluru was a mix of the everyday and the charged. In some parts of the city, it was business as usual, whereas in certain pockets, you'd see glimpses of the political frenzy that is to unfold.
Glimpses from the city: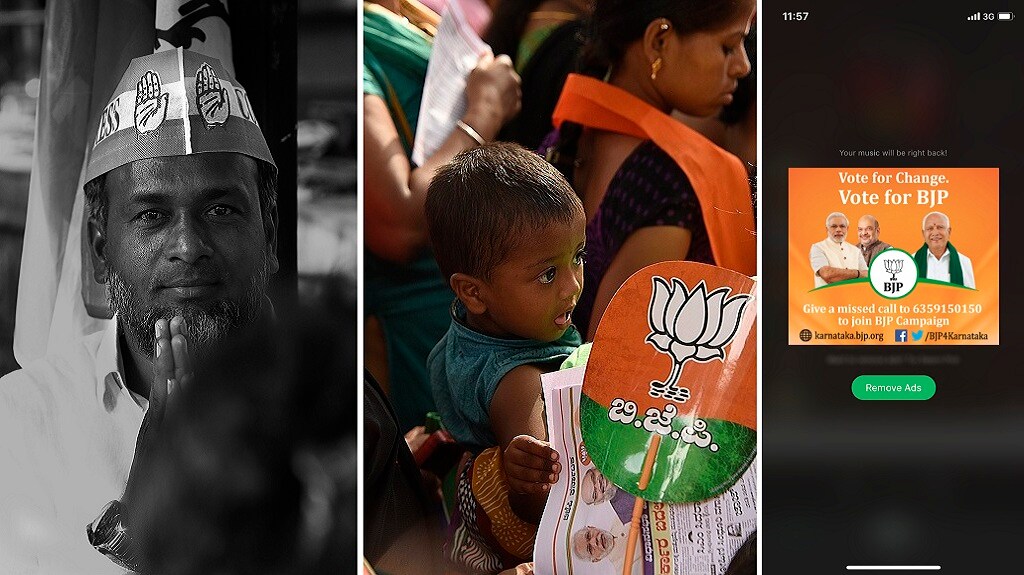 Here, from left to right —
'Congress Booth': This man and I shared uncomfortably long eye contact. I thought he would say something, but he just looked on with a fixed smile, barely even blinking. It was almost as though only the two of us were present, although in reality, we were in the midst of a bustling street with at least 20-30 people stationed at the Congress centre.
'Beginner's Choice': A lot of children were part of the political rallies, actively participating in whichever way they could. I saw one little girl reach out for a copy of the party proclamation letter in Kannada that was being distributed to everyone on the street. The little girl and I both had something in common — neither of us could read that letter.
'Social media': While listening to music on an online app, my playlist was interrupted by an announcement in Kannada asking me to vote for the BJP. This happened far too many times for a person to not freak out about it.
Below, 'Sibling Rivalry': Shot in a slum near Malleshwaram. The two children first caught my eye when the little sister posed for the camera and fired a salute in the lens' direction. I was a little taken aback but really appreciated how children had zero inhibitions and did whatever seemed like fun at the moment. Soon enough, the girl was joined by her brother, wearing a BJP 'gamcha', who pushed her while she saluted for the camera, followed by a 'point and laugh' session.