China is a 'wall-building country': It built the Great Wall to keep enemies away. In recent times, it built its 'firewall' to ban world-conquering companies like Google, Facebook and Twitter. There are numerous such 'walls' — real and virtual — all over China, but you rarely get to see them. Hence, if you really want to understand China, you will have to look at what lies behind them — and even then, you are never sure if what you see is real or virtual. This is an account of the visit made to this mysterious, perplexing land which has, in recent decades, attracted global attention as never before.
Shapeless, densely packed buildings, narrow roads with cars parked alongside — the image, in parts of the rapidly transforming urban landscape, is akin to Mumbai. This is the city of Dongguan in China. The Dongguan Planning Exhibition Gallery displays a picture of the city as it looked a few decades ago: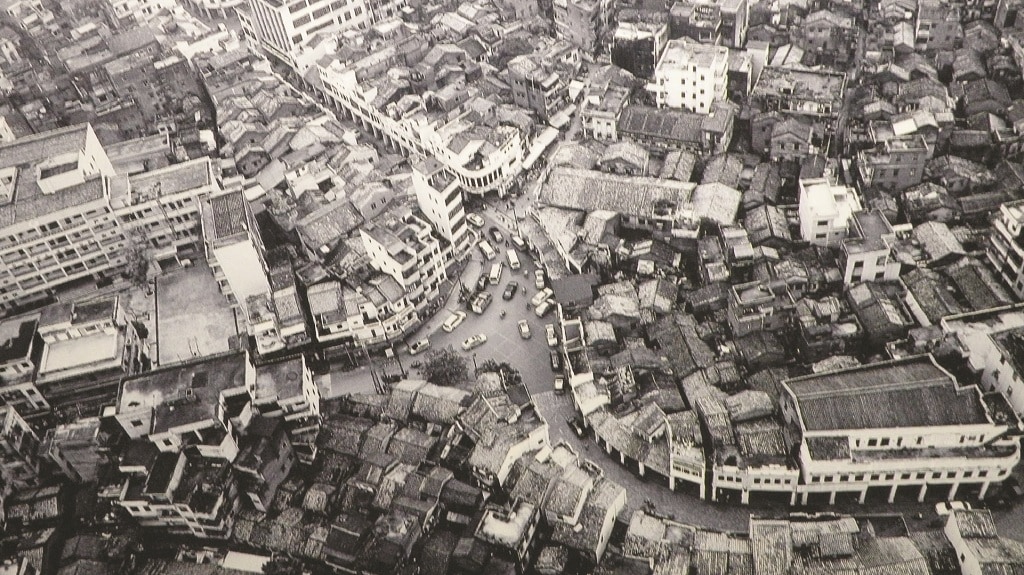 Today's Dongguan is an astonishing comparison of contrasts. A glittering metropolis situated on the banks of the Pearl River, with well-planned and well-paved roads, flyovers, skyscrapers, lavish shops, and the fast-paced, five-star lifestyle of its people. The magical transformation of Dongguan has taken place just in the past 30-40 years. The city has become the factory of the world. It has attracted huge foreign investments. With an annual growth rate of 18 percent, Dongguan, a middle-sized village, has become a vibrant metropolis.
The dramatic transformation of Dongguan was portrayed before us in the sprawling and futuristic town planning exhibition centre. Images were projected on a 180-degree screen that occupied the entire space in front and around us and even under our feet. We stood on something like a first-floor balcony as the story of the creation of Dongguan city was being played out. The narration was in Mandarin with English subtitles, accompanied by Chinese music. As the five-minute film came to an end, the screen below split into two. What emerged was an impressive 3D model of tomorrow's Dongguan, a 21st century smart city. Everything was lavish yet minutely detailed, and meticulously presented. "The manufacturing hub which was Dongguan of yesterday, is going to be converted into an eco-friendly and smart metropolis," read the subtitles. All we could say was, "Wow!"
Behind the wall
Every town in China shares this 'American Dream' of development and Dongguan is no exception. Of course, nobody said anything about the other side of the glitter. Our enquiries revealed that Dongguan used to be known as China's 'sin city' or 'sex capital'. Prostitution is banned in China, but it thrived here. The city is still known to attract investors from all over the world to enjoy 'Dongguan-style hospitality'. Tourists, too, abound on account the city's proximity to Hong Kong.
There was a big scandal in 2014 when CCTV, the government-owned television news reported the sex racket, drawing swift and severe action. Nearly 2,000 underground joints were raided in a matter of days. Thousands were arrested and the police chief of Dongguan city had to quit. Despite the crackdown, the shady business covertly continues till today. One can get numerous references by merely Google-searching 'Dongguan'. Nobody mentioned this side of Dongguan to us there; it was all so goody-goody. But we could gradually discern the wall between the real and the virtual in China.
Then came the questions: Why is Google banned in China? What are free media and controlled media? On returning to our hotel, the TV showed one CCTV channel after another. CCTV is a network of as many as 50 channels. All the media in China are either government-owned or under its firm control. Be it Xinhua, the state-owned news agency or the People's Daily, the newspaper group; they all are official mouthpieces of the Communist Party of China. The local media prints only what the government tells them to. Although we knew this before, the first-hand experience reinforced the importance of the independent media in India.
It's not just media, whatever happens in China is controlled. Every public activity is watched closely. The Chinese government ensures that no incident ever slips out of its grip. Many streets in China are lined with rows of trees, their trunks supported from all sides by bamboos. It appears as though even the trees must grow as commanded by the government. This scene was symbolic of the extent of the iron grip of the ruling power and it is evident everywhere.