"Bulleya ki jaana maen kaun. (Bulleya, to me, I am unknown.)"
One only expects to come across such an utterance at a festival celebrating Sufi, Bhakti, mystical and spiritual music, but in this case, the spirit inspiring the outcry belonged to the material world.
Madan Gopal Singh's performance had just wrapped up the first evening of the World Sacred Spirit Festival (or WSSF) in Jodhpur. In the beautifully lit confines of Mehrangarh Fort's magnificent Zenana Deodi Courtyard, the scholar had not only sung, but also translated and explained the work of timeless Sufi and Bhakti poets such as Kabir, Sultan Bahu and, indeed, Bulleh Shah, segueing magically into John Lennon and centuries-old German poetry as well. And now, piercing through pleas for an encore was one of Bulleh Shah's best known moments of epiphany, being screamed on loop by a dancing audience member who was clearly drunk out of his mind.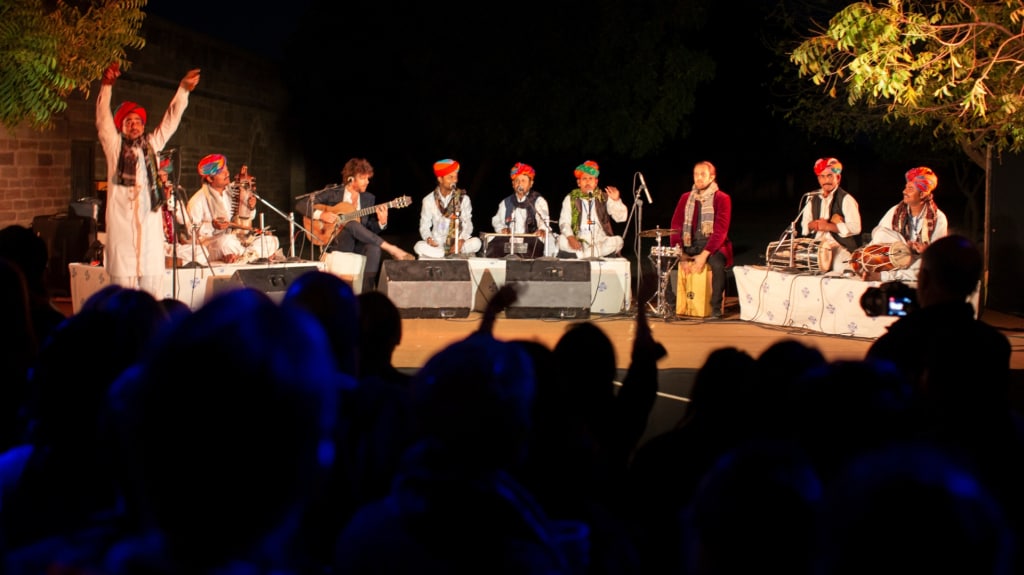 I love such moments in a festival. I mean, who are we to judge? What worked for the Buddha may have been a Bodhi tree but if someone else's moment of self discovery is to be triggered by —  alongside some excellent Sufi music — liberal doses of 100 Pipers and Chivas Regal (the lines for the drinks coupons did bring to mind Harivansh Rai Bachchan's Madhushala) then, as Robert Burns would have put it, "Freedom an' whiskey gang thegither! Take aff your dram!"
Moments like these — a break from what's expected — make a festival come alive. Like when I heard Jackson Scott, singer-songwriter, composer and flamenco guitarist extraordinaire, casually ask someone for super glue to stick his fingernail back on (the rasgueado, a flamenco guitar rapid-strumming technique, employs the fingernail as well as the finger tips, creating meticulous and superb rhythms).