'Bascon 3.0 is a plastic-free zone' read the board that greeted us even before we had entered the festival premises. There was a 'water station' next to it. Women dressed in traditional Galo attire sat inside this station with baskets full of bamboo tumblers. If you had plastic bottles, they collected those here and emptied the water in the bamboo tumblers. The tumblers had a long sling, also made of bamboo, so you could carry them easily over your shoulder.
This strategy had clearly worked wonders, since even after three days of the Basar Confluence, we didn't see a single discarded plastic bottle anywhere in the big open festival ground.
The first time we heard of the Basar Confluence, the line 'It's an organic festival with a No Plastic Tag' intrigued us. Doni Riba, a resident of Basar and a member of GRK - Gumin Rego Kilaju, had written to us telling us about Basar Confluence. We had never heard of Basar before, neither had our travels ever taken us to North East India. The idea of a community-organised festival in a remote, unknown corner of India was reason enough for us to head towards Arunachal Pradesh, where Basar is located. We made our plans, still sceptical about how this 'No Plastic Tag' was going to play out.
Reaching Basar
A flight to Dibrugarh and a ferry ride across the massive Brahmaputra river at Bogibeel (the 4.3-kilometre rail-road bridge hadn't been inaugurated yet, making us among the last tourists to use the ferry service here) got us on a road lined with tea estates on one side and golden rice fields, ready for harvest, on the other. Fragrant aromas from these fields filled the air as we glided ahead on the smooth Assam roads.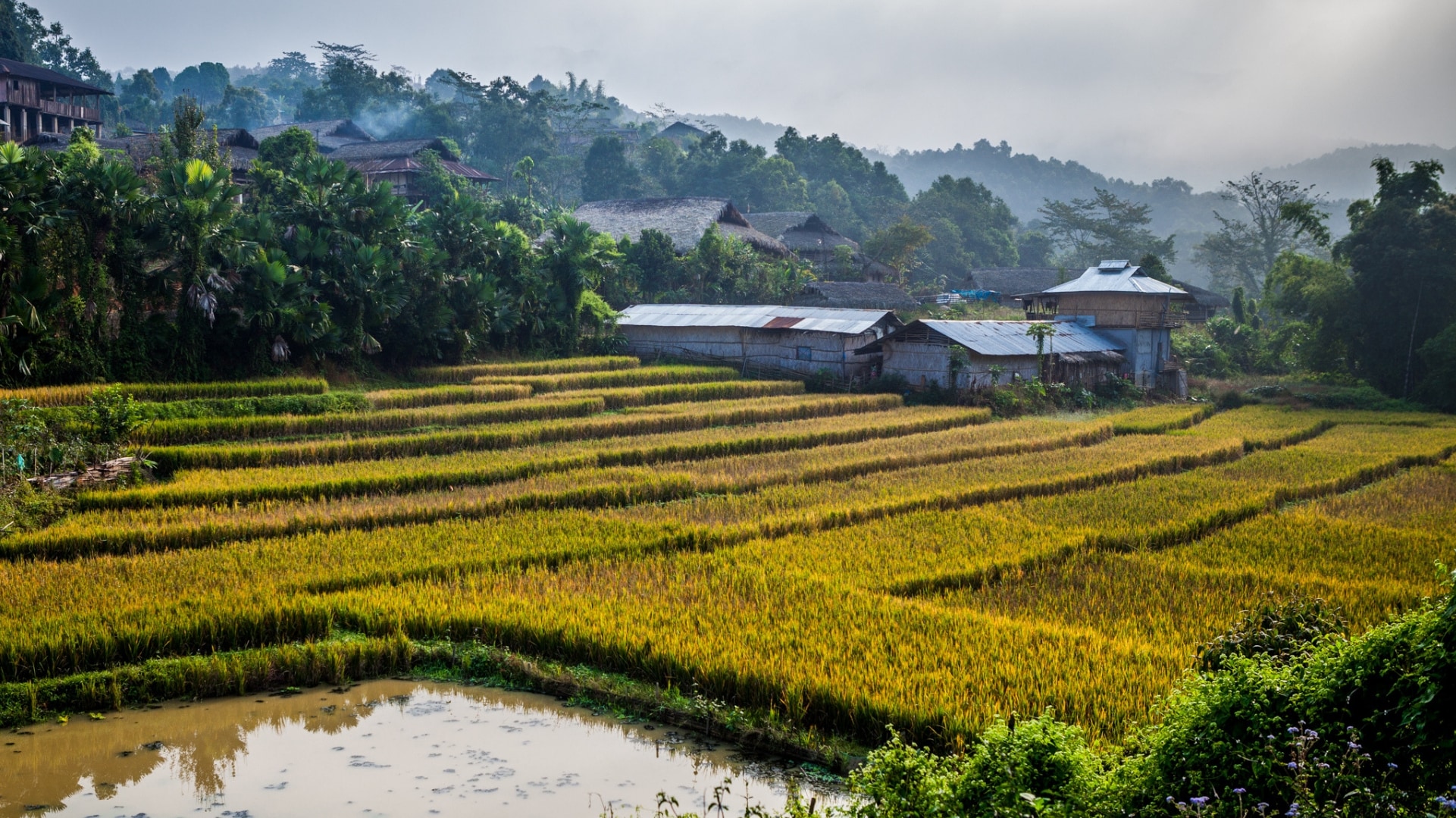 However, by the time we reached the Assam-Arunachal border at Likabali at 5 pm, pitch darkness had descended and the smooth roads of Assam had completely vanished. As we ascended the mountain roads, all we could make out was a dense forest surrounding us. And no matter how much distance we covered, questions about how much longer it would take would always be met by the same reply: "Just a couple of hours more."
The exhaustion of the previous night's travel vanished as soon as we opened the window the next morning. Right in front of us was a house made of bamboo, standing on stilts. A lone tree laden with oranges stood in a corner, hens and their chicks were running around, a pig stayed locked in its pen. Surrounding this straight-out-of-a-picture-postcard house was a thick bamboo forest that went all the way up the hills, now shrouded by clouds.
This was Basar. The next few days looked promising indeed!
The beginnings of Basar Confluence
A few years ago, some residents of Basar got together and formed a society called GRK, with lofty goals like creating a society that is equal for all, education and sports development of the youth, nature conservation, and economic development through sustainable tourism.
Basar Confluence — Bascon for short — was conceptualised as a means of promoting tourism in Basar. However, they were clear about not allowing the influx of tourists to damage their natural resources and ecosystem. That's how the idea of a 'plastic-free' festival came about.
Another interesting and unique angle they introduced to this festival was the artist residency program. Six artists were chosen from over a hundred applications. These artists had spent a month in Basar before the festival. They had spent time in the villages, observed the life here, interacted with the people, tried to understand the Galo story from the elderly, and spoken to the children about their aspirations.