The renowned photographer August Sanders said, "In photography, there are no shadows that cannot be illuminated."
Argentine-German photographer Gerardo Korn's latest series of black and white photography titled 'Behind the Scenes - Buenos Aires, A Unique Tribute' corroborates Sanders' saying in many ways. In the series, Korn manages to capture the metropolis of Buenos Aires in its absolute beauty and in complete stillness. Almost all his pictures have been shot during late hours of the night and early hours of the morning, sans any activity or human presence, when the architecture of the city stands tall in all its glory.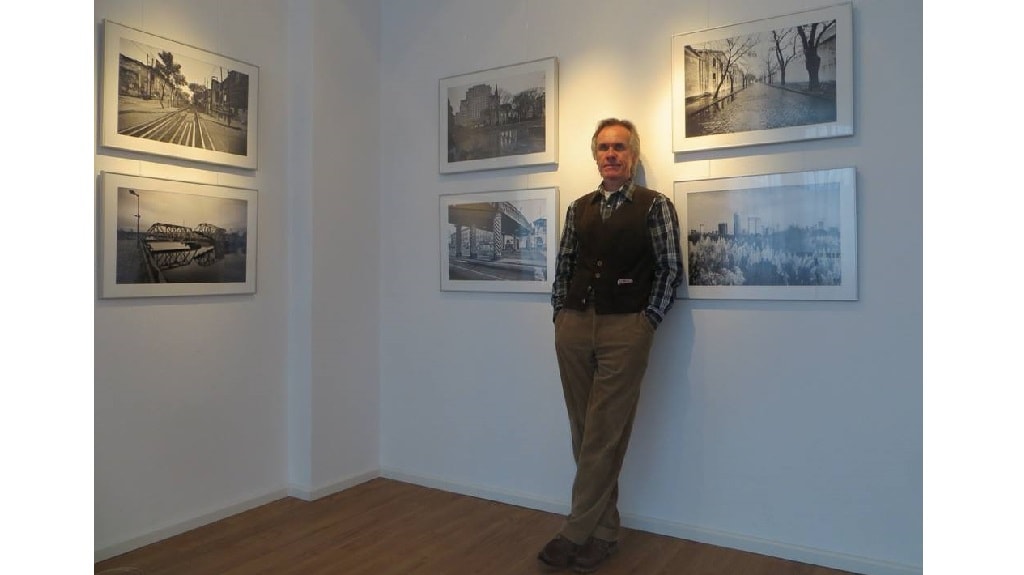 Above: Gerardo Korn with some of his phototgraphs.
"My photographs are the result of my inner urge to portray my hometown off guard and only for me to be its only witness. For me, it is no less than a revelation, almost as if it were a spiritual journey," Korn says. The photographs in the Buenos Aires series were taken over a period of six years by the artist from 2011-2016, with Kodak's classic Tri-X black and white film using a camera he purchased almost thirty years ago.
Through his pictures, Korn also exhibits his traits of being an astute observer and a patient documenter of the world around. His photographs are like personal representations of public spaces: empty spaces whose beauty and fullness are accentuated with the interplay of diffused light, fog and dew.
'Behind the Scenes - Buenos Aires, A Unique Tribute' is currently on display at Mumbai's Cosmic Heart Gallery in association with the Consulate General & Promotion Centre of the Argentine Republic. "This exhibition by Korn, like the title itself, will reveal to its audience extraordinary sights with a magical and romantic view," says the acting Consul General Alejandro Zothner Meyer.
Jalpa H Vithalani, Creative Head & Director of Cosmic Heart Gallery says, "Gerardo is crafty when it comes to his photographs, each of them birthed because of his unique vision. The series will allow its audiences to connect more to Buenos Aires which is considered the Paris of South America. It is a very special year, as we mark the 70th Anniversary of diplomatic relations between India and Argentina. So it is great timing that we are having this exhibition."
Gerardo Korn's work has been exhibited in Buenos Aires in 2016, at the prestigious Centro Cultural Borges, and in Berlin in 2017, at the Argentine Embassy in Germany. His last exhibition took place in Germany in November 2018, at the WinterShall Holding Company in Kassel.
***