It's a sunny August morning in Thanedhar, a quaint village in Himachal Pradesh situated just 80 kilometres north east of Shimla. Kushal Bhalaik, a local dressed in loose grey pants, black boots, a green checked shirt fitted with a pahadi jacket, stands amid an orchard, holding a puja thali. It has petals of a red flower, two ladoos, and an incense stick. The trees around him are laden with ripe, red apples. I am tempted to pluck and bite into one, but Bhalaik stops me.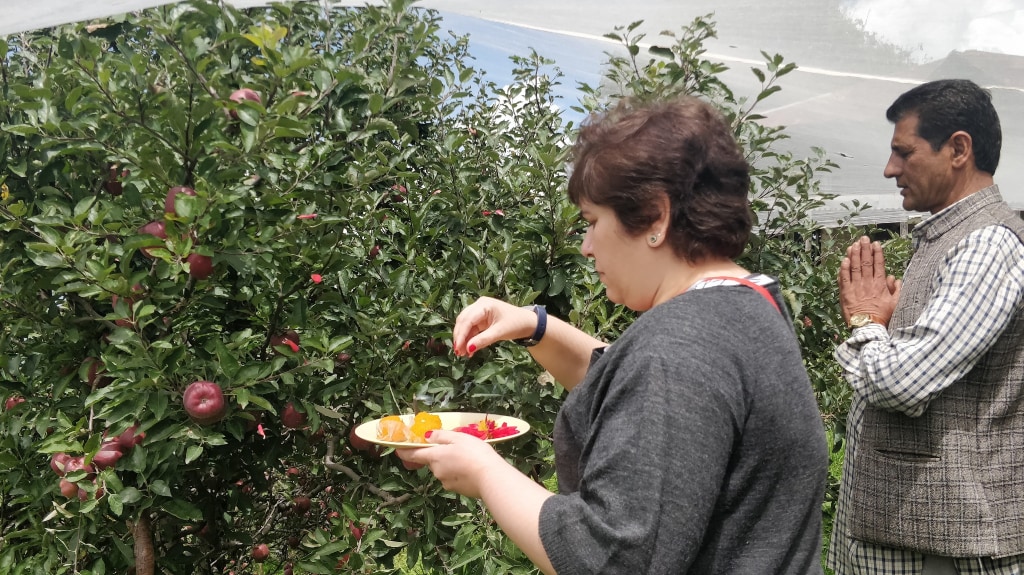 "It is a custom in the hills to thank Mother Earth for the harvest before we begin the plucking," he says. Having said a prayer, he then ushers his cousin Damini, who owns this orchard, to pluck the first apple of the season. As she holds it up for us to see, I gaze at the stunning backdrop. Snow-capped Himalayan peaks seem to alternate with lush green ones that are covered with dense deodar forests and apple orchards.
Amid this thrives Thanedhar — an unlikely village that has been pivotal to apple cultivation in India.
With a population of less than a thousand people, the Thanedhar village situated in the Kumharsain taluka lies on the old Hindustan-Tibet Road. It was a major trading centre in British India. "The name 'Thanedhar' comes from two pahadi words: 'Thando' meaning 'chilly' and 'Dhar' meaning 'flow', denoting the cool wind that blows here," Damini Sinha explains. The 46-year-old Delhi-bred woman has only recently turned into an apple orchardist, after inheriting property from her mother. She is the third generation of women running this orchard.