The annual Amarnath Yatra began on Thursday, 29 June, despite inclement weather. Jammu and Kashmir Governor NN Vohra attended a prayer inside the Himalayan cave shrine, marking the formal start of the pilgrimage for 2017. Over 6,000 pilgrims were allowed to move towards the shrine from north Kashmir's Baltal base camp while 5,000 pilgrims proceeded from the traditional south Kashmir Pahalgam route.
Around 1.2 lakh pilgrims have registered themselves this year.
Unprecedented security arrangements have been put in place for the Yatra based on the threat perception. Among the steps are a satellite tracking system, drones, mobile bunker vehicles and road opening parties (ROPs) along the entire route from Jammu to Pahalgam and Baltal.
The Centre has provided an additional 40,000 paramilitary forces to assist the state government for a peaceful conduct of the Yatra. The Army, the Central Reserve Police Force, the Sashastra Seema Bal and the state police are providing multi-layered security to the pilgrims. Heavily fortified security force camps have been established both at Baltal and Pahalgam base camps.
It takes a pilgrim just a day to return to the Baltal base camp after reaching the shrine. But the same pilgrimage from Pahalgam takes four days. The distance from Baltal to the cave is 14 km and from Pahalgam 46 km.
The holy cave at Amarnath houses an ice stalagmite structure believed to symbolise Lord Shiva. The structure waxes and wanes, corresponding to the visible moon. The 40-day Yatra to the shrine in south Kashmir's Anantnag district will end on 7 August, on Shravan Purnima coinciding with Raksha Bandhan festival.
In this photo essay, Javeed Shah turns his lens on the Amarnath Yatra and the long roads pilgrims navigate under the watchful eye of the security forces.
***
Yatris are seen on the Cave-Baltal route near Domail. Ponies are the main source of land transportation on this route.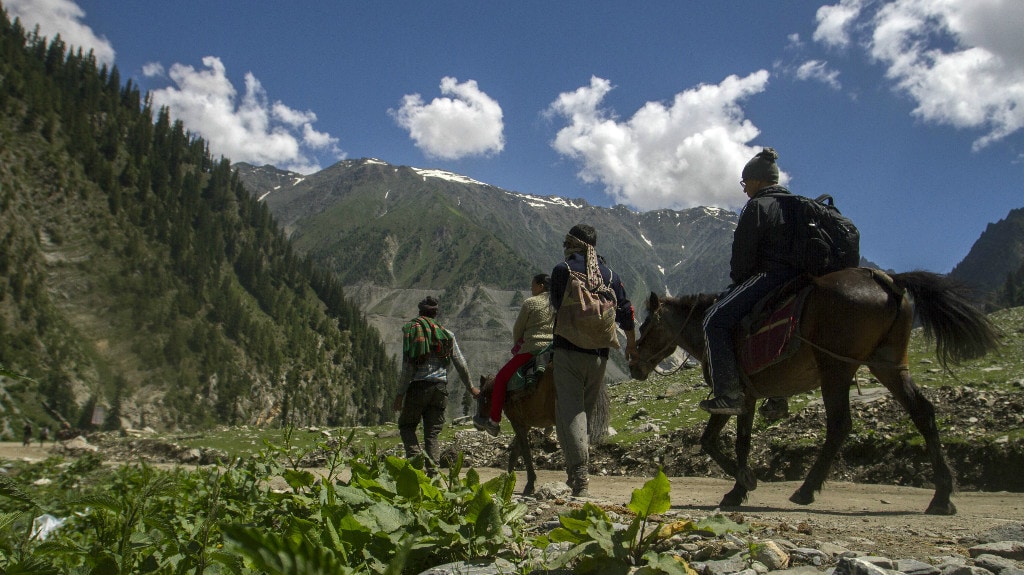 At the police checkpoint near Baltal base camp, records are kept of every incoming and outgoing vehicle and person.