In 2018, the global games market is estimated to stand at about $137.9 billion. The numbers also indicate that Asia Pacific remains the largest gaming market based on revenues. Well aware of the opportunities in this growing industry, Bangladesh-based entrepreneurs Masha Mustakim and Zamilur Rashid came up with the idea of producing homegrown content that would appeal to the country's young gamers. And a video game with Bangladesh's war of liberation as the backdrop seemed to be the best bet for the purpose.
And so was created Heroes of 71, followed by Heroes of 1971: Retaliation, and Mukti Camp. Both Heroes titles became the most downloaded video games played in Bangladesh. Released on 16 December 2015, the anniversary of Pakistan's surrender, Heroes of 71 was downloaded more than 7,000 times within a few hours on Google Play Store. The third-person shooting game depicts the freedom struggle of 1971 that ended in the separation of present day Bangladesh from Pakistan.
Heroes of 71 honoured those who sacrificed their lives for Bangladesh
The game design draws heavily from reality rather than the imagination. The arms, uniforms and surroundings recreate what existed during the actual war. Movies like Sangram, Ora 11 Jan and Amar Bandhu Rashed, which previously depicted the liberation struggle, helped the developers with the plot and world building. Their research also took them to the National Liberation War Museum in Dhaka so wartime was represented as authentically as possible in the game.
"We didn't want to glorify war. We believe our generation and the next has to know what happened in '71," says Masha Mustakim, the 28-year-old CEO and co-founder of Mind Fisher Game (earlier known as PortBliss).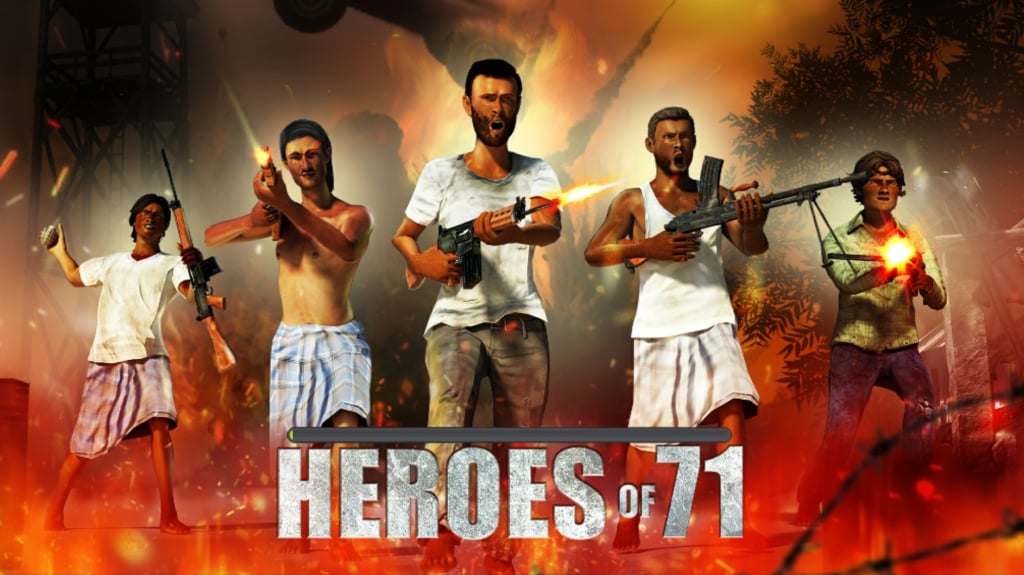 Zamilur Rashid, whose grandfather was part of Bangladesh's freedom struggle, said the Heroes games were an attempt to promote the principles that drove the war for liberation. "Over the last few years, radicalism has been on the rise in the country, but the 1971 liberation war was driven by secularism, freedom and equal opportunity for all, and that's what we wanted to promote through our games," he explains.
Heroes of 71, the very first game in the series, honoured those who sacrificed their lives for Bangladesh. It had five main characters, from diverse backgrounds: Shamsu Bahini (named after Shamsul Alam, a former Pakistani Army officer); Kabir Mia, a worker; Tapash Maitra, a medical student; Sajal (modelled on Mahbub Chowdhury, a Dhaka university student); and Bodiuzzaman Bodi, an engineering student. The five comrades make their way stealthily to a Pakistani Army camp at Shonir Chaar, a fictional village in the Barisal district, situated on the banks of the Madhumati – one of Bangladesh's longest rivers. The camp must be liberated and the village recaptured by the five protagonists – who're armed with two light machine guns, one heavy machine gun, two standard issue rifles and grenades.
Heroes of 71 came to international media attention last year when an article published in The Economist, called it a 'bloodthirsty' game that was humiliating to Pakistan.
Heroes of 71 had to be unpublished in Pakistan
Masha Mustakim disagrees. He points out that while Heroes is a shooting game, it isn't gory like others with war-based storylines.
"After the (Economist) article went viral, a lot of players from Pakistan got agitated and started uninstalling our game. So, unfortunately, we had to unpublish the game in Pakistan," he says, still sounding disappointed with the turn of events.
Rashid too says the game doesn't vilify any country: "We don't have anything against the common people of Pakistan as a country or a nation. We just tried to portray the heinous acts that were perpetrated by the Pakistani army on our country, and how we fought back."
Heroes of 71: Retaliation – which picks up where the original game left off – was released on 26 March 2016. It has fresh challenges and new characters. Pakistani forces abduct a group of Bengali women and take them to a torture camp. Shamsu Bahini's mission is to set these women free. While on the mission, Shamsu and his comrades meet a courageous woman called Anila – a freedom fighter who is an ace at fighting with guns and knives. The presence of a strong female character in a video game isn't likely to go unremarked.
Mustakim says that Anila's presence is merely a reflection of the reality from 1971, when women fought alongside men, every step of the way. "Women supported our war for liberation just like the men. So there is a good balance between male and female characters in our games as well," he says.