As the story goes, one fateful night in the late 1960s, Jimi Hendrix, best known for changing the music world with his guitar playing, set free two ring-necked parakeets on Carnaby Street and that's why thousands of the nonnative birds haunt London's parks to this day.
"Absolute rubbish," Christian Lloyd, a musicologist at Queens University, said in an interview. "It's the kind of thing people want to be true, but it's just not true."
Lloyd would know. His research, along with relics that Hendrix fans would drool over, like his broken Fender Stratocaster from a 1969 Royal Albert Hall performance, is on display at Handel & Hendrix in London, a residence-turned-museum dedicated to the two musical giants who once lived there: Hendrix and German composer George Frideric Handel.
Parakeets may not be part of Hendrix's legacy in London, but he nevertheless left his mark. The several months he spent there, spread throughout the final five years of his life, were pivotal in his meteoric rise. It was also where the nomadic performer found the closest thing to "a real home," as he put it, and where his life was tragically cut short at age 27.
Along with surviving landmarks from his time in the city, London also retains enough of what appealed to him personally to make for a proper Jimi Hendrix experience, 50 years since the musician last called it home.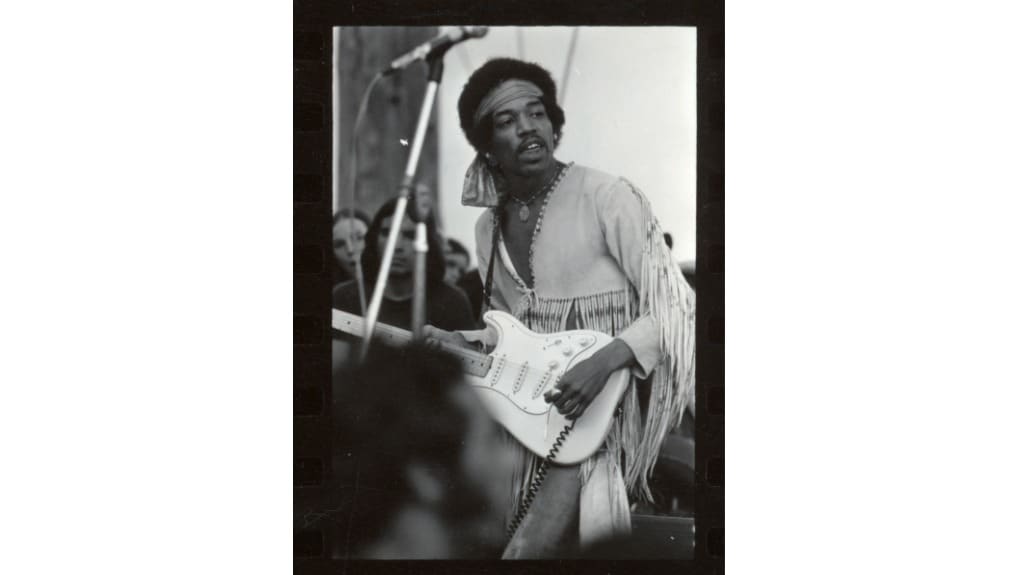 (Above photo: Jimi Hendrix performs at the Woodstock Music Festival in Bethel, NY, on 18 August 1969. Photo by Larry C Morris/c.2020 The New York Times Company)
The concept of home was a complicated one for Johnny Allen Hendrix, born in Seattle in 1942. He was sent to live with his grandmother in Canada when he was six and his parents divorced two years later. His mother died of alcohol-related injuries when he was 15. After a year in California with the US Army at age 18, he found his true calling in 1962 as a touring musician.
By the time he ended up New York in September 1966, performing in small cafes under the name "Jimmy James," he had developed a "fugitive kind of mentality," according to Lloyd.
This is where Chas Chandler, who had recently quit the Animals and wanted to begin a new career as a manager, was blown away by what he saw and asked Hendrix if he'd come with him to London.
Johnny becomes Jimi
"I'm in England, Dad. I met some people, and they're going to make me a big star. We changed my name to J-I-M-I," Hendrix told his father over the phone after arriving. The decision to change his name was made on the flight over.
On his first night in London, he met Kathy Etchingham, a former DJ and a familiar face around the city's thriving rock scene, and thus began what would be the most significant romantic relationship of his life. They would eventually move into an apartment owned by Ringo Starr at 34 Montagu Square in December 1966.
"During our first weeks together we did a little shopping and sightseeing and I introduced him to friends. Because we didn't have much money we went everywhere on the Underground," Etchingham wrote in her book Through Gypsy Eyes. Hendrix had never been outside North America before, and like any other first-time visitor to London, he was drawn to attractions like Buckingham Palace and the Houses of Parliament.