Zee Jaipur Literature Festival 2018: Our pick of best sessions, speakers from Day 2's line-up
Here is a guide to day two of the Zee Jaipur Literature Festival with all the sessions, speakers and music events that you should look out for | #FirstCulture
The eleventh edition of the Zee Jaipur Literature Festival enters its second day Friday, 26 January, at the Diggi Palace Hotel, in what promises to be an engaging and entertaining day of literature, ideas, trends and much more across genres.
Speakers from across the globe representing a multitude of professions and interests gather for the second day packed with sessions, book launches and music events. War journalists, Bollywood directors, art curators, the former President of Afghanistan — you name it. A perfect way to spend your day off if you're in town.
And just so you don't get lost in the sea of literature, here is a guide to day two of the festival with all the sessions, speakers and music events that you should look out for.
The day kicks off at 9.15 am with a classical Indian music performance by Azeem Ahmed Alvi.
The sessions then commence at 10 am in the morning across the seven venues inside the Diggi Palace (Charbagh, Front Lawn, Mughal Tent, Baithak, Durbar Hall, Samvad and Haveli), running till 6.15 pm in the evening. Here are some highlights,
10 am – 11am
— (Mughal Tent) Culture Curry:
Roly Keating, Satish Gupta, Nandita Das, Huib Schippers, Sayeeda Leghari in conversation with Sanjoy K Roy
11.15 am – 12.15 pm
— (Samvad) The Hit Man:
Anurag Kashyap in conversation with Vani Tripathi Tikoo
12.30 pm – 1.30 pm
— (Charbagh) The Frontline Club
Adrian Levy, Carlo Pizzati, Jeffrey Gettleman, Peter Bergen and Suki Kim in conversation with Suhasini Haidar
— (Baithak) Scandinavian Noir
Carin Gerhardsen, Minna Lindgren and Odd Harald Hague in conversation with Zac O'Yeah
2.30 pm – 3.30 pm
— (Front Lawn) The Great Survivor
Hamid Karzai in conversation with William Dalrymple
The former President of Afghanistan discusses his life, legacy and leadership through the country's recent turbulent times, his views on India's role in Afghanistan's past and present and his predictions for the future of his country.
— (Baithak) Telling the Stories of 833 million
P Sainath introduced by Amita Baviskar
3.45 pm – 4.45 pm
— (Mughal Tent) The Writer and the World
Markus Dohle, Michael Puett, Maya Jasanoff and Vivek Shanbhag in conversation with Nikhil Kumar
— (Baithak) Under the Shadow: Rage and Revolution in Modern Turkey
Christopher de Bellaigue and Kaya Genç in conversation with Suzy Hansen
5.15 pm – 6.15 pm
— (Front Lawn) Republic of Rhetoric: Free Speech in India
Abhinav Chandrachud, Ashok Vajpeyi, Pinky Anand and Vani Tripathi Tikoo in conversation with Salil Tripathi
— (Charbagh) The Day of the Dragon: China and the Future of Asia
Michael Puett, Michael Vatikiotis and Tom Miller in conversation with Suhasini Haidar
— (Durbar Hall) The Art, Arms and Armour of the Rajputs
Amin Jaffer, BN Goswamy, Rima Hooja and Robert Elgood in conversation with William Dalrymple
You can check the full schedule for the day with all the scheduled book launches here, and the entire list of speakers here. Time and venues of the sessions are subject to change.
Following the sessions for the day, Hotel Clarks Amer will host the Music Stage for the day — a concert featuring performances by Jaisalmer Boys, Real Sugar (Paban Das Baul & Sam Mills) and Shilpa Rao ft Talvin Singh from 7.30 pm. You can buy tickets for the performance here.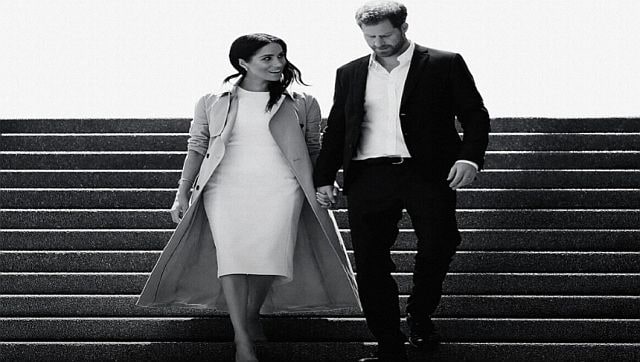 Entertainment
Here is a look at how Prince Harry and Meghan Markle are prostituting their titles and the Royal Family to make more money.
Entertainment
Prince Harry is frightened of his wife Meghan Markle, claims royal biographer; calls her really scary'. She controls every move of Harry
Entertainment
Prince Harry's US visa is at risk now because of his memoir Spare in which the Duke of Sussex admitted to using recreational drugs before he left the UK after stepping down from the royal duties and shifted to the United States.