Zee Jaipur Literature Festival 2018: From Day 3's schedule, our pick of the best sessions, speakers
WIth Amy Tan, Michael Ondaatje, Helen Fielding, Tom Stoppard, among many others incredible speakers set to make an appearance, here is a guide to day three of the Zee Jaipur Literature festival | #FirstCulture
The eleventh edition of the Zee Jaipur Literature Festival enters its third day on Saturday, 27 January 2018, at the Diggi Palace Hotel, in what promises to be an engaging and entertaining day of literature, ideas and much more — across genres.
Speakers from all over the globe representing a multitude of professions and interests gather for the third day, with a schedule packed with discussions, conversations, debates, book launches and music events.
With Amy Tan, Michael Ondaatje, Helen Fielding, Tom Stoppard, among many others incredible speakers set to make an appearance, here is a guide to day three of the festival, with all the sessions that you should look out for.
The day kicks off at 9.15 am with a music performance by Bindhumalini Narayanaswamy and Vedanth Bharadwaj.
The sessions then commence at 10 am in the morning across the seven venues inside the Diggi Palace (Charbagh, Front Lawn, Mughal Tent, Baithak, Durbar Hall, Samvad and Haveli), running till 6.15 pm in the evening. Here are some highlights,
10 am – 11 am
— (Charbagh) The Joy Luck Club
Amy Tan in conversation with Siddharth Dhanvant Shanghvi
Novelist Amy Tan will speak about her extraordinary life and her emergence as a writer of stature against many odds.
— (Samvad) Julia Donaldson: On Page, On Stage and On Screen
Julia Donaldson, Daryl Shute and Malcolm Donaldson in conversation with Nupur Paiva
— (Baithak) Hitler and His Times
Anna Funder and Norman Ohler conversation with Rakhshanda Jalil
11.15 am – 12.15 pm
— (Charbagh) The Travel Session
Hugh Thomson, Pico Iyer, Raja Shehadeh, Robert Dessaix and Redmond O'Hanlon in conversation with William Dalrymple
— (Front Lawn) Bridget Jones' Diaries
Helen Fielding in conversation with Meru Gokhale
Novelist Helen Fielding speaks with publisher Meru Gokhale of the comic and the tragic, film and fiction and Bridget Jones' bumpy ride to motherhood.
— (Baithak) On First Novels
Diksha Basu, Lucy Hughes-Hallett, Prayaag Akbar and Sandip Roy in conversation with Tishani Doshi
12.30 pm – 1.30 pm
— (Mughal Tent) Armed and Dangerous: Of Words and Lovers
Amitava Kumar and Manu Joseph introduced by Anuja Chauhan
— (Samvad) Stormbreaker
Anthony Horowitz in conversation with Paro Anand
2.30 pm – 3.30 pm
— (Front Lawn) Adaptations
Amy Tan, Michael Ondaatje, Mira Nair, Nicholas Shakespeare and Tom Stoppard in conversation with Chiki Sarkar
3.45 pm – 4.45 pm
— (Front Lawn) When the Moon Shines By Day
Nayantara Sahgal in conversation with Chandrahas Choudhury
— (Baithak) Nordic Lights
Carin Gerhardsen, Gerður Kristný, Josefine Klougart, Minna Lindgren and Zac O'Yeah in conversation with Odd Harald Hauge
5.15 pm – 6.15 pm
— (Charbagh) The Art of Biography
Caroline Franklin, Diarmaid MacCulloch, Marina Warner, Nicholas Shakespeare and Victor Sebestyen in conversation with Lucy Hughes-Hallett
— (Baithak) Globe to Globe: Why Hamlet Works in Every Country of the World
Dominic Dromgoole in conversation with Tom Stoppard
You can check the full schedule for the day with all the scheduled book launches here, and the entire list of speakers here. Time and venues of the sessions are subject to change.
Following the sessions for the day, Hotel Clarks Amer will host the Music Stage for the day — a concert featuring the session Word Jazz: Spoken Word Poetry, and performances by David Gray and Blackstratblues ft Kutle Khan from 6 pm. You can buy tickets for the performance here.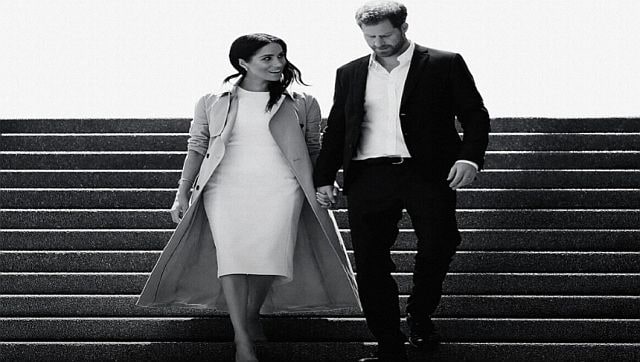 Entertainment
Here is a look at how Prince Harry and Meghan Markle are prostituting their titles and the Royal Family to make more money.
Entertainment
When Britain's economic condition is in such bad shape, is King Charles' coronation which is an event of extravaganza appropriate?
Entertainment
Prince Harry's US visa is at risk now because of his memoir Spare in which the Duke of Sussex admitted to using recreational drugs before he left the UK after stepping down from the royal duties and shifted to the United States.