Young people must learn to empathise with stray animals instead of buying pedigreed, exotic ones
A lot of young people tell me how fond they are of animals and how much they would like to do something for them. So what's to stop you? There are hundreds of ways that children can help animals.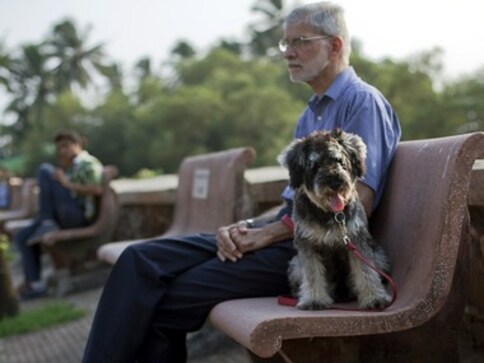 A lot of young people tell me how fond they are of animals and how much they would like to do something for them. So what's stopping you? There are hundreds of ways in which children can help animals.
Begin with an understanding of what caring for animals really means, and more importantly what it doesn't. It doesn't mean buying pedigreed puppies because they look so 'cute', or keeping fish in an aquarium, or collecting pictures or general knowledge about exotic species or visiting sanctuaries, or going to the zoo or circus; or keeping a bird in a cage, or breeding dogs or horses; or going to the races or to dog shows.
Caring for animals is perhaps the noblest of all emotions for it is love that does not demand or expect any return, reward or recognition. When you care about an animal, you empathise with its feelings. You can feel how the load hurts a donkey's back, or the frustration of a dog on a leash, the fear of a chicken as it is pinned down, the hunger of a cow rummaging through a garbage dump, the anguish of a piglet as his mum is dragged away, the confusion of a horse in a noisy wedding parade, the agony of a tiger in a cage.
Once you allow yourself these feelings, you can never again be a silent spectator to cruelty. You will learn to use your powers as a human to help the less fortunate creatures. Do not be dissuaded by those older people who dismiss your concern for animals as idealistic or naive. Hang in there. Young people are the backbone of any movement for change and research has already started to show a trend away from cruelty in adults influenced by their children.
Here is the young person's action guide to animal welfare:
1) As an individual, the most important way you can help animals is by turning vegetarian yourself. It is hypocritical to claim to love animals on the one hand, and on the other, to let them be caught and killed for your food. Remember, a hamburger is a dead goat. A sausage is a skewered and minced pig. Being vegetarian or even better vegan (no animal products at all including milk or eggs) is healthier for you and your world. Above all, it is a political statement of your belief in a different way of doing things.
You can make it easier for your parents to accept your decision by getting a veggie cookbook and dazzling the whole family with your cooking. Also, don't forget to tell your dad how much cheaper a veggie diet is all the money saved goes towards his Caribbean cruise!
2) Begin with your own locality. Find other like-minded people and organise an informal animal welfare group. Identify areas where homeless animals cluster (around garbage bins, drains and so on). Collect leftovers (banana skins, vegetable peels, apple cores, sabzi, rotis) from all the houses in the area or from a local restaurant/dhaba and put these in a fixed place at a fixed time every day. If you have a lawn, collect the grass when it is cut, it will do nicely for cows. Put out grain and water every day on your lawn/balcony/terrace for the birds.
As you familiarise yourself with the animals in your colony, you will be able to tell when they need medical attention. If you have a local vet, enlist his help. Alternatively take the animal to a city shelter (in Delhi: Friendicoes in Defence Colony, Sanjay Gandhi Animal Care Centre in Raja Garden) to be treated and bring it back once it is well.
You can even start your own shelter in someone's house/garage or vacant land. Take in and look after needy animals, get a vet to treat them and try and find them permanent homes.
3) During the weekend go to a shelter. Ask the vet there to teach you the basics of first aid. What would be even better is for you to organise a group of people from your school/college or colony and take an advance appointment with the vet and collect money to donate to the shelter in return for the time spent on training you. You can get my book, First Aid for Animals (Rs 60) from Sterling Publishers Pvt Ltd, Sterling House, L-lO Green Park Extension, New Delhi-110016.
4) Act as a vigilante group for your colony. Owners who mistreat or neglect their pets must be approached. Offer to help out by walking the animal, supervising its feed and so on. If ill-treatment persists, the pet can be confiscated under the Prevention Of Cruelty To Animals Act 1960 by reporting the matter to the SPCA or PFA or even the local police. Help re-home the animal.
5) One of the main problems that animals confront is finding drinking water. Make a shallow cement trough outside your own boundary wall. Keep it full for passing animals. Plant plenty of bird-friendly trees like jamun, pipal, mango, shehtoot, bargat and ber.
6) Should you see any bird sellers, monkey, bear or snake charmers, either accost them yourself and confiscate the animals under the Wildlife Protection Act 1972 or get the police to accompany you. Do not be discouraged if the police do not at first take you seriously. Most of them are ignorant of the laws pertaining to animals. Be firm and insist on a formal First Information Report (FIR), one copy of which you must keep.
In the case of a rescued bear, you will have to contact the zoo or wildlife department. In the case of monkeys, in the absence of a shelter, they should be released in the nearest wooded area. If the birds can fly they must be released in a place that has a water body nearby. Put out grain for them so they do not immediately have to forage for food. For snakes, leave them in the nearest forest area. Often you can have the animals released without even going to the police merely by threatening the madari with the police. Since they know what they are doing is illegal, most of them will agree to give up the animals and go free themselves.
7) Every time you get a foreign pedigreed dog, remember two things: the mother of this dog has been forced to have puppies so that they can be sold to you. She is treated like a machine and very probably will not live very long as she is bred every season... Secondly, for every pedigreed dog in the house, there are 20 Indian dogs that will die on the road from disease, starvation, poisoning and beating by the municipality because people would rather have foreign dogs. Start a campaign called Adopt an Indian Dog and set the first example by taking a dog from the street into your own home. I have 14 such dogs. If one in 50 people adopted an Indian dog, there would be no dogs left to suffer so miserably on the streets.
8) A zoo in a school is unnecessary and illegal. Keeping a few rabbits, geese, ducks, tortoises just so that children can paw them and tease them teaches nothing. What happens to these animals on holidays? They die because no one feeds them and more can be bought. Animals are not toys or educational aids for teachers. If there are any mini zoos in any school, these should be closed down.
Contact the nearest shelter and the wildlife warden of your area. Inform the principal (if you have the courage) that zoos are illegal unless they are recognised by the Central Zoo Authority. However, where will the animals go? First, before making any move, if these are household animals, make sure that you have people who will adopt them singly or in pairs.
9) There are many horses and donkeys that need medical help. You can organise weekly/twice weekly camps at a fixed place so that owners can bring their animals for treatment or you can take a vet, medicine and food.
10) Since dissection has been made optional for each student by the high court and the education ministry for each and every school; it is important that each school be informed and alternatives are given. You can go from school to school informing the principal and the students. If you are insecure about this, write to me and I will send you a copy of the government gazetted notification which makes compulsory dissection illegal.
11) If a circus comes to town take a group of your friends and picket it with homemade posters. Write letters of protest to the papers every day. Circuses are not just exceedingly cruel to animals, they also act as major trading centres for buying and selling wildlife parts and animal skins. They need to be driven away from each town and in places where children and animal welfare groups and teachers have got together, these ugly exploitative 'entertainments' have fled after a few days.
12) Start a Kindness Club in your school or college. Get permission to give a talk to the students on the cruelties inflicted on animals by buying animal based products. Get a list from Beauty Without Cruelty, 4 Prince of Wales Drive, Wanowrie, Pune. If the school is big enough and the principal is kind enough, open a small place in the school where injured animals can be brought in. Let the club organise expeditions to the animal shelter once a week to help in the cleaning and care but make sure this is a regular event and not just a swoop down that disturbs staff and animals.
Each member of the club has to adopt one homeless dog or cat. Collect money for the shelters or for your own feeding and medical programme by putting up plays or fairs. Ask those parents who manufacture something to donate an item and have a raffle.
13) Many products that you think are vegetarian are not. Write to the manufacturer of things you use and ask about the ingredients. Check whether those are vegetarian. If you see a movie with animal cruelty in it, write to the Censor Board and to the producer/director of the film and to the newspapers, of course.
Doing things is easy. It does not just save hundreds of animal lives, it helps you become a better human being. A stronger, gentler, happier, braver, more likeable person who will be an asset to his/her country. Begin today to replace human wrongs with animal rights!
To join the animal welfare movement, contact gandhim@nic.in, www.peopleforanimalsindia.org
India
In mythology and medieval literature, the language of the birds is considered divine.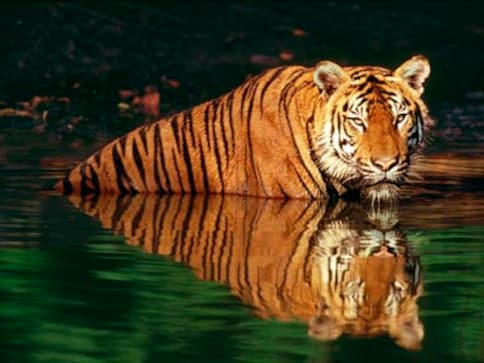 India
Scientists repeatedly show that the traits we consider unique and based on a superior intelligence, are found in most animals as well.
India
Veterinary education and practices in India have undergone sweeping changes. There are hundreds of pending issues, including amending the sizes of battery cages for chickens to making minimum standards for all the hideous rotting government veterinary hospitals in the country.