Women writers, regional literature and translation: Notes from a multilingual poets' meet
At a recent meet of the Asiatic Society of Mumbai, poets reflected on the paucity of translators for regional languages and the representation of women in Indian writing | #FirstCulture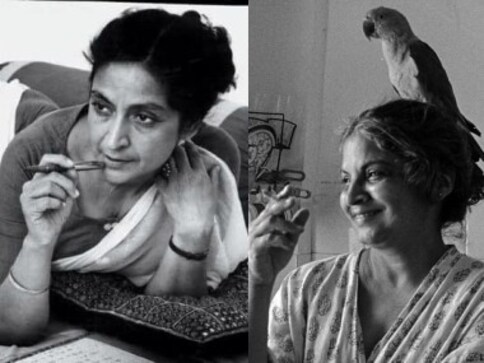 It was an elegant room in one of the city's old, high-ceiling libraries (complete with chandeliers), filled with about 30 women, all aged over 40, dressed in saris, and waiting to read aloud — and listen to — poetry. As the only representative of the under-25 age category present there, I probably stuck out like a sore thumb, but that did not matter, for we were bound together by an interest in women poets and regional literature, and there was an abundance of these on offer. Ironically, we were being stared at by old portraits of men, which adorned the walls of the room.
If you were seeking answers to the question, "What do women poets write about?" the answers could be found at the Asiatic Society of Mumbai's Lit Club programme titled 'Women's Voices in Indian languages'. These poets reflected on themes that concerned women, but also other subjects and metaphors related to nature, society and mythology. Their subjects and treatment are both contemporary; one Malayalam poet, Dr Manasi, addressed the Mahabharata character Gandhari, imploring her to reveal what her identity is, beyond imposed gender roles. Another, Dr Sanskritirani Desai, personified the day and night in a Gujarati piece on how the two have been attempting to meet for years, but that one disappears as soon as the other reaches.
After having listened to just four poets, one could learn about how differently metre, rhyme schemes and free-verse can play out in a poem, depending on the language the writer chooses to write in; a Kannada poet, Dr Dakshayani Udahalli, actually sang a piece, and though none of us could understand the original, we all enjoyed it much better than the English translation, which could not be sung.
In urban, English-speaking cities, as we veer further towards micro-fiction and spoken-word storytelling, we may discount the popularity that writing in regional languages still has, or be unaware of it entirely. The general impression this writer got from the poets present was that the number of writers writing in Indian languages is only increasing. "My impression is that in India, regional literature is much more powerful than Indian writing in English. Each language has its own flair, and there are good poets write in each of these languages," says Dr Sanskritirani. Dr Neeraja, who writes in Marathi, echoes the sentiment, adding that she feels regional languages lend themselves better to the portrayal of women's issues. She urges the younger generation to read in the languages that their families speak, so that the writing traditions specific to these languages are not lost.
There was also a discussion about translation, which is a simultaneously difficult and necessary process. This is true of those poets who cannot translate their own works. "The problem is that a lot of work does not reach wider audiences because it is not translated," says Dr Sanskritirani. Dr Neeraja, who is part of a translation project undertaken by the Sahitya Akademi, says that there is a dearth of good translators in India, as opposed to countries abroad. "There are dedicated translation centres in many countries outside India, who look out for the works of published authors and immediately take them up as projects, to present them in different languages. Translators are hired, but such an initiative is not being undertaken in our country," she said.
"This issue is exacerbated when a poem must be translated from one regional language to another, because it must first be translated in English or Hindi," says Dr Neeraja. This issue of accessibility is reduced in metros, explains Dr Sanskritirani, because people are more exposed to languages other than their own. These two poets were certain that translation is the primary approach that the literary world must undertake, in order to ensure that regional writing is read by the English-speaking population, especially young readers. Dr Neeraja also said that Indian writing has the potential to win Nobel prizes and other awards outside the country, if it is made more accessible to those who cannot read it in the original form. The reigning sentiment seems to be that the country's literature is just not represented abroad.
It is known that much is lost in translation, but Dr Neeraja says that certain nuances can be preserved by the translator, as was the case with her poem on sexual abuse, where her translator and prolific short story writer-novelist Shashi Deshpande chose to let the word 'yoni' be, instead of changing it to vagina.
Poets reflect on the inequalities that exist in society, but it is also essential to turn the mirror towards the writing circle itself. Sexism, discrimination, a lack of opportunities afforded to women writers at the hands of male gatekeepers, who wield much power, are still very real issues that plague the world of Indian writing. Dr Neeraja says that Indian women writers have been creating a niche for themselves since the pre-Independence era. "Before Simone de Beauvoir, we had Tarabai Shinde who fought against a male-dominated society through her work. After the 70s, women writers were speaking out about the issues their gender had faced over centuries, and today's writers present their work with the awareness of the exploitation that they have faced in the past, using their words to expose the patriarchy. They do this without paying heed to what society thinks," she says.
Dr Sanskritirani spoke about how the practice of writing in her family began three generations ago, with her grandmother Deepakba Desai, who wrote khand-kavya (long poems). "She was awarded the Rajratna Ilkab of the Baroda state by Sayajirao Gaekwad. Today, her works are in university textbooks," she says with pride.
The evening ended with a look back at the women writers of the past. Poems by Eunice de Souza, Amrita Pritam and Kamala Das were recited, and this is when the audience really came alive, for many of them were aware of the verses and the poets' work. Dr Mangala Sirdeshpande reflected on de Souza's devil-may-care attitude and how literature had faced a large loss when she passed away, while reciting poems such as 'Catholic Mother'. "While you will feel broken after having read Kamala Das' works, you will also realise their beauty," said Prof Meenal Kshirsagar, who read out 'The Old Playhouse' among other poems, "She wrote about women's feelings, bodies and souls, at a time when no else would."
These were women who were featured by PEN International, some published more than a dozen times, some who had translated the works of writers who write in foreign languages. Most had taught at universities for decades, but the atmosphere at the meet was not like that of the Jaipur Literature Festival or even a spoken word poetry event. Often when we speak about modern poetry or poetry of present times, we forget that these women (and other regional language writers) who attended college in the 60s and 70s, too, continue to write and be relevant, even today. Dr Sanskriti remarked that she had never had the opportunity to interact with fellow poets who write in regional languages. It is evident that meets such as this one hold importance, because they bring to life poetry which we think is relegated to textbooks and journals.
also read
Lifestyle
Who writes poetry, you ask? Eunice De Souza, does. She did. She 'really' did. But sadly, won't anymore.
Lifestyle
Amrita Pritam is unmistakably unafraid in portraying desire as unfettered and fantasies real.
Lifestyle
Be it a recurring dream, the fear of losing a loved one, an anxiety attack — Amrita Pritam found catharsis through words. Raseedi Ticket (Revenue Stamp, 1976), her autobiography, is an album of postage stamps. And each postage stamp unfurls like the story on a postcard.