With police as backers, Kerala's moral policing nightmare is far from over
All's not well with God's own country, to repeat a cliche. In a classic case of protectors turning into predators, the police in Kerala seem to be giving thugs in Kerala serious competition in the nuisance department.
July 2014: Kerala Police detain a theatre professional and her friend in Thiruvananthapuram, overnight, for eight hours without pinning any charges on them. Their crime? The woman was found riding pillion on a bike with her friend, a cinematographer, 'late at night' by the Kerala Police's standards.
July 2013: Police arrest a couple from a beach on Alappuzha. Reason? The Indian Express reports that the police 'suspected "immoral activity" as the woman was not wearing any accessories to suggest that she was married'.
April 2013: The Times of India reports that Sharon Rani, a Malayali artist in Kochi, was harassed by two policewomen when she went for a stroll on Marine Drive with a male friend. The report states that the police in Kerala have found a new avenue to make some quick money - by bullying young couples out together and extorting money from them.
June 2011: A young IT professional, on her way to work at Kochi's IT park, is accosted by a group of drunken men. Why? Because she is riding pillion on a male colleague's bike to work. The drunken men first argue with her, abuse her, then slap her. Open reported that they twisted her hand backwards for daring to retaliate. She called the police, who refused to lodge a complaint. Only after the woman was admitted to a hospital and the media told her story did the police take note.
All's not well with God's own country, to repeat a cliche. In a classic case of protectors turning into predators, the police in Kerala seem to be giving thugs serious competition in the nuisance department. Because, like the timeline above reveals, 'moral policing' is not something only the zealots among the state's civilians indulge in. It seems that for a while now, they have august company in the Kerala Police itself.
While cases of the police swooping down on unsuspecting couples to teach them a lesson or two in Bharatiya sanskaar is not new in India, Kerala seems to have championed the cause for a while now. And the state machinery shows no sign of putting an end to the practice.
If the prospect of getting arrested because a woman has dared to step out with a man she is not married to is not frightening in itself, the kind of people the police manage to embolden in the process is probably more gutting.
Say for example the incident reported by the Open magazine. The men, a group of 12, were drunk when they spotted the woman standing beside a bike alone while the friend had gone to a nearby roadside stall to get cigarettes. While they ended up abusing her by questioning what she was doing with a man she isn't married to, it is evident that the said group of inebriated men would have anyway assaulted her because their behaviour was completely in line with what we have come to associate with sex offenders in the country. Target a woman and pounce on her in a group. What is horrifying is the abuse was done in the garb of moral policing -almost lending their violent behaviour a touch of legitimacy.
After all, they were out to right a wrong and teach Indian values to a woman gone astray, their sympathisers would say. The fact that the police refused to lodge a complaint sent out two signals. Firstly, it makes the idea of slapping and hitting a woman seem like a pardonable crime. Second, it suggests that the police refused to lodge a complaint meant they backed the the victim's attackers, hence making this brand of moral policing almost seem permissible. In a country grappling with an onslaught of sexual violence against women, the police participating in and lending support to this morality drill only makes it easy for offenders to inflict violence on women, without the fear of getting reprimanded for it.
Also, it is an established fact that women in India struggle to report cases of sexual assault, fearing the regressive Indian judicial and grievance addressing system, where the process of proving the credibility of her claims can be taxing, humiliating and emotionally draining. Therefore, incidents of moral policing by the police themselves, will further discourage women from registering complaints, in the process emboldening offenders.
In Kerala, especially, there are organised gangs of self-proclaimed moral guardians who make tall claims of defending the fabric of Indian society, thereby, garnering great support from the country's middle classes. A 2011 article in Kafila reports, "Of all the different kinds of moral police that inhabit the land of Kerala, the species that should be feared most must probably be the 'Guardian Angelic Moral Police'(GAMP). The GAMP is just as potent as the Goonda-Activist Moral Police (G-AMP) but in striking contrast to the latter, the former thrives on the surface precisely on values dear to the Malayalee middle-class – the sanction of law, paternal concern, state protectionism of women as the 'weaker sex'. This makes it much harder for victims of moral policing to fight off their intrusions all of which are couched in the language of benevolent concern."
And it is also in Kerala that shocking incidents of moral policing are reported. A report from 2012 shows how a gang of men attacked and beat up a pregnant woman sitting alone in a bus shelter in Kannur. The woman's husband was in an ATM nearby and had asked her to rest since she was heavily pregnant. The attackers not only abused her and called her names, they also beat her up.
While the above incidents point at a need for strict policing, Kerala's administration seems to be headed in the opposite direction. Though there have been complaints about the police's moral policing, no strict action has been taken against the offenders. For example in the theatre artist's case, two of the accused policemen have been transferred, not even temporarily suspended.
Kerala's nightmare is far from over it seems.
Sports
Regional heavyweights Australia and Japan will aim for the trophy at the AFC Women's Asian Cup 2022, while India are targeting the last eight which can help them realise the World Cup dream.
Sports
The continental tournament is scheduled to be held in Mumbai, Navi Mumbai and Pune from 20 January to 6 February, and the host nation is preparing in earnest under the guidance of head coach Thomas Dennerby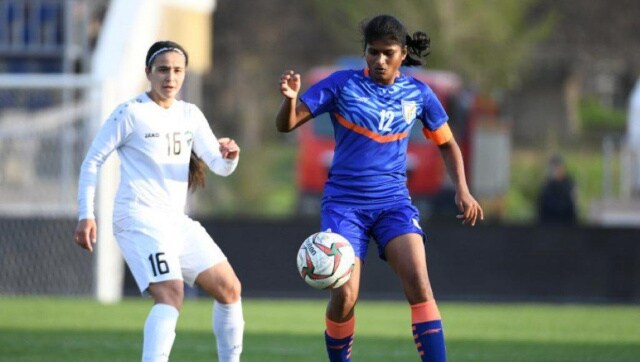 Sports
Indumathi said it's all about communicating on the field to fill in the missing areas, when you're playing in the midfield