Wildlife photographer Nayan Khanolkar: 'Ignore nature, and you'll have to pay a price'
Mumbai-based wildlife photographer Nayan Khanolkar was one of the winners of the prestigious Wildlife Photography Awards. He tells us how he got the picture of the leopard, that won him the prize.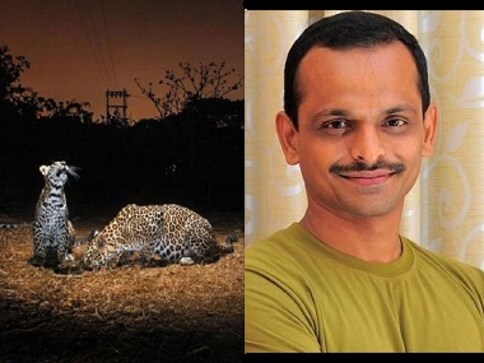 Nayan Khanolkar is a Mumbai-based wildlife photographer. Nayan started with photographing birds as a researcher posted in Keoladeo National Park, Bharatpur in the late 1990s. For the past few years he has focussed on documenting leopards of Mumbai (see his works here). This efforts have led him to be adjudged this year's Winner in Urban Category of the prestigious and oldest running Wildlife Photography Awards of the Natural History Museum, London, held recently. Here, he speaks to Firstpost about what sort of preparation went in capturing the winning image, how conservation photography can save a species and why leopards of Mumbai are special to him.
What made you choose photography as a medium to connect to nature?
My journey as a photographer started in late 1990 when I joined BNHS as a research fellow posted in Bharatpur. I used to sit in a hide to observe birds for 12 hours a day. My job was to capture birds and ring them, to study their behaviour and movement patterns, etc. When you spend so much time in the field, you are bound to see things that a normal person is not fortunate enough to see. So I realised at that time that this is something special which I should capture and share. This continued till 2011. In March 2011, there was a disturbing incident where a leopard was burnt alive in Kotdwar area above Jim Corbett National Park. That changed my entire focus. Till then my understanding was also like a lay person that leopards belong in forests and humans belong in cities. In Mumbai, at the same time, there were a few leopard attacks too. I sometimes worried a Corbett-like reaction might happen in Mumbai. So I wanted to find out how people reacted to leopards as their neighbours. As I started studying the situation, I found that tribals in Mumbai consider leopards as part of their culture, the art on their houses depict human relationships with leopards and they are engraved as deities even. I found, contrary to popular media opinion of conflict, coexistence of humans and leopards. My photography has enabled me to highlight such beliefs.
What were your early influences and whom do you admire as photographers?
As a bird photographer in the pre-digital era, I did all the old school stuff. As a bird photographer, some of my early influences were people like Lok Won Tho, EHN Lowther, photographers who came to India in the 1940s and 1950s and did black and white photography. I learnt a lot from reading their books. In 1990s, Frans Lanting's work greatly influenced me. He was adjudged Wildlife Photographer of the Year as overall winner back in 1991. The British Council used to bring out a catalogue of the winning images. I used to eagerly await the catalogue. This is considered as a collection of the top 100 wildlife images taken in a year. Looking at them I realised what world class photography is, setting new references for thought process and innovative thinking. Never ever have I imagined that I'd be winning this competition some day myself. Photographers I admire now are Tim Laman, Paul Nicklin, Steve Winter who have the ability to convey powerful messages through their photographs.
What sort of preparation went into capturing the winning image?
Before this photograph, my research was already in place. I knew exactly what are the routes used by leopards, how do they move — a lot of reading was already done. I familiarised myself with some pioneering research work done by Dr Vidya Athreya. So we knew exactly how the animals were behaving and what we wanted to project. Still it wasn't easy. I had to engineer my equipment because some situations were very specific for which you had to customise your equipment. I developed my system of operating cameras and modified them. It started with trial and error initially. Motion sensors were installed in various places. This image is a culmination of four months of research and hard work. In photography, sometimes there is an element of chance. What happened was that I lost one of my cameras which was originally meant to capture this image and was installed a few feet away from the camera that eventually clicked this photo. So I decided to remove this camera that I was left with. But when my team members went to remove the camera they found several images self-clicked by the leopard during the same night. And as they say, the rest is history!
What was it about the leopards of Mumbai that got you interested to work on them?
The main trigger was my worry about conflict with humans. After an initial study, I realised there is no conflict but coexistence. As I studied leopards more, I realised that they were super-intelligent. To survive in middle of a metropolis without any conflict with humans requires special skills. Leopards are top predators, they have that survival instinct and are extremely astute. They are also highly adaptable. We made use of technology, otherwise sighting a leopard in a forest is very difficult.
How important is photography in bringing attention to endangered species?
Basically, there are different aspects to photography. If you take pretty pictures you may inspire people to take up photography. But if you capture images with some human element in an artistic way the issue is conveyed to the people. If you do a good job of photography for conservation, it will definitely motivate people to take action. You never know when one single image will have huge impact. An example is of a Steve Winter photograph of a mountain lion under the Hollywood sign in Los Angeles which forced the government to construct overhead passes. The beauty of photography is it doesn't require any language to convey the message. Even with the leopards in Mumbai, there are thousands of articles, but this one image is doing the job. That is the impact of photography.
Can photography be a full time career in India? And how can it aid conservation?
Definitely, but one should go about it in a proper way. If you think photography is just about being behind the camera, that is not true. If you are a good presenter, can acquire technical knowledge and subject knowledge then it is very much possible. Charting a different path is difficult but if you enjoy what you do, everything else becomes secondary. If one can develop some other aspects with photography like writing or making films, etc it adds to the impact of one's photography. In the era of internet anything is possible. India is definitely place for wildlife photography and an Indian can have more opportunities because of the varied wildlife diversity found in our country. If you want to bring out the reality of nature, some powerful images can do the job. If I were only a researcher, all the research would have been closed in research magazines, etc. This image has won the award and has now reached all over the world. That's why photography is important. If you use it properly it can convey the message in an effortless way.
What would be your advice to young people wanting to take up photography as a career option?
In an rapidly-evolving world certain things will remain constant. The most important thing is to have patience. Even if technology develops further, technology will always remain the biggest virtue in nature photography because of a lot of uncertainties involved. Nature is not a studio setting, things can be beyond your control. You don't know how the light will be, etc. Second is persistence, you can't give up. Lot also depends on your passion. Many people advised me that doing wildlife photography is not possible in Mumbai, but because I was crazy about the idea, I just persisted. Knowledge of the subject, ground level situations, one's ability to judge a situation, ability to capture a moment are some the things to keep in mind. My advice would be to keep trying and never giving up.
What is your hope for the future of wildlife — can leopards and people continue to survive?
I know that human population in developing countries is a huge issue. We have far less resources than what can sustain our population. What I really hope is photographs will help understand what is the situation. It is better to have an understanding of your surrounding while planning development projects. We need green spaces in our cities for humans to survive more than leopards. Mumbai has one of the lowest per capita open spaces. If you ignore nature, you will have to pay the price in the future and nothing can be done about it. We have many challenges but like the tribals living in Mumbai, who have understood the value of nature, we can take a leaf out of their book.
also read
long reads
Wildlife photographer Shaaz Jung talks to Firstpost about his viral black leopard photos, and importance of local involvement in conservation efforts as India tackles man-animal conflict.
Lifestyle
The Convention on International Trade in Endangered Species of Wild Flora and Fauna passed a blanket ban on international trade of pangolins
India
Catching a glimpse of the famed, elusive snow leopard while trekking the rugged and remote mountains of Ladakh may be a dream come true for wildlife seekers. However, these predators have had a bad rap among local villagers, many of whom often regarded them as pests, because of their tendency to prey on livestock — sometimes killing many in a single incident. As a result, some local livestock herders resorted to retaliatory killings of these cats.