Why the Edwina Mountbatten, Jawaharlal Nehru relationship continues to intrigue
The relationship between India's first prime minister Jawaharlal Nehru and the last vicereine Edwina Mountbatten has been the subject of many a book, and even plays and films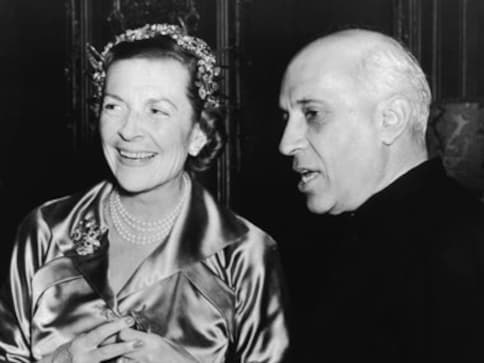 History is kind to those who write it, or so thought Winston Churchill. The evidence is ubiquitous nowadays of the irredeemable reputation of the man once considered pivotal in turning around the fortunes of the allied forces during the Second World War. Churchill — perhaps the most quoted political leader in history — would eventually come to rue his faith in the pen that recorded, rather than the paper that bore, the march of time. History, as irony would have it, is almost never kind to those who write it. A typical example of this, perhaps more than most others, would be the relationship between India's first prime minister Jawaharlal Nehru and the last vicereine Edwina Mountbatten.
Edwina Mountbatten arrived in India, with her husband, the last Viceroy, Lord 'Dickie' Mountbatten in the hazy summer of March 1947. India was on a hot plate, and Mountbatten had a kitchen cabinet full of warring knives and spoons, in large part created by two centuries of divisive and brutal British rule. Amid the chaos of finding a solution to India's communal problem, handing over power, bringing the independent princely states onboard and eventually agreeing on what is still the greatest massacre of our times — the Partition — Nehru and Edwina had something brewing in between.
"Edwina and Jawahar cared deeply about each other — there is no doubt about that. They corresponded regularly until Edwina's death. That is the miracle of love and friendship. It can and does overcome divisions — even in the most horrendous times. Indeed, often it is the greatest trials and difficulties that serve to bring people together, joined by common humanity and a shared belief in greater ideals than the differences that might once have divided them," says Rhiannon Jenkins Tsang, author of The Last Vicereine that came out in August this year. Tsang agrees that in retrospect, a lot gets distorted, people are dehumanised, and eventually the politics of the present takes over whatever little ounce of humanness a passage of history has to offer.
Tsang may be the first one to fictionalise the life of Edwina Mountbatten into a novel, but she certainly won't be the last to have considered the relationship the vicereine had with Nehru. The relationship has been part of popular films, television and even theatre. On the 60th anniversary of Independence and Partition in 2007 historian Alex von Tunzelmann wrote closely about the Raj's last days in India in Indian Summer where she also focused on the pair. In the same context, 2012 proved to be somewhat definitive when Lady Pamela Hicks, younger daughter of Mountbatten in Daughter of Empire: Life as a Mountbatten accepted most theories (surrounding her mother and Nehru), but rejected some. Since her presumed tell-all, not everything is available for public view.
"From the point of view of the British establishment, it is perhaps not just sensitivities about what the 12-year-long correspondence between Edwina and Jawahar might reveal about the process of transfer of power itself, should it be made public. But Earl Mountbatten of Burma was related to our current royal family and close to the HRH The Duke of Edinburgh in particular. There may be issues around this as well," Tsang says. She refers here to the fact that the personal correspondence of the Mountbattens has never been made public and probably never will. Nehru and Edwina Mountbatten wrote to each other till the day Edwina died in 1960 and a foregrounding of those letters would only do harm.
Depending on who you are read or watch, the relationship between Nehru and Edwina is even seen differently by people on either side of international borders. In 1985, Makepiece Theatre's epic 6-part TV series about Lord Mountbatten's time in India — titled Lord Mountbatten: The Last Viceroy — considered the relationship in full, often showing the two coming close and embodying a certain kind of vulnerability around each other, but never really admitting anything to any effect. In Gurinder Chadha's Viceroy House (2017) — a film steered by largely Indian sensibilities one would assume — in comparison, the relationship is ignored all together. Other than that Indian authors, historians, filmmakers etc have largely stayed away from something that is potentially radioactive.
That hasn't stopped people and historians alike from theorising that Edwina might have been responsible for twisting Nehru's arm where Mountbatten could not — in turn getting us a deal worse off than that we eventually did. "I think Edwina's influence was more at the human level, in easing tensions and helping talks to continue when they were on the verge of collapse. As to the big decision on Partition — everyone was passing the buck on it. I don't think her relationship with Jawahar made a difference to this outcome. The idea that Edwina forced Nehru, a hardened political prisoner, an experienced politician and man of the world, to sign up to something against his will is, frankly, nonsense," Tsang says.
That said, the intrigue and possibilities surrounding the Edwina-Nehru relationship doesn't stop people from re-imagining even the obvious. English playwright Howard Brenton's play, Drawing the Line, for example, imagines an awfully far-fetched scenario in which Lord Mountbatten hastily pushed the date of Independence ahead from July 1948 to Aug 1947 to reclaim his wife from Nehru. In reality, the Mountbattens of course, stayed back in India till 1948 which negates the possibility that anything like the suggestion having happened. But that does not stop people from theorising, and separating the individuals in Nehru and Edwina from the political pedestals they were supposed to occupy through a tumultuous period.
Nehru's image for one suffers, and will continue to suffer extensively on account of this part of his life. "The pure adversarial good vs bad colonial narrative is perhaps why India has had so much difficulty coming to terms with the Edwina/Jawahar friendship. They had to be enemies didn't they? How could they possibly have been friends? One was an Indian nationalist who had spent years in British jails,the other was the British vicereine. But yes, they were friends, despite it all. They worked together for the benefit of India, particularly in the aftermath of independence when Edwina as the wife of the Governor General, dedicated herself to relief work, often at great personal risk," Tsang says.
Opinion
With Egypt being the 'Gateway to Africa' for India and a vital partner in the region, it is perhaps the right time to add Egypt to the very privileged list of nations to forge a 'comprehensive strategic partnership'
Opinion
One must admire the audacity of the British establishment which has taken to the most egregious slander against Prime Minister Narendra Modi on the BBC, trying to incite Muslim revolt in India with blatant lies, even as it is negotiating the FTA