What the nation wants to know: Does Arnab Goswami, or anyone else, really know?
The recent exchange between a media house and Arnab Goswami raises the question: What does the nation want to know?
Arnab Goswami is coming back. Yes, in a few weeks, the news on TV will be entertaining again. And no, Karan Johar didn't have anything to do with our guy's exit from Times Now. Barkha, get over it. Goswami has gotten on with his life and  is  putting out little teasers via the Republic TV YouTube channel. From the looks of it, it seems like he will continue to don the avatar of the righteous journalist asking the tough questions.
On his show, he had a new cause célèbre every day. On his YT channel, he seems to have one every 12 hours. His fight, three days ago, was against a media group that has threatened him with imprisonment for using the phrase "the nation wants to know". His spiel did remind me of Amitabh Bachchan and his character, Vijay, in  Deewar: "Tum log mujhe dhoond rahe ho, aur mein tumhara yahan intazar kar raha hoon." Arnab says his angrezi line, a little differently though. "Spend all the money you have and arrest me. I am waiting right now on my studio floor. Come, enforce your threat," he says dramatically.
This kind of fight over popular catch-phrases is now humdrum. (Goswami's video got 64,124 odd views on YouTube). But what is surprising, is Goswami's sudden lack of perspective. Isn't this the man who knew exactly what the nation wanted to know every day? Well maybe, his nation has changed in the transition period. It now comprises the 3051 subscribers his channel currently has.
Let's be fair, he isn't a YouTube star, his audience watches television. The people that BARC (the Audience Reaseach Council India) measures week on week. The same people who watch Times Now and give it 5,95,000 impressions some weeks  making it the most popular English news channel in the country. Oh, by the way, BARC's TV universe is 1,56,000 TV owning households in India. So, even if there are four people on an average in each household, that's about 6,24,000 people, representing a country of over 1.2 billion. I guess the estimated Rs 27,378 crores that'll get spent on TV advertising this year will be on the basis of the above data and its massive extrapolation.
As a high-income millennial, who spends all her time on the internet but would  probably be categorised C2 on BARC because I don't own a lot of the durables they use as income surrogates, I'm thinking "595,000 impressions hi chahiye tha toh apna paisa AIB ke YT channel ko de dete!" And what the hell, BARC? I watch English news in the gymkhana everyday and I also have a Netflix subscription. I'm not C2!
Top brand consultant and founder of SKA Advisors Sunil Alagh feels this interpretation may have a flaw. "Arnab does have a good sense of what people want to know. And it was because of him that the Times Now viewership increased dramatically week on week. You can't suddenly compare him to YouTubers who've been around for 10-odd years and say he's lost it. All that will be put to rest in about six months after his new channel launches. As far as measurement goes, BARC's the best we've got and till we find something better, it'll stay. Also, Arnab caters to the bulk of India which includes the youth and middle-class. And let's not forget our diaspora. The moment he puts out content about burning economic issues, erring politicians or Pakistan, he'll get his audience back."
In my view, TV advertising is for brands that know people don't care about them. So they're okay with BARC measurements and "brand scores". The media dark areas that the FMCGs work so hard to conquer, are no longer the places with no TVs and newspapers. They are places with no Jio internet and YouTube popularity. In an age where Amazon and FB are thriving by guessing our likes and purchases, how much research and AI is going into what we really want to watch? The Indian news television set up seems to be focused on building "anchor brands" who are trusted wholeheartedly in choosing what to highlight on the news.
As a country, our perceptions about the basic realities of religion, female employment, rural living or internet access are warped. If this "Index of Ignorance" published by Ipsos is to be believed, India receives the number two position in a list that compiles "most inaccurate perceptions" on some general topics like the number of female politicians we have, how rural our economy is, how skewed female employment ratios are and how many people actually have internet access in the country.
Who shall we blame for this ignorance? The people who don't watch the news or read the newspaper and get their news updates from their FB timelines instead? Or the media, that puts out stuff we don't need to know about because they'd rather report their stellar ratings rather than the news? Just  for fun, I decided to compare what new age media (FB, Google and Firstpost) and traditional news media (Times Now, Times of India, CNN-News 18) consider important.
1. Earth Day Tips - 2,00,00+ changes
2. Europa League - 20,000+ searches
3. CBSE 10th result - 2,00,000 + searches
4. Noor - 1,00,000+ searches
5. KKR vs GL - 50,000 + searches
6. Rajkummar Rao - 50,000 + searches
7. Earth Day - 20,000+ searches
Facebook's top trends:
1. Hashim Amla
2. Ram Vilas Paswan
3. Andhra Pradesh
4. Boston University School of Medicine
5. Permanent Account Number
Now Facebook's trends are customised; so they don't reflect the country's trends as a whole as much as what the "individual will consider important". How is this decided, you ask? According to the platform, "Trending shows you topics that have recently become popular on Facebook. The topics you see are based on a number of factors including engagement, timeliness, pages you've liked and your location."
Trending on Firstpost at 5 am on 22 April:
1. Fire kills 14 people in MP's Chhindwara district, four people critically injured
2. Kashmir unrest: Ram Madhav's approval of Army 'human' shield triggers PDP ire
3. China's Arunachal gambit: 1962 unlikely but India must recognise Dragon's psychological warfare
4. AIADMK tussle: Trust deficit between OPS, EPS camps breaks down merger talks
5. South India's Drought Part 2: Chennai slum dwellers forced to beg for water, authorities remain helpless
Latest from Times Now (as of 7.40 am on 22 April):
1. Service Charge Not Mandatory; Government Issues Guidelines
2. Indian Navy Successfully Test-fires Brahmos Supersonic Missile
3. Mamata Banerjee Urges Opposition To Unite Against BJP
4. Kashmir Unrest: Mehbooba Mufti Govt Gags Social Media In Valley
5. Sludge Woes End For Chennai Residents
None of these Times Now videos have more than 1800 views.
Latest from CNN-News 18 (as of 7.40 am on 22 April):
1. Bandipore Hero Chetan Cheeta, Who Took 9 Bullets, Raring to go Back
2. News360: It's Official, No More Service Charge
3. IPL 2017: Finch, Karthik Dissect Gujarat Lions' Season So Far
Meanwhile, here's what was trending on YouTube at 5.19 am on 22 April:
1. Noor | Latest Hindi Song | Anurag Sharma | Dedicated to the Movie Noor 2017 | Namastey Entertainment
2. CHANN KITTHAN - PARADOGS | New Hindi Song 2017 | Latest Hindi Songs 2017 |
3. Shael's Meri Jaaan__A Preview(((Shael Official)))
If you're keen on knowing how YouTube goes about curating their top trends, head here.
Times of India's front page on 22 April (Mumbai edition):
1. The real front page was a "Ruparel Realty" ad with Anushka Sharma on it. They're talking about some homes they want to sell in Kandivali West.
2. The second page was a "Crystal Xrbia" ad. They're also selling homes.
3. The third page was a Paradise Group ad. Yeah, also homes.
4. Top story on the page that has the "Times of India" masthead: SC says not all 'insults' to religion an offence.
5. The other top story: In a first, court gives 2 IS agents chance to reform.
6. Instead of an anchor story, readers can enjoy the Allen Solly ad today.
Is it strange, that there isn't much consensus on what's really important in the media? How could there be? They all have different target segments! I would think that by tracking the FB, Google and YouTube behavior of India's 432 million internet users (40 percent of the country's population), one would get a pretty good idea of what the nation wants to know.
But Pavni Mittal, a former CNBC TV-18 anchor,  who tracked the Trump campaign for Al Jazeera from NYC and is the only Indian journalist to have hosted an MSL Group and PRWeek session at Cannes says that isn't right. "Journalism as a profession and end product has a human interest mission. There are companies that look at what's read and shared most, and then they generate more of that but that's not news. That's just content. But we do stories because they have an impact."
"I think at one point Indian anchors didn't care about ratings at all. It was never a talking point. As someone who has anchored Storyboard and reported on ratings, I can tell you that news is bought on perception and brand — especially Indian news because it has such a tiny audience. But today, thanks to the trend started by Fox in the US and aped by the Indian press, we have loud promos about ratings. But if you read the fine print below these ratings, you'll see it's just slicing and dicing of data. BARC was supposed to address that, but as budgets for newsgathering get slashed, our focus shifts from news to views. It's all about taking heads and ratings for 9 pm and big days like elections and budgets. The most shared stuff in the US is from Breitbart News that's all conspiracy," she says.
So does that mean we, the people, don't really  know anything, and maybe we should leave it to the likes of Arnab to decide "what the nation wants to know"? He could use a little tip from media entrepreneur, Abhimanyu Radhakrishnan though. While he refused to comment specifically on how news anchors decide on bulletins because he hasn't produced/anchored one in seven years, he did share his pinned tweet that sums up his broader views:
"the media is filled with incompetent, self-admiring dipshits": @Gawker in 2012 on why journos are no longer heroes https://t.co/Z1ywBfFQ0R

— Abhi Manyu (@abhi2point0) May 28, 2016
For those of you who thought this article was  solely going to be about Goswami and his right to use the phrase "the nation wants to know" — apologies. This piece here may offer some perspective.
(Firstpost is from the same stable as CNN-News18, which competes with Times Now)
Fashion & Trends
There have been many instances of titles being taken away from former beauty pageant winners when their actions did not fall in line with the beliefs of the organisation that felicitated them.
long reads
With the coastal road slowly altering the visual and emotional landscape of Mumbai, I feel as though I'm being distanced from my sea, writes artist Gaurav Ogale in the third part of Firstpost's series, Leisure and Loiter.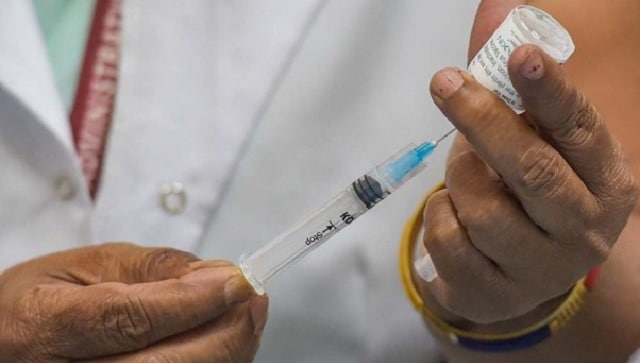 India
Several reasons have together made it harder for India's transgender community to get vaccinated.