Weaving culture: Hyderabad designers and revivalists hope to popularise handloom textiles once again
How did handloom textiles — so woven into the warp and weft of Indian culture, go into decline?
In a country as diverse as ours where it is proudly said that food and cultural habits change every 200 kilometers, one aspect in the wide umbrella constituting culture is almost never spelt out loud. Handlooms, much like dosas or dialects, take on a unique form in almost every district in the country in forms as diverse as dhurries, silks and cottons. And although Indian weaves capture in them the weight and wattage of our geography and cultural ethos, today they are struggling for their very survival.
Textiles find a mention in two of India's most important texts — the Rig Veda and the Upanishads; the former speaks about weavers, threads and a shining cloak woven in gold. The importance of textiles further percolated into the famous epics Ramayana and Mahabharata. While the yellow attire worn by Ram and Sita during their exile is extensively described in lush detail, Mahabharata had Adiparva and Sabhaparva dedicated to the beautiful clothes inside a king's formal wardrobe and describing the expensive clothes worn by the Pandavas during their wedding with Draupadi.
Down south, weaves flourished because of three reasons: one was the patronage by royalty who preferred the richness and variety offered by the lexicon of weaves. Another was the availability of cotton, the soul of most weaves, and finally because of the fact that they were suitable to the harsh summers and regional weather patterns.
The erstwhile Andhra Pradesh provided the most diverse range of weaves possible — the artisanship afforded by Kalamkari, the poetry possible in Ponduru cotton (a favorite of Indira Gandhi), the magical palette of Mangalgiri, the glory of Gadwals or the many charms of Chirala. Every district springs a story of its own and weaving in the truest Indian tradition is not merely an occupation but a way of life. The sheer diversity available is discombobulating even to an enthusiast. Andhra Pradesh and Telangana have the second highest concentration of handlooms in India apart from being the second largest source of employment after agriculture.
So, when and why did the warp and weft incorporating such a glorious tradition start to decline? Author Noopur Kumar whose seminal work "Threads of Hope — The Magical weaves of Andhra Pradesh" documents the weaving traditions of the region, says the handlooms lost their status as the preferred material for masses as convenience became a buzzword. She explains, "The minute the common man gave them up, handlooms went on a downward spiral. Difficult to maintain, they lost out to synthetic weaves which were long lasting and cheaper."
While the decline started soon after Independence, the advent of power looms meant that many weaves which were an organic part of the region's culture were losing relevance including ones like Uppada, Mangalagiri and Gadwal which have been popular for centuries. The cooperative societies were mired in corruption, input costs of raw material was zooming northwards and middle men were all powerful leading a mass exodus especially in the '80s and '90s when weavers migrated from their villages moving away from skills honed over centuries.
Noopur Kumar, who traveled extensively in the '80s and '90s to the weaving hubs in Andhra Pradesh, says, "It was all going away. So many ancient traditions were fading so rapidly. Gadwal was in a bad shape, Narayanpet wasn't able to face the onslaught by power looms and even Pochampally with its fame and proximity to Hyderabad was doing badly. The most distressing sign was that the children of the weavers didn't want to learn the craft which had only given their parents poverty."
Paradoxically, it was around the same time that a revival was being planned. Especially in Hyderabad, which was a hub for handlooms, designers were starting to contemporise these traditional textiles and organisations like Dastkar were reinventing weaves with newer cuts and chutzpah. Revivalists like Suraiya Hassan and Uzramma were instrumental in bringing weaves like Mashru, Himroo, Paithani and Malkha back from the brink of extinction.
Uzramma, who has singlehandedly revived Malkha cotton and worked for over four decades with handloom, says, "Since India's strength lies in small-scale, dispersed production, cotton yarn spinning should also be on scale to match our small-scale hand-weaving, and being dispersed, should eventually be linked to cotton farming. This idea was developed in the last years of the previous century. Malkha faced many big challenges — from convincing the government to fund the early development to overcoming the technical problems of the small-scale machinery."
Nothing however matches the glamour which city designers brought to the fabric. While today almost every designer from Hyderabad is dabbling with traditional weaves, two names have been associated with handlooms since the late '90s and because of their expansive work both Gaurang Shah and Shravan Kummar Ramaswamy have given handlooms the one thing missing from their oeuvre of late — desirability.
Gaurang has made weaves popular with the usage of striking motifs and colours. Having dressed many stars from Vidya Balan to Sonam Kapoor he says that initially he was very disheartened when he found out that women were drifting away from traditional handlooms into chiffon and georgettes and adds, "I found that what was lacking was the 'wow' factor. While women loved handwoven textiles and saris the excitement was fading due to lack of modernity. These weaves are our heritage, so I took the journey of finding ways to revisit the past and revive the vintage weaves and blend them with modern consumer aspiration. Traditional fabrics also offer fantastic scope for variety."
Designers like handloom textiles as they drape well. Gaurang confesses that while khadi is his first love, he uses a wide variety from Ikat, Mangalgiri, Venkatgiri and Gadwal as his canvasses. Designer and textile revivalist Shravan who has been working for 23 years with weaves as diverse as Mangalagiri, Madhavaram, Narayanpet, Chirala, Venkatagiri and Chunnur khadi for his couture lines says, "When I started people didn't even recognise Kalamkari which at one point was even used in lungis, bed sheets and purdahs. I have taken Pochampally designs to Vancouver and New York Fashion Weeks. They tell me that they want to see only original weaves and designs and tell me not to contemporise. That's what I believe in as well."
The Government too of late, has been supportive of reintroducing handlooms in daily wear. IT and Textile minister KTR's initiative to wear handlooms and roping in popular south Indian actress Samantha too was well received but do such measures yield results on the ground? "Absolutely" says Shravan and adds, "When I designed a Narayanpet sari for actress Nayanthara, I got 100 orders in a matter of days. Film stars for better or worse, make things aspirational. When a star endorses something, it translates into a lot of traction, which is ultimately good for sales."
The power loom has long been the villain in the handloom story. Since it is mechanised, the power loom is 10 times faster than the hand loom and accounts for 60 per cent of the fabric produced in the country. There are two sides to this story. Uzramma says, "People want handlooms but they are being conned into buying fake handloom fabrics — which are actually woven on powerlooms but sold as handloom. Synthetic fabrics are popular because they are cheap (a kg of synthetic material produces a huge quantity of yarn, much more than a kg of cotton or silk), but we must remember that they originate in fossil fuels." Noopur Kumar disagrees and adds, "A lot of people might be rankled but at the very least, power looms do keep the craft alive, in whichever way. One has to understand the needs of the weavers and put their requirements at the forefront."
Most designers in Hyderabad prefer hand woven cloth as the patterns are unique, the technique employed is eco friendly and the textile is easy to wear. Even in weaves, some are profitable while some aren't: an Uppada silk weaver earns up to Rs 3,000-4,000 on each sari but a Gadwal weave would earn the maker only Rs 500. While some weaves like Pochampally and Kalamkari are currently popular, some like Uppada cottons need a revival patch soon.
Today every designer worth a prêt or couture line is experimenting with handlooms which many feel is a positive trend. Uzramma says, "Indian handloom has a great future if it can be promoted as a 'green' industry that does not generate greenhouse gases. It is a specialisation of India which is home to 95 percent of the world's looms, no other country can compete with India in handloom weaving. Today we have four million looms and more can spring up if the Government can recognise that hand-weaving, particularly of cotton, can bring us prestige as well as foreign exchange."
Gaurang feels that handlooms have a scope to be both festive and everyday wear. He explains, "There are textiles that are simple and have been translated into daily wear like khadi, ikat, maheshwari, mangalgiri, block prints and much more. But the jamdani weave is going to be a niche product just because of the months of time taken to weave. We always believed in giving people variety — in colours, motifs, techniques and that's what we coach our weavers and challenge them with new designs. Handlooms should be a part of bridal, special occasion or even everyday wear."
It is a telling sign of the revival of handlooms that all the six designers from Hyderabad who showcased their collections at the Lakme Fashion Week Spring Summer 2017 chose handlooms as their muse. While there is still a lot needed to be done for the many weaves available just in the two states of Andhra and Telangana, the ground work has started and the most heartening result is that youngsters have taken to the fabric. The symbiotic relationship between the weaves and our culture is multifaceted and involves reasons both personal and economic. Shravan puts the importance of the weaves in a nutshell when he says, "These weaves matter because India is handlooms and handlooms are India."
Find latest and upcoming tech gadgets online on Tech2 Gadgets. Get technology news, gadgets reviews & ratings. Popular gadgets including laptop, tablet and mobile specifications, features, prices, comparison.
India
GHMC Commissioner DS Lokesh Kumar urged people to vacate dilapidated buildings and sheds while Bhadradri-Kothagudem district administration urged people not to venture out till water receded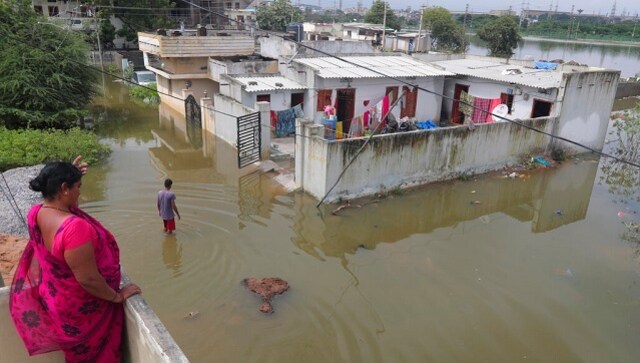 India
Chief Minister K Chandrasekhar Rao has written to Prime Minister Narendra Modi appealing for the immediate release of Rs 1,350 crore for relief and rehabilitation works
India
As per the IMD, heavy to very heavy rain is very likely to occur at isolated places in Telangana, including Hyderabad on Wednesday and Thursday