Water as metaphor: Notes on Indianostrum's riveting new theatrical production Kunti Karna
Through the play's depiction of Karna's life and state of mind, the viewer understands why the abiding rasa of the Mahabharata is 'Shanta' or quiescence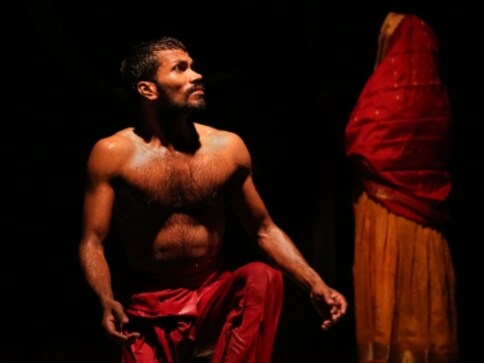 "What is here maybe elsewhere; what is not here cannot be found anywhere else," says the Mahabharata of itself — somewhat grandly, but also perhaps justifiably. Set in the context of a fratricidal war and the build up towards it, the Mahabharata explores a wide gamut of emotions, the rawest to the most refined, as well as the immeasurable variety of human nature – its heights and depravities and everything in between.
Of all the characters in the Mahabharata, Karna has received great attention and claims great admiration. So what would a new play have to offer that we have not already read, seen, sung and danced so far?
Indianostrum, the Pondichery theatre group led by Kumarane Velavane, were presented by Chennai Art Theatre in the play Kunti Karna at the beautiful Rukmini Arangham in Kalakshetra, Chennai over the weekend.
Adapted by Velavane from texts by Rabindranath Tagore and Jean Claude Carriere, it was a riveting theatre act with interesting twists in the well-known story, evocative acting (Velavane, Vasanth Selvam, Manibharathi, Santosh Kumar and Kalieshwari Srinivasan), beautiful set design (Sadish Kumar and Joseph Bernard) and astonishing use of unusual props.
Velavane depicts Karna as a character whose existence is engulfed by the dark, deep and gaping wound of his abandonment. Everything else falls around it and is absorbed into that black hole. Velavane depicts this all-encompassing darkness around Karna using water. Water – where his mother abandoned him and where he may meet her again; water – his dreams with the ever-elusive presence of his mother, where he finds the red robe in which he was bundled; water – his abandonment, which is also perhaps his unconscious which claims him again and again. A complex metaphor, it seemed just right to drive home his unfathomable pain.
A tank of water in the front of the stage somewhat off centre, into which Velavane as Karna entered repeatedly – quietly stepping into it sometimes, at other times coming thrashing into it, and yet other times pushed into it – was an astounding prop. He thrashes around, dreams of his mother, follows her in his dream. Again and again he gets up in futile hope, water dripping and dragging him down, following the ghostly presence of his mother. Why did she abandon him? He who was otherwise so full of every desirable quality was still nothing because of that abandonment.
Parashurama, the legendary Brahmin warrior and Kshatriya hater and who tutors Karna, cast an eerie spell. Drenched in white powder, stooping just a little, he appeared as a wizened old man, mad with the fury of a man with an unrealised mission.
Long drapes of white cloth, another brilliant prop, were used variedly. By Arjuna performing Malkhamba-like movements to demonstrate his prowess and skills, or the climbing of the Himalayas or in Parashurama's case, transforming it into an asana, a dynamic seat which itself, unbelievably, expressed his restless anger. In a startling and more believable twist to the well-known story of the curse that he places upon Karna, he says, "he whom you loath and wish to annihilate, you will let go, because of stirrings of a strange affection."
Karna's enmity with Arjuna, his angry competitiveness is nothing compared to his yearning to be held by his mother, cradled in her bosom. Again and again Karna descends into the water – where he was abandoned – into the depths of his unconscious, a dreamworld from where he screams out for his mother.
Finally Kunti does hold his body when, after hearing Krishna's Gita (another interesting departure from the popular version of the story) Karna lets Arjuna kill him, an act depicted with another brilliant use of the drapes.
In the tradition of inquiry into the literary and theatrical experience, it is held that the abiding rasa of the Mahabharata is 'Shanta'. Not Veera or Raudra. Restlessness simmers irrespective of whether you are the victor or the vanquished, and that leads to quiescence. One was left with the impression that this play seeks to confer a tremor of peace to Karna, who only knew turmoil when he lived.
No music, many silences, and the presence of water – water always – lying quiet there, quiet with Karna lost in it or turbulent with Karna thrashing around, trying to rise above it… It was utterly gripping and one ached with him. As the Kashmiri aesthetician Abhinavagupta said, it was as if Pain itself, not his or mine, but Pain itself, were dancing before our eyes.
Arts & Culture
The funny, engaging and deeply original novel tells the tale of an 80-year-old woman somewhere in northern India who has slipped into deep depression after the death of her husband. Resigned from the world she turns to the wall and almost becomes a part of it, unspeaking, unmoving and unresponsive even to her dearest grandson
India
The defendants in the suit are the Uttar Pradesh Sunni Central Waqf board, the Intezamia Committee, the Shahi Masjid Idgah, the Sri Krishna Janmasthan Seva Sansthan and the Srikrishna Janmabhumi trust
India
After taking the copy of the two applications, the counsels for Uttar Pradesh Central Sunni Waqf Board and Shahi Masjid Idgah sought time to reply to the objections raised